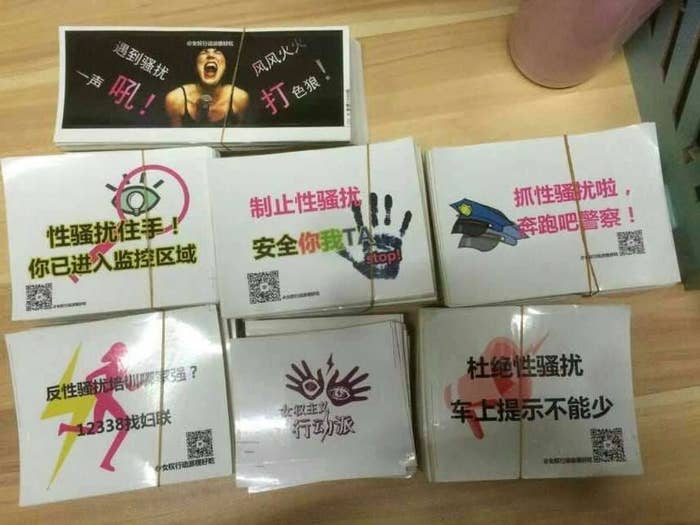 After 37 days in detention, Wu Rongrong was released on probation and sent home on a flight from Beijing to Hangzhou. The feminist activist said she had been prevented from taking medicine for her hepatitis B while in prison and was provided no bed for the first few days.
Now she was on her way home, accompanied by four police officers. The first thing she wanted to do was spend time with her 4-year-old son, who had celebrated his 4th birthday while she was in jail charged with creating a disturbance.
Wu is one of five women who were arrested for planning to hand out stickers on International Women's Day on March 8 to speak out against sexual harassment on public transportation. One of the stickers read, "Catch the sexual harassers. Get them, cops!" But Wu and her colleagues never got to hand out the stickers — they were arrested the night before.

"[The police] told me it's not about our work on feminism," Wu said in an interview over Skype. "They said they support women's rights."
The detention of the five women spurred protests outside mainland China, with #FreeTheFive trending in many languages. Former U.S. Secretary of State Hillary Clinton tweeted about the five, calling their arrest "inexcusable."

In recent years, demonstrations led by civil rights groups to bring attention to issues of gender equality and domestic violence have grown in China. But the arrest of the five women in March was one of the most provocative for a civil rights group in recent years, and it has stoked fears that China is launching a new crackdown on activism, which many activists and scholars until now thought was only targeting political dissidents.

Wu's activism started in college, when she often volunteered in social work, helping migrant workers by taking care of their children and raising awareness about HIV/AIDS. She later started working for Yirenping, a leading civil rights group in China, and other rights organizations, during which time her work was focused mainly on discrimination against women. In 2008, she led a national campaign on behalf of children who were rejected by kindergartens for carrying hepatitis B, which is not uncommon in China, where more than 120 million people carry the disease. Two years later, a new regulation prohibited testing incoming students for hepatitis B. Last August, Wu started a women's center, Weizhiming, in Hangzhou.
After the women intending to distribute the stickers were arrested, in a late-night raid in March, both Weizhiming and Yirenping's offices were locked by the police and have had to halt their operations. People who spoke up for the five feminists or worked at the center were barred from leaving the country. At customs, they were informed that they are criminal suspects under an ongoing investigation. One of those barred from leaving was Li Fangping, a lawyer who worked with Yirenping, who was stopped when he tried to leave Shenzhen for Hong Kong in April.
"They are released but not free," said Wang Zheng, an associate professor of women's studies at the University of Michigan. "They are still regarded as criminal suspects."
The government's actions against the women are a serious blow to the country's nascent women's movement. Since 1995, there have been 15 institutes for women's studies founded in China, and more than 40 national organizations devoted to women's issues ranging from workplace equality to domestic violence, according to research by Columbia Global Centers in Beijing. While these numbers may seem small for a country with a huge population like China, they represent a dramatic shift considering the severe controls the Chinese state places on civil society and activism.
The feminist movement first broke through to the wider society in 2012 with the performance art piece "Occupying Men's Room," a campaign to get more toilets for women in public restrooms. The performance was put together by a group of women, one of whom was Li Tingting, a feminist college student who was unhappy about the one-to-one ratio of public restroom facilities for males and females. The symbolic event led many municipal governments to build more toilets in women's rooms.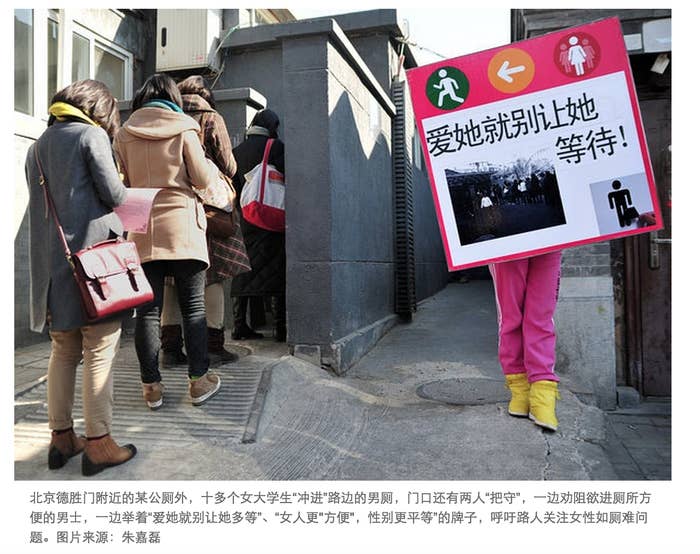 Another milestone came in February of this year, during the Chinese New Year, when skits on state-run CCTV drew criticism from women across the nation for mocking women's appearances and chiding women for being single. Women's rights activists started a petition to end the program; the petition went viral and spurred a lively debate.
"There is a growing feminist awareness among more educated young women in China over the last year or two," said Leta Hong Fincher, a lecturer at the Hong Kong University of Science and Technology and author of the book Leftover Women: the Resurgence of Gender Inequality in China. "Young people are becoming very aware of the really deeply entrenched gender discrimination in Chinese society, in the government and in the media."
But while the controversy over those skits made headlines in major media in February, the March arrests of Wu and others received little mainstream coverage. Activists were shocked by the arrests — raising awareness about sexual harassment on public transportation had seemed like a subject that wouldn't be deemed sensitive by the government — but China has been tightening regulations on domestic civil groups and is also in the process of drafting a law to regulate the activities of foreign NGOs.
Still, many activists remain positive about the future of feminism in China.
"I think the detention of the five is a catalyst for feminism in China. More people come to care and talk about feminism," said Lu Jun, the founder of the Yirenping Center and a visiting scholar at New York University. "In the long run, such crackdowns are certainly ineffective because the social problems can't be ignored."
Xie Bin, who works at Yirenping in Zhengzhou, says that groups like these educate people about their rights and make the government realize the rule of law by bringing lawsuits to ensure that the local practice keeps up with the law.
"Organizations like Yirenping will get on their nerves," Xie says, "because their approach is bottom-up and they have developed a community."
A test will come in September, when China co-hosts a global women's summit in New York with the United Nations. Wu says she doubts that she and other activists will be allowed to join the summit.
Though the women were released, the criminal case against them continues. In late April, Wu was interrogated for eight hours at a high-end hotel in Xixi, a resort in Hangzhou. She subsequently posted a statement online, questioning the legitimacy of the interrogation process and declaring her refusal to cooperate further. Yan Xin, one of the women's lawyers, said their legal team has submitted an appeal to the Beijing police, requesting them to drop the cases against the women. Yan said the police have so far not responded.