Chance The Rapper wants you to know he loves Chicago. His love for Chicago — and the South Side in particular — took center stage at the 48,000-attendee Magnificent Coloring Day festival at US Cellular Field last month, but it's always been there.
Chance (praise-)danced around the stage with puppets of imaginary cartoon characters, mainstays on his tour set who'd come home to Chicago with him for the first time. Kanye brought the gospel of "Ultralight Beam" to life alongside him. Common joined John Legend to perform "Glory," the theme from Ava Duvernay's Selma. By all accounts, the stadium radiated with pride in all that Chance's beloved city — his beloved people — had produced.

Chance finds his spiritual and sonic home alongside artists whose vision of their home is as empathic and complicated as his own. Here artists like Jamila Woods, Noname, Mick Jenkins, Malcolm London, and Ric Wilson make music that soothes and serves as a form of protest. Against the backdrop of police violence, institutional neglect, and skewed media narratives about their city, Chicago artists make music that honors their hometown as it is and as they want it to be. Their meditations on racism, loss, and irrepressible joy indict the powerful and comfort the oppressed, holding a mirror to the rest of the nation in the process.
By foregrounding the power of collectivity, they champion a kind of artistry — and activism — that could change the whole country. Their music blends both the literary sensibility and the activist bent of the artistic incubator they all share: an organization called Young Chicago Authors. YCA — and Louder Than a Bomb in particular — has become a launching pad and "safe space" for artists to explore their voices both poetically and politically. Louder Than a Bomb, the organization's annual poetry festival, was founded in 2001 by Anna West and Kevin Coval.
Their music blends both the literary sensibility and the activist bent of the artistic incubator they all share: Young Chicago Authors.
"In Chicago they were trying to pass an anti-gang loitering law that was like 'communities of color are hanging out in groups of more than one,'" Coval told me of the time immediately before LTAB's founding. "We saw the school-to-prison pipeline manifest on a weekly basis."
LTAB now brings youth from 120 Chicago-area high schools together for "Olympic style" poetry bouts with what Coval says is the hope of "trying very intentionally to create an all-city landscape where young artists, young writers, young people can see one another in an intentionally, radically segregated city." It's the same mission that guided Chance's Magnificent Coloring Day festival — and the city's long history of art that pushes.
Chicago's rich history of black activism has always been intertwined with its black artistic tradition. The city that birthed Ida B. Wells was also home to Gwendolyn Brooks. The birthplace of gospel also gave rise to unions. And the man who would later become the nation's first black president found both the start of his political career in organizing — and the future wife whose love would later inspire its own film — on the South Side.
So perhaps it should come as no surprise that the city's black artists are producing work that challenges the powerful — and providing the soundtrack to their own communities' reclamation of power. Woods' HEAVN, Noname's Telefone, and Mick Jenkins' The Healing Component punctuated a heavy summer, intercessory audio balms for the weary at home and beyond.

And their revolution starts at home.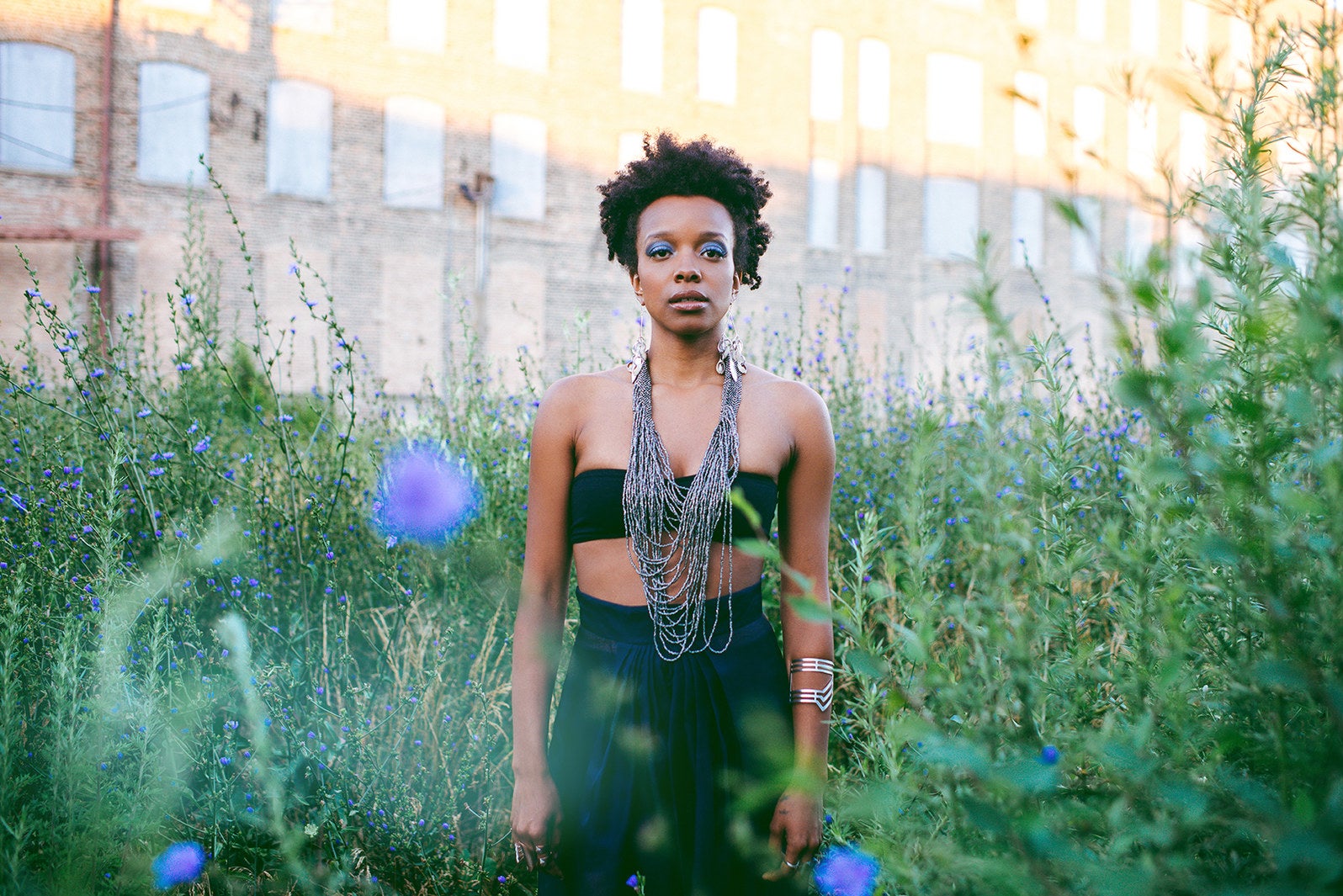 Jamila Woods' recent debut solo album, HEAVN, is a gorgeous, genre-stretching medley of black girl power anthems, Chicago stories, and "protest music." The 26-year-old artist credits the intensely visceral tradition with her ability to deftly weave the personal and political in her music: "It was through poetry I learned just to appreciate my own voice and to not think of my voice in terms of what it needs to be able to do, but what it can do," she told me when we spoke in August.
The influence of poetry on Woods' music is as tangible and technical as it is ideological; fellow poets are among her most frequent collaborators. "One of the members of my collective, Danez Smith, is an amazing poet, and a lot of their writing has been a lot of inspiration for the writing on my album," Woods said. "I got to watch this cool performance at my release show where Danez read a poem that talks about what does heaven look like for black boys — and that poem was something I was thinking about when I wrote the title track, 'Heavn.'"
Woods also serves as the associate artistic director of Young Chicago Authors, where she teaches poetry to local youth. "Sometimes I tell people what I do, and they're like, 'Oh, it's like your day job,' or like, 'You're living a double life,' and that's not how it feels," she said. "It feels like everything is driving towards to the same sorts of things."
But if Woods herself revels in the boundlessness of her poet-musician-educator hyphens, so too does her music embrace a kind of multidisciplinary healing. The album cleaves pain to healing — from traumas both personal and institutional — with an empathetic hand.
HEAVN cleaves pain to healing – from traumas both personal and institutional – with an empathetic hand.
"Look at what they did to my sisters / Last century, last week," Woods sings on "Blk Girl Soldier." "They put her in a jar and forget her / They love how it repeats."
Rocking bantu knots and silver hoops, Woods is flanked by two young black girls in the song's video. The two play the same hand games Woods references in "VRY BLK," and dance in unison with each other (and at times, with Woods herself). Woods' voice soars, clear and resonant. The song is a power anthem, as much a sonic celebration of #BlackGirlMagic as it is an elegy for kin lost too soon. The lyrics traverse both trauma and triumph, name-checking "freedom fighters" like Ella Baker, Angela Davis, Sojourner Truth, Audre Lorde, and Assata Shakur.

Shakur's influence appears elsewhere on the album, too. "In My Name" ends with the sound of young children reciting a chant in unison. The words are borrowed from the exiled Black Panther revolutionary: "It is our duty to fight for our freedom / It is our duty to win / We must love and support each other / We have nothing to lose but our chains."
Woods encountered the refrain that would later etch itself into her music at a meeting of young activists in a group called Black Youth Project 100. The national organization, headed by Chicago native Charlene Carruthers, is one of many groups in the city organizing to end multiple forms of discrimination against black people — and one of Woods's biggest inspirations.
"I went to my first [BYP 100] meeting and it was just really cool to be in a space that was specifically for young black folks and also being very vocal about and intentional about centering black women and black femmes," Woods said. "Since then I've found out about Assata's Daughters and have gotten to collaborate a little with them; I really like seeing how other organizing spaces work, and it helps in my work here [at YCA]."
Asked what makes Chicago's art in particular so special, BYP 100's Carruthers didn't hesitate to name Woods' "black-girl magic" and collaborative spirit as emblematic of local artists' commitment to both their craft and their cause(s).
"She doesn't just straddle the fence between arts and activism, but she is navigating a space and a universe — and even building space, a broader universe for that work," Carruthers said.
Lending her vocals to "Opia," the title track of the album London released Monday, Woods sings of universes within: "Open your eyes and see (Opia) / All you have is all you need."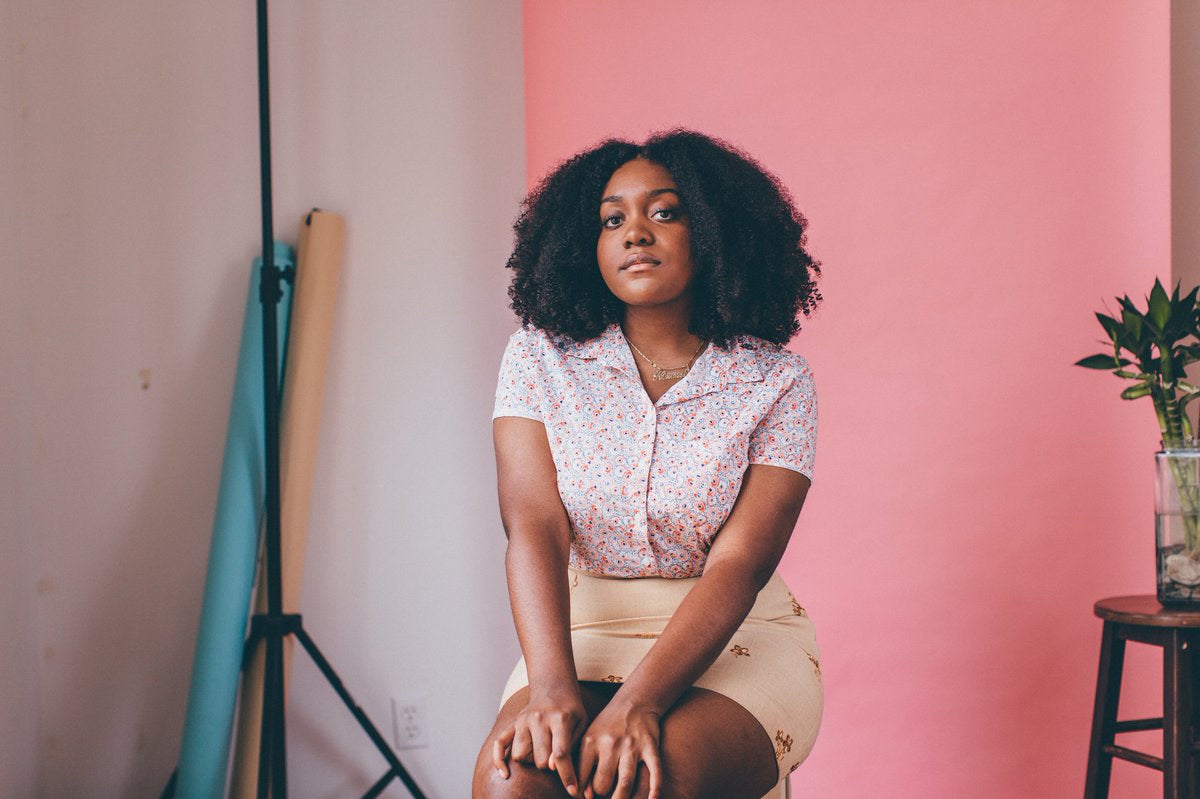 Noname's Telefone doesn't quite sound like gospel, but it feels deeply spiritual, like a gust of wind that makes the hairs on your neck stand up as an auntie graces the food at the Sunday cookout. The press-shy ingenue, née Fatimah Warner, first caught national attention with a feature on "Lost," from Chance's 2013 mixtape Acid Rap. After collaborating with Chance again on Coloring Book and with Woods on HEAVN, she dropped Telefone, her solo debut, in August.
Telefone explores themes of community, violence, death, and love all with a haunting playfulness. Noname sings and raps with an eerie levity. Sonically, the project is unlike almost anything else; it's airy and light with piercing blows, meditative and melancholy while still conjuring joy.
The 25-year-old rapper, also a YCA alum, told The Fader her greatest influences are writers: Toni Morrison, Nina Simone — and poet Patricia Smith. She and Chance were both also part of YouMedia, a fellow lit program run by the late Brother Mike.
The afterlife – or rather, the idea that life for black people extends beyond this world because it just has to – hovers above Noname's work.
The afterlife — or rather, the idea that life for black people extends beyond this world because it just has to — hovers above Noname's work, just as it does Chance's and Woods'. Death is, of course, the unwelcome play cousin with whom these artists must share space. Such is the quandary of black life.
But all of them, in different ways, temper or even quietly celebrate death's inevitability. For Chance, "summer friends don't stay around"; for Jamila, "they're dancing in the deepest ocean"; for Noname, that means "all of my niggas is casket pretty."

"Casket Pretty" is a dark lullaby. It washes over you, comforting because of and despite its gravity: "I'm afraid of the dark / Blue and the white / Badges and pistols rejoice in the night / And we watch the news / And we see him die tonight."

It's the most gutting song on a project full of tracks that pack quiet, gentle punches. It refuses to eulogize simply; it insists on dancing around the line that separates life and death. It exists in the in-between.

Poet Diamond Sharp writes beyond this Earth, too. Her eulogy, "Black Lady Lazarus," evokes a painfully cyclical funeral procession:

"Dying is an art and we Black girls do it so well.
Sandra &
Aiyana &
Rekia &"

Sharp met Noname in 2012 when they were on a bill for the same reading at Chicago's Stage 773. She read a poem; Noname rapped. Sharp is also a YCA alum and a member of BYP100. She splits her time between Chicago — always home — and Brooklyn. Like many YCA alums, Sharp doesn't see activism as separate from her art.

"My poetry right now is focused on archiving and deals a lot with the death of black women through state violence," she told me. "People like Rekia and Sandra are part of my community. My family is from the area where Rekia was killed; it hit close to home."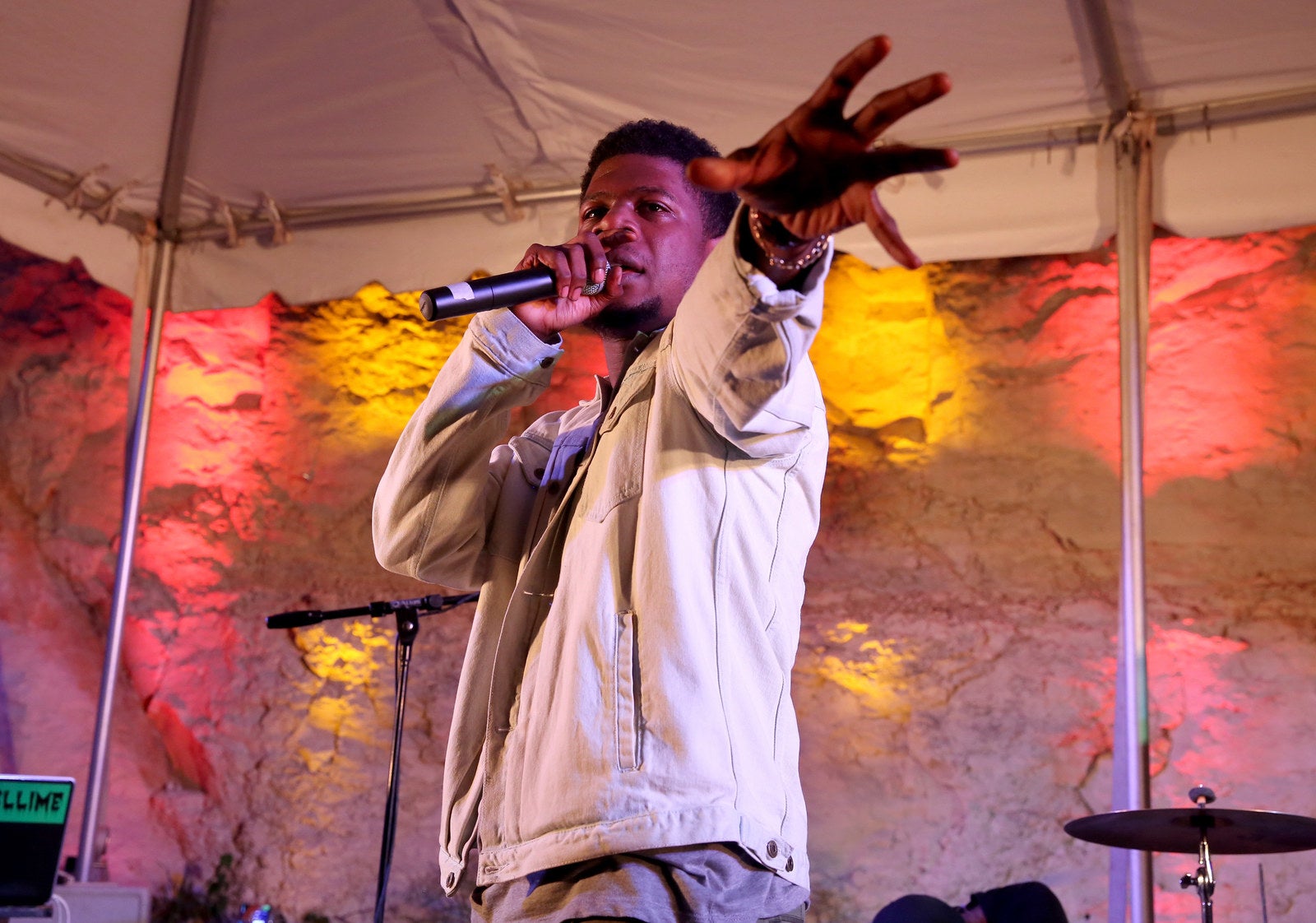 Mick Jenkins also wants to heal his city and himself. His debut studio album, the project is an attempt at finding and spreading the elusive: a love that acts as balm. Like his 2014 and 2015 mixtapes, The Water[s] and Wave[s], The Healing Component is an immersive experience.
"Drowning" is hypnotic, its refrain — "I can't breathe, I can't breathe" — eerie in its evocation of the now-unforgettable final words of Eric Garner. Water is special to Jenkins: capable of giving and taking life, of carrying, of slowly carving.
"If you don't give me credit for nothing but making kids in Chicago drink more water / I proved that already / I'm someone with influence who'll use that to better the youth," Jenkins raps on "Fucked Up Outro."
It's the final track on his aptly named album, a final destination on his journey toward the vanishing horizon that is relief. Immediately preceding it is "Angles," a song that features both Noname and Xavier Omär. The song is one of the album's more upbeat tracks, a sunny dedication to self.

"Only God and a blunt could help me / And Noname quit the weed," Noname offers. She's pointed to abandoning substances before, using the same phrase in "All I Need" on her own Telefone, a track that also features Omär. But here the interplay of her voice with Omär's and Jenkins' sounds buoyant. "I've been running away, cuz I don't wanna fight, I don't wanna pray," Omär sings. It's a moment of rest, a chance to recalibrate.
Water is special to Jenkins: capable of giving and taking life, of carrying, of slowly carving.
Jenkins is a YCA kid, too, and the organization's influence ebbs and flows throughout his tracks. "YCA is where I found myself," he raps on "Spread Love," the album's second track and de facto mission statement. "I started using lead to harness gold."
Jenkins conjures precious mettle in good company.
"When I think about the space that most politicized me as a young person, it was poetry slams," YCA National Programs Director Nate Marshall told me when we spoke in August. "I think that's for a number of reasons...there's something specifically political about saying to a bunch of people, 'Y'all come together and say how you feel about whatever you feel,' particularly when those young people are largely black and brown folks, a lot of queer folks."
Marshall is also a poet, professor, editor, and the author of Wild Hundreds, a poetry collection named for a neighborhood in the South Side of Chicago. Along with friend and fellow poet Eve Ewing, a University of Chicago professor, Marshall co-created Crescendo Literary, an organization dedicated to community art. As Ewing told Southside Weekly while riffing on a famous Toni Cade Bambara quote in her conversation with Marshall, "the job of an artist is also to convey, illustrate, and make clear what's at stake when we are fighting for a more just world. ... As black poets, I say and think all the time, it used to be against the law for us to read and write."

And when home is subject to both violence and media misrepresentation, reclaiming the city's narrative is as urgent as it is transgressive. Chicago artists use their work not just to inspire and uplift but to honor their city's past while shaping its current story and its future. That work feeds and fuels the concrete organizing campaigns that local activists undertake every day, but it is also a revolution of its own.
With a commitment to collaboration that crosses genre, medium, and district lines, the city's artists make "protest music" for marching and healing alike. Whether in protest or in (soul) bounce, black Chicagoans create work and worlds that radiate with a vibrant gravity. Black art has never had the luxury of being apolitical — and Chicago artists are undeniably, unapologetically black.
Because, as Marshall said, "Black isn't a dirty word here."