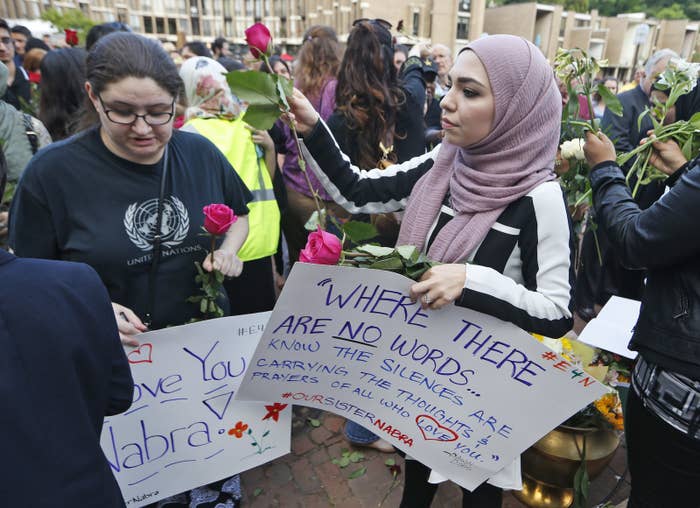 The red-eyed young women who gathered Wednesday for the funeral of Nabra Hassanen are haunted by visions of her final moments: running for her life in the moonlight, trying in vain to escape the killer chasing her with a baseball bat.
The vicious end to 17-year-old Hassanen's life over the weekend was a nightmare come true for hundreds of young women, mainly black and brown Muslims, who were among throngs of mourners packed into a suburban Virginia mosque for the Islamic funeral. Hassanen's sisters, cousins, and girlfriends insisted that her black-draped wooden coffin be brought to the women's section before it was loaded into a hearse and driven away for burial at a nearby cemetery.
Men handled the logistics and spoke into the microphones, but the day belonged to the women whose sobs and prayers echoed across the parking lot of the All Dulles Area Muslim Society (ADAMS) Center in Sterling, Virginia.
"That could've been us, our sisters, our best friends," said Dina Nour, a 24-year-old Ethiopian-American who saw her own reflection in pictures of Hassanen, down to the stylish glasses they both wore. "It's hitting very close to home."
Hassanen, who grew up in a tightly knit Nubian immigrant family that settled near Washington, was beaten to death and her body dumped into a pond early Sunday after what police have called a "road rage" incident. A 22-year-old Salvadoran national, Darwin Martinez Torres, is in police custody in connection with the case.
However, many Muslim and black mourners say it's a mistake to downplay the role her skin color and religion may have played in the attack. And activists are circulating a petition asking authorities to pursue hate crime charges.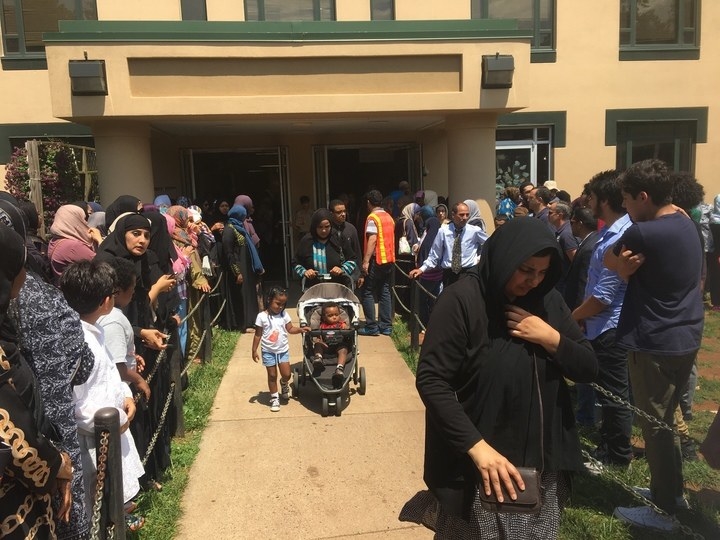 While thousands of mourners of all backgrounds showed up to pay respects to Hassanen, there was a particularly deep wound among those who share her complex identities — Muslim women of African descent — who see in her death the realization of the fear that weighs heavily on their shoulders each time they leave home in an era of boiling political and racial tensions.
What kind of America is this, they asked, where a teenage girl can be brutalized on her way to the mosque with a group of friends?
There are heated disputes about the circumstances of Hassanen's death and the extent to which activists should speak publicly about the idea that her background may have contributed to her attacker's apparent fury. By most accounts, Hassanen was among a group of friends getting a bite to eat before daybreak, a tradition in Ramadan, the Islamic holy month in which Muslims fast from sunrise to sunset.
A teenage boy riding a bike alongside Hassanen and her friends got into an altercation with the suspect, police and relatives say, and the suspect allegedly exited his car with a baseball bat. The others escaped, but Hassanen reportedly tripped in the melee and was abducted, taken to another location, and assaulted before her body was found in a pond. She was killed by blunt force trauma to the head and neck, according to a coroner's report.
"It seems like they're sugar-coating it," said Ajha, a 21-year-old student who asked that her last name not be used because of the sensitivities of the case. "The average person could have road rage, maybe you'd stick a finger out of the car window or something. But to come out of your car and do something so unspeakable? I think road rage is a completely unacceptable excuse."
Four of Hassanen's cousins, speaking on the sidelines of a vigil the night before the funeral, said the family was upset that Muslim groups were seizing on the religious angle instead of focusing on the role that race may have played. Hassanen and her friends were black, said the cousins, and that made them even more visible and vulnerable than their religion did.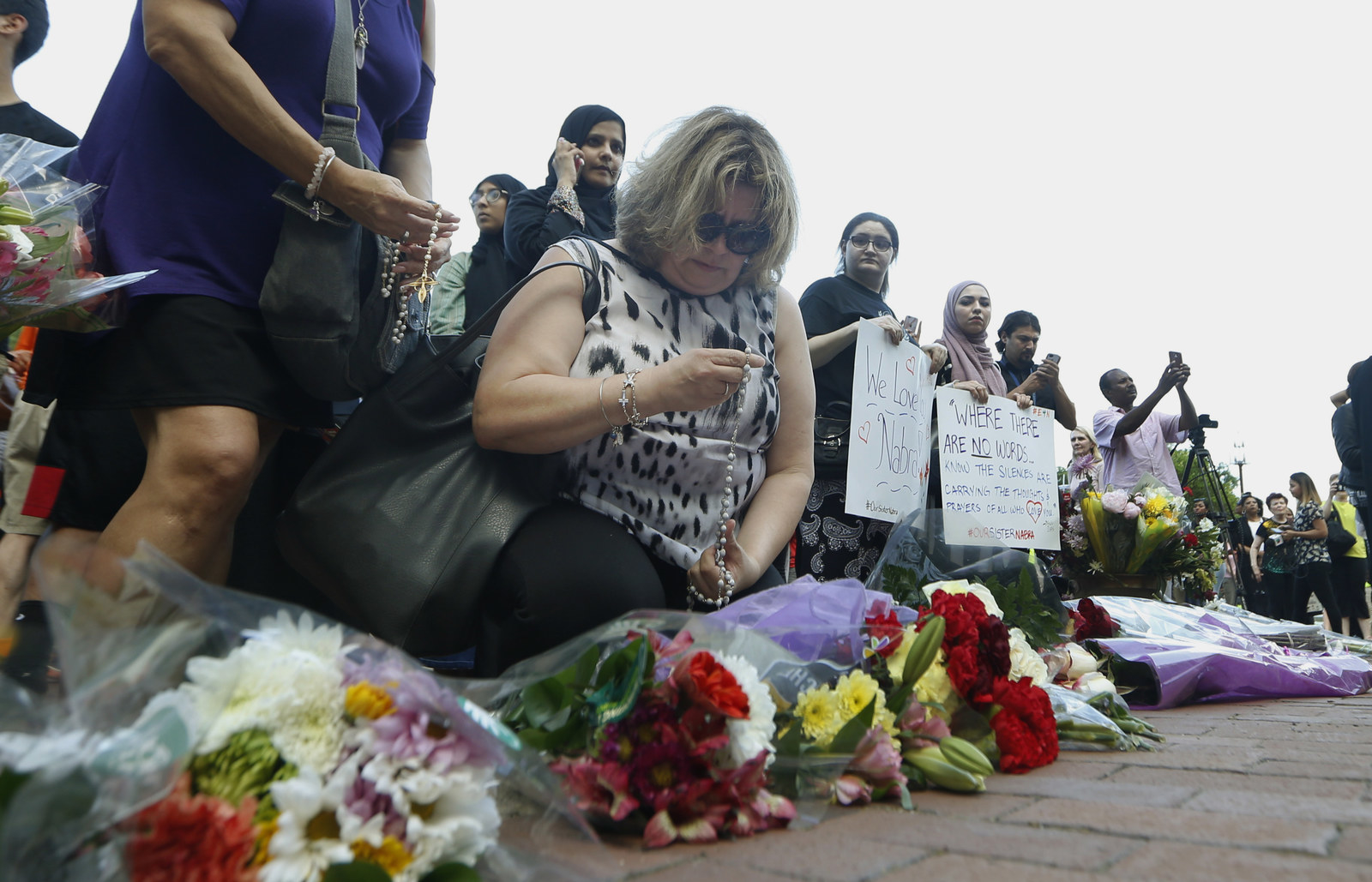 The cousins, who grew up with Hassanen and once lived with her in the same Maryland home when their parents first came to the United States, said non-black Muslims sometimes are in denial about the extra dangers faced by those of African descent. Nubians like their family, they said, find it especially hard to fit into the wider Muslim community — they said they're too black to be accepted by Arabs and South Asians, and too foreign to be claimed by African-Americans.
"We are targeted more than they are and no matter how hard they want to fight that, it's true," said Kalood Younis, who broke into tears several times when discussing her cousin.
"This is not about a political statement. This is a girl's life," added another cousin, Marafi Badr, who said Hassanen was the first friend she remembers.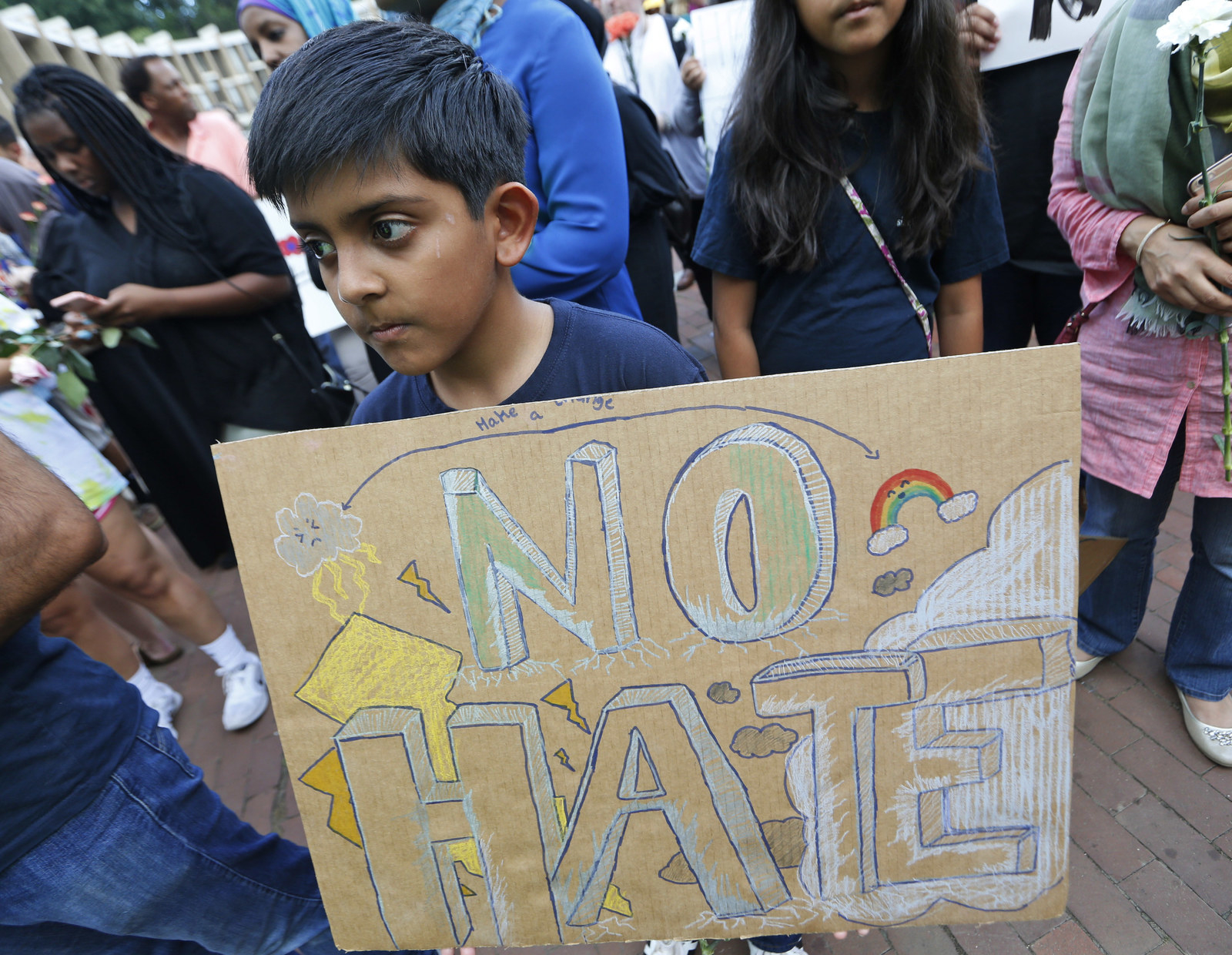 As girls, Badr said, they'd ask their mothers to braid their hair the same way so they could look like twins.
At the funeral, there was no mention of the internecine wrangling over the symbolism of Hassanen's death. The focus was squarely on the tragedy of a young life cut short. An imam whose voice boomed over the loudspeaker referred only obliquely to the hostilities Muslims today face, and promised that where Hassanen was going, "there is no pain, no suffering."
The mosque had arranged for several buses to ferry mourners to the cemetery, where they crowded around Hassanen's plot, chanting the Islamic tenet, "There is no God but God." Old men sat under a tent and wept.
Hassanen's father was given a moment to himself once she was lowered into the grave; her mother had been too distraught to come. The crowd parted so that her sisters could add dirt.
Khadija Mehter, a 32-year-old Muslim of South Asian descent, planned to attend a big vigil after the funeral in nearby Reston, but skipped the service itself. This teenage girl, Mehter said, had lived the "horrific reality" of the scenarios many Muslim women of color think about as they walk to their cars alone at night.
Hassanen's death, she said, still felt surreal.
"I think part of that is because I don't actually want to face that this could've been me," Mehter said. "I don't want to have to live a special different life than others and know that my life is more vulnerable to violence."