American Muslims Are Canceling Spring Break Trips To Avoid Being Hassled At The Airport
President Trump's travel orders have been blocked by judges, but there's another travel ban in place: a self-imposed one among American Muslims who'd rather stay in the US than risk hassles and humiliation at airports.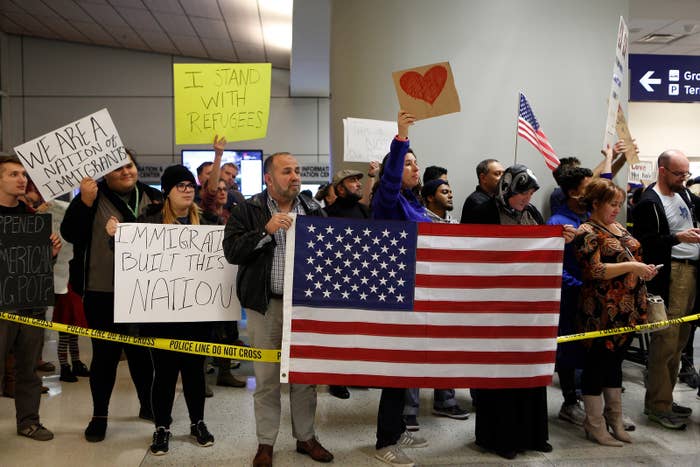 Keenan Barazi called home recently with a request many parents of college students hear this time of year: Can I go to Mexico with my friends for spring break?
In Barazi's case, his mom said no.
Born and raised in Houston, Barazi is a Muslim whose father emigrated from Syria and has been a US citizen for nearly four decades. Barazi's mom said she couldn't deal with the fear that her son might be singled out for extra inspection or, worse, detained when he tried to re-enter the United States.
So Barazi, 22, joined the ranks of American Muslims whose ability to travel is restricted not by official Trump administration policy, but because they're scared of what might happen when they land in US airports.
Even as federal judges block President Donald Trump's latest executive order, a parallel travel ban is still in effect. This one is self-imposed and even broader than the president's, eroding the freedom of movement for citizens and non-citizens alike as Muslims decide it's safer to cancel trips than to risk being held at the border or forced to answer invasive questions before they can go home.
"Just because you're an American doesn't mean you can't be discriminated against."
That was the calculation of Barazi's mother, Marguerite O'Connell, who said she felt awful telling her son he shouldn't join his friends in Puerto Vallarta just because of his name and religion.
"My first instinct was, 'You're going to get detained. They're going to mess with you.' His first thing was, 'Mom, they can't detain me. I'm an American and, besides, I look super white,'" O'Connell said. "It's very hard on a mom to have to say to her American-born Houston child, 'Just because you're an American doesn't mean you can't be discriminated against.'"
Muslims who are sitting out foreign travel for now say the court rulings against the executive orders, however heartening, are only temporary and so far haven't guaranteed smooth passage for all Muslims, whether or not the travelers have roots in the six countries named in Trump's order.
The fears might sound overblown except that nearly every week, a nightmare airport story involving a US citizen who's perceived to be Muslim is splashed across social media. Muslims figure that if it's happened to Olympic medalist Ibtihaj Muhammad, non-Muslim NASA scientist Sidd Bikkannavar, and, on two separate occasions, to Muhammad Ali Jr., what's to stop immigration officials from questioning them?
Tuktom Albdair, 18, is a high school senior from Dearborn Heights, Michigan, an Arab and Muslim enclave where so many students are dealing with this issue that she started reporting on it for her school paper. She eventually had to turn over the story to another student, since the subject hit so close to home that it became a conflict of interest, she said.
Albdair's family, all US citizens who were born in Iraq, canceled a trip to Australia, where they'd planned to visit a sick relative and do some sightseeing. Albdair said it stings that her trip was scrapped while her non-Muslim friends are packing for theirs, but she handles it by smiling, wishing her classmates a good time, and working extra hard toward her dream of a career with enough political influence to change what she views as unjust scrutiny of ordinary Muslims.
"At the airport, they're going to look at me and say, 'You have an Arabic, foreign name, and you look foreign because you wear a scarf,'" she said. "It's not a matter of them letting me in — they'll let me in, I'm an American citizen — but it's the trouble I have to go through to get back in. It's not worth my time to spend hours at the airport just to explain, yes, I am an American citizen, yes, I am allowed back in. All of that just to go home."