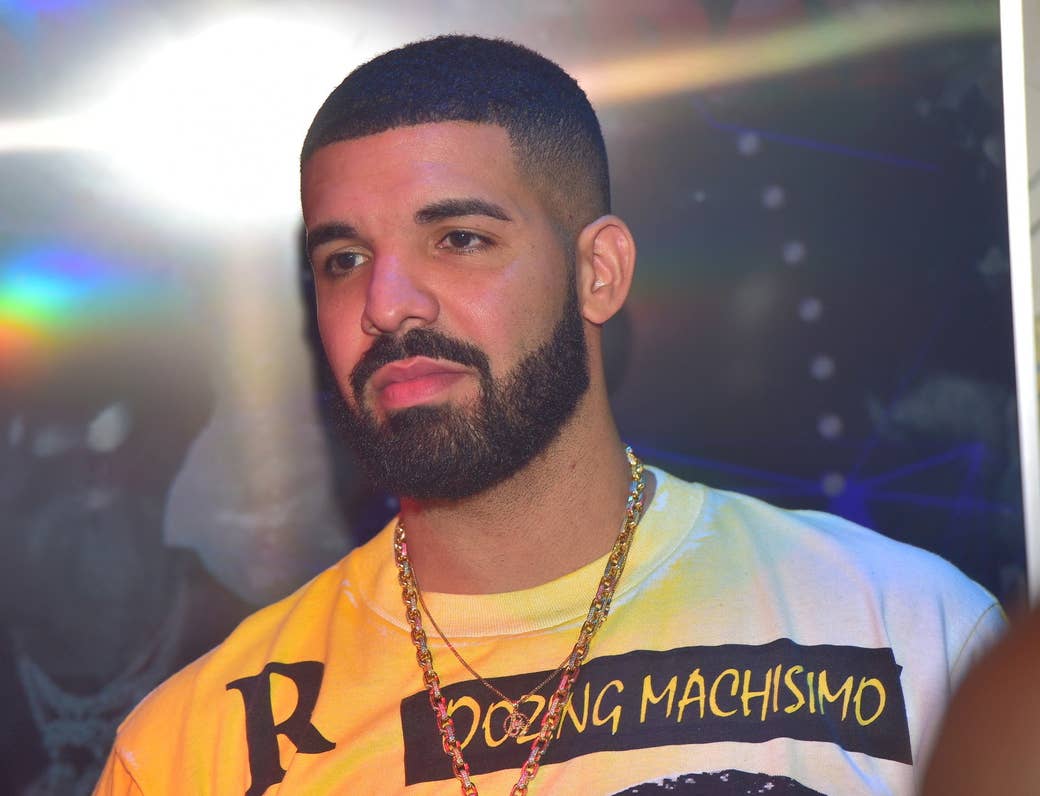 A forgotten song in the avalanche of music released by Drake in 2016 is a one-off cover of "These Days." It came out in early spring, weeks before the release of Views, his exhausting and long-anticipated fourth studio album. "These Days" was written by Jackson Browne at 16, published in 1967, and made popular in that same year by the German singer Nico, when she recorded it for her album Chelsea Girl. Drake's version leaked online the same day as an early cut of future Views single "Controlla" hit the web, which overshadowed the cover. It was quickly forgotten.
It didn't help that to some who heard it, the cover was not considered good — a song far out of Drake's comfort zone and vocal familiarity. But I found myself interested because his cover felt like an honest, genuinely personal offering from an artist who seemed to be losing touch with the brand of intimacy that once grounded him. Drake's version, like the original, is melancholy and sparse, ruminating on loneliness and regret, looking back on a life that was different from his current one. "These Days" is the perfect song to bring the second act of his career to a close, the act when he went from mixtape darling and promising newcomer to legitimate star with the world at his feet and the expectations that go along with that. But fittingly, the plodding and emotionally monochromatic Views eclipsed the cover altogether, hinting at the loss of intimacy to come.
Outside of the humor and bewilderment it produced from people on the internet, whether or not Drake had a child — or whether or not he wanted everyone to know about him — was never particularly interesting to me. With "The Story of Adidon," Pusha T placed Drake in a corner and the only way out was through explanation. But it made sense to me that one of the biggest artists in the world — especially one who staked his early career on tearing down the walls of privacy — might want to keep a high-stakes situation like unexpected fatherhood private.
Drake addresses this in somewhat predictable fashion on "Emotionless," the fourth track on the sprawling 90-minute album Scorpion, released last Friday. "I wasn't hidin' my kid from the world / I was hidin' the world from my kid," Drake raps, sandwiched between fist-shaking bars about how young people are always on their phones and posting on Instagram. It was a safe and acceptable moment: He was able to address the elephant in the room in a way that seemed reasonable, in a way that only the most cynical listener would push back against. Still, much like the rest of the album itself, it felt like a tedious necessity — something Drake the artist himself didn't want to do, but felt he had to. We expect Drake to address the child, and so he throws a line about the child into a song unfurling a scroll of complaints with the world. We expect a Drake album, and so Drake provides an album. It all feels increasingly robotic. Instead of Drake turning corners with each new release, he's playing into reheated versions of his most successful selves from the past three years.
We expect a Drake album, and so Drake provides an album. It all feels increasingly robotic.
The music video for Scorpion's third single, "I'm Upset," is perhaps the most damning example of Drake's lack of growth since 2013's Nothing Was the Same. Released about two weeks after Drake's back-and-forth with Pusha T was declared over by their mutual friend and rapper J. Prince, the video for "I'm Upset" finds Drake back at the site of his child-acting glory, a reunion with the cast of the Canadian teen drama Degrassi, shot on the set of the old high school. On its face, the video is fun and funny, playing on the collective hunger for nostalgia as a unifying force. But it is jarring how disconnected the video is from the song. "I'm Upset" is not only one of Drake's worst singles ever, but — much like Scorpion on the whole — it is Drake at his most paranoid and visceral. He airs grievances about paying child support and the money placed on his head, insists on fear driving him to purchase a bulletproof vest — all while grinning and dancing with his former teen costars in their fake high school's old gym.
The emotional distance between the song and the video is startling. What once would have been charming now reads as a bit tired: Drake running back to his childhood in a moment when he seemed most aggressively tasked with the work of having to grow up.
In the first two acts of Drake's career, he grew his fanbase largely through his rich and layered storytelling. In his earlier mixtapes and albums, Drake relied on intimacy through in-depth specifics, dropped-into stories that might be able more glorified versions of your own experiences. You might have your own Courtney from the Hooters on Peachtree, or a favorite dancer at a club who you just can't stay away from. Most of us listening understood longing and desire, and the mistakes that those two emotions could compel us to make. Some of us have left drunk voicemails in a quest for companionship. Drake was able to weaponize the emotional nuances of those spaces so they seemed universally familiar, even when he was sloppy, or annoying, or controlling toward his muses.
Additionally, to follow Drake's career arc meant (and, in some ways, still means) that we were getting a firsthand glimpse into an artist who was open with his struggles around rapidly gaining fame. Particularly on the aptly named Nothing Was the Same, there was an aura of satisfaction paired with a complicated tone of "'How did I get here?" in the lyrics. When he mentions having dinner with Tatyana Ali on "Tuscan Leather," the album's opening track, in the context of the song, it's a boast shared with a group of friends, but also a repeated detail so that he himself could believe it. Getting to watch someone ascend to the top of their particular game over a five-year stretch can be miraculous, especially if you feel as though you are consuming that person's diary entries in a way that still includes you, the listener, along for the ride.
A considerable problem with committing to relatability as a narrative device though is that it becomes significantly harder to do the more famous you get. This was always going to be a problem for Drake, and some would argue that he held on for longer than expected. By 2015, he had cemented his place in pop stardom, with all of the decoration and high-profile interactions that it brings. And his work began to suffer for it. On 2015's joint mixtape with Future, What a Time to Be Alive, the pettiness of Drake's gripes seemed glaring when paired with the grim realities of Future's life and romantic issues. While Future rapped of maneuvering the world in a sex- and drug-fueled haze to survive his debilitating woes, Drake mused about expensive restaurants and famous women.
Drake spent his early career painting a picture of his worst fears, and has spent his midcareer walking into the painting himself.
The stagnation of Drake was already evident in 2015, but ironically, this most recent phase of his career has also been his most prolific. His three subsequent studio albums, Views in 2016, More Life in 2017, and Scorpion, have each been over 80 minutes long. Only one of his first three albums — 2011's Take Care — clocked in as long. But unlike that album, these later works aren't committed to providing anything new about Drake the person, or even Drake the persona. Most of them are overstuffed with stylistic and sonic shifts, Drake attempting to provide a little something for everyone instead of threading together any coherent narrative or musical thread that might make a project feel whole.
As Drake's life has become less accessible to his fans who relied on his in-depth specificity and sharp lens on minutiae, it seems as though the distance he has from his previous life has weighed on him. The way his old lyrics have echoed back to haunt his current predicaments is almost heartbreaking in its predictability. From his taunts about aging rappers ("talking about these other rappers getting old is even getting old") to his laments about the trustworthiness of partners and dodging paternal lawsuits — Drake spent his early career painting a picture of his worst fears, and has spent his midcareer walking into the painting himself.
It makes sense, then, that the current state of Drake is that of an anxious, cynical, paranoid person who isn't having much fun. It's hard to offer a tapestry of the small and rich details of your life when you are becoming more guarded by the year, leaning into this idea of fame as more of a curse than a blessing. In some ways, this is fair and understandable. Fame takes hold of people differently, and even the slightest bit of visibility makes some old routines difficult. But what has bled into Drake's music, in place of growth, is an unshakable bitterness with his public profile, something that seems to have been accelerated by what Pusha T was really claiming on his diss track. Yes, the largest shot fired across the song was about Drake's hidden son, but what was resting underneath that bombshell was something that Drake's detractors have been insisting for years. And it's been given legs by this new attack: You aren't real, even to the people who are supposed to be closest to you.
For someone to make worthwhile art over a long period of time, it requires a suspension of disbelief from those taking the art in, and sometimes, from those making the art. Drake sold intimacy and accessibility for as long as he could. Then, when he seemingly stopped believing in those things in his own life, he appeared to just stop working toward anything else.
The biggest difference in Drake's version of "These Days" when compared to the original is the way the ending is reworked. Drake closes the song with a line about sitting in a chauffeured car and counting the stars above his head, before letting the track fade by way of a piano and some soft strings. This line isn't in the original version. In the original, Nico drops the song off abruptly with a verse Drake avoided:
"Please don't confront me with my failures / I had not forgotten them." ●
Hanif Abdurraqib is a poet, essayist, and cultural critic from Columbus, Ohio. His first collection of poems, The Crown Ain't Worth Much was released in 2016 and was nominated for the Hurston/Wright Legacy Award. His first collection of essays, They Can't Kill Us Until They Kill Us, was released in fall 2017 by Two Dollar Radio.