Obama Envisions A More Diverse Startup Scene
President Obama hosted more than 30 startup companies at the White House as part of an initiative to boost racial and gender diversity.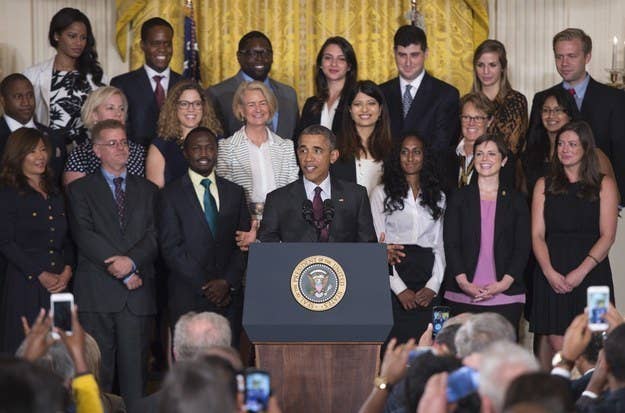 A diverse group of founders transformed several rooms of the White House into a bustling science fair Tuesday afternoon during the first ever White House Demo Day.
"Look at you guys with all your gadgets," President Obama said gleefully in a packed White House East Room, which was humming with hundreds of entrepreneurs and business leaders eager to snap a picture of the president on his 54th birthday.
"On a typical demo day, entrepreneurs, like many of you, pitch your ideas to potential investors in venture capital or elsewhere, and it is a high stress make-or-break moment that could change the course of your life," Obama said. "Today was much more relaxed because you just had to pitch the President of the United States."
Dozens of startups pitched ideas and showcased insurgent technology aimed at transforming the world, but the innovators were also there to address diversity. The event was created to promote the moral and financial merits of advancing equality of opportunity for entrepreneurial women, people of color, and individuals who live outside of capital-rich metropolises.
Demo Day included a slew of commitments from the federal government and private companies to create a more inclusive business culture.
More than 40 leading venture capital firms, including Andreessen Horowitz, Intel Capital and Kleiner Perkins Caufield and Byers have committed to concrete actions to advance opportunities for women and minorities within both their firms and their portfolio companies to help address the diversity problem.
Many of these venture capital outfits will be adopting some version of the NFL's Rooney Rule, which will require women and minority candidates be interviewed for both entry-level and senior positions. Amazon, Microsoft, Xerox, and several other tech giants have made similar commitments for filling senior executive roles.
These moves follow recent, forceful pledges by Pinterest and Intel to increase the ethnic and gender diversity of their workplaces by measurable percentages by 2016 and 2020 respectively. Members of the Congressional Black Caucus also traveled to Silicon Valley this week to pressure many of the industry's giants to develop and publish their diversity hiring plans.
The Obama administration and business executives consider the push for inclusion a necessary and urgent corrective. According to U.S. Chief Technology Officer Megan Smith, less than three percent of all American companies backed by venture capital are led by women, and only one percent of venture backed businesses are helmed by African Americans.
"We've always had founders and innovators from every group — men and women, people from all racial groups, all ages, all parts of our country," said Smith. "But they haven't always had access to the deep entrepreneurial resources like venture capital and other pieces at the same rates as each other."
Part of that inequity has to do with the makeup of investment firms themselves. Women count for just four percent of US-based venture capital investors, and while many of the country's innovation ecosystems may be outpacing the rest of the world, Smith believes these tech and business networks "haven't been as inclusive as they need to be."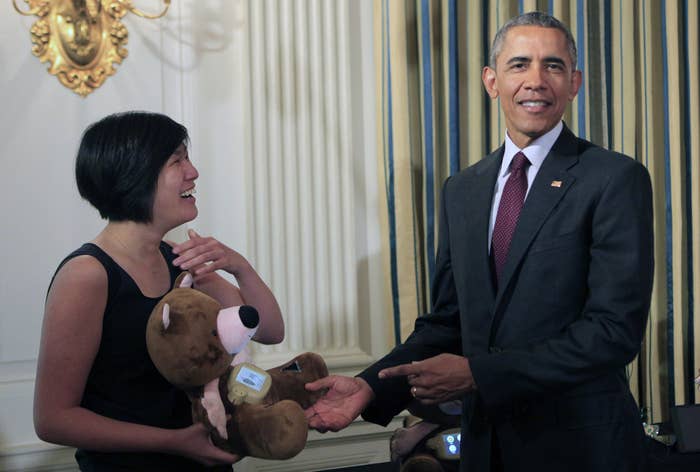 As part of the White House Demo Day, Obama announced that his TechHire initiative — a program that provides funding for tech training and coding skills— will be expanded to 10 new cities and states. The hope is that this will help connect workers with companies across the country that are desperate for technologists.
The 32 companies selected for Demo Day represented a wide array of impressive business products, from an algae-derived gel that can stop traumatic bleeding, to next generation low-cost batteries. But their personal stories and ambitions also spoke to the virtue of having business leaders from different walks of life.
"I think you bring different things to the table, and because it might be harder for us to overcome those barriers, there's just that much more effort," Anwaar Al-Zireeni, cofounder of Privail, told BuzzFeed News.
Her business partner, cofounder Christopher Ategeka, is from Uganda and lost both his parents to HIV/AIDS. Ategeka and Al-Zireeni are now developing portable, easy to use diagnostic devices for the early detection of HIV and, eventually, other infectious diseases.
Ategeka said those behind Privail have been pulling themselves up by their bootstraps so far, and that they hoped to raise $2 million so they can further develop the company's hardware.
Another entrepreneur, Jon Thornton told BuzzFeed News: "Our diversity story is that we are connecting the world with the Moon." His company, Astrobotic Technology, is quite literally shooting for the Moon with space robots.
As cofounder of the Pittsburgh-based firm, Thornton is also hoping to help revitalize the former steel capital. He is pinning the city's resurgence on scientific research led by local universities and a nascent robotics and software scene — one that he is proud to see developing outside of San Francisco.
Astrobotic Technology aims to be a kind of lunar FedEx, shipping cargo and people to Earth's natural satellite. Referring to Mexico's recent partnership with Astrobotic to get to the Moon, Thornton said: "For the first time a fairly modest sized space agency can purchase a ride, fly to the moon, and accomplish something that only the industrial giant nations here on Earth have done. It's really democratizing and opening up the Moon in a way that's never been possible."
For the Obama administration, building a more inclusive startup scene that spans geography, income-level, gender and ethnicity goes beyond honoring a sense of fairness. It's good for business, too, Smith said, citing research from First Round Capital, a venture capital firm.
Companies with at least one female founder performed 63 percent better than all-male teams. Their research also found that the success of companies was not affected by their location outside of major tech hubs. Smith went on to quote a McKinsey & Company study showing companies that lead in workplace diversity for both race and gender were more likely to outperform their less diverse peers.
"Not only is this the right thing to do" Smith said. "But it turns out that it's highly profitable."