Mayors Blast Verizon For Skipping Poor Neighborhoods, But Company Says It's "PR Stunt"
Customers, employees and political leaders are criticizing the telecom giant for failing to bring fast internet to low-income neighborhoods. The company says it's just union troublemaking.
Verizon reported a $4.2 billion profit for its most recent quarter on Tuesday morning, saying customers are flocking to it for "network reliability and superior value." But as the company celebrates drawing in more than a million new mobile customers, it is dragging its feet on resolving two major contract disputes involving more than a dozen major Northeastern cities and tens of thousands of its own workers.
Those two disputes are merging into one, as advocates for low-income neighborhoods say they've been denied contractually-promised high-speed internet service while Verizon's unionized employees have been working without a contract since talks broke down this summer.
Now, a coalition of mayors in the tri-state area has taken up these causes, with an audit, letters, and a public hearing into what they claim is bad-faith behavior by the telecom heavyweight, both in its stalled fiber-optic cable installation and labor negotiations. Verizon maintains the elected officials are being played by the union and that it has met all its contractual obligations in the city. But that defense appeared to wear thin at a City Council hearing last week, where audience members heckled defensive executives and cheered citizen accounts of the uneven broadband roll-out.
Back in 2008, Verizon signed a franchise agreement with the city of New York, agreeing to wire all five boroughs with fiber-optic cable for high-speed internet access by 2014. The city's goal was to break up the Time Warner-Cablevision duopoly and improve internet connectivity in the five boroughs, closing a persistent digital divide. "No other provider has said it will build in all of New York," said Virginia P. Ruesterholz, then-president of Verizon Telecom, at the time. "The other competitors haven't built everywhere, but just taken their turf."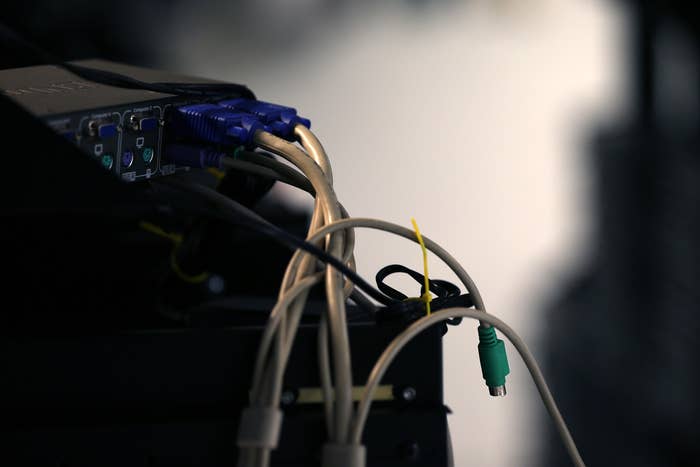 The company has yet to make good on this promise. In June, a withering audit by the New York mayor's office found the company "substantially failed to deliver" on its obligation, prioritizing service requests for "bulk properties" rather than delivering connections equitably. This means property owners who agreed to the installation of multiple connections at one time, or who promised to do business exclusively with Verizon, were serviced more quickly than a location with fewer guaranteed customers.
The audit found Verizon overlooked many communities with disproportionately low-income residents. Among the allegedly disconnected neighborhoods are much of Harlem, Washington Heights, Bedford Stuyvesant, Jackson Heights, Bay Ridge, Bensonhurst, and Sunnyside. Counsel to the Mayor Maya Wiley pledged to hold the company accountable, proclaiming "There's a new sheriff in town."
Helping that sheriff keep the heat on Verizon is the Communications Workers of America (CWA), a 700,000-strong union with a vested interest in holding a spotlight on one of the biggest employers of its members. Since the summer, Verizon has been locked in negotiations with the CWA and the International Brotherhood of Electrical Workers (IBEW) over a contract covering 39,000 unionized workers. CWA, which represents 7,500 Verizon workers in New York City, had testified in favor of the franchise agreement in 2008, "hoping that it would lead to both continued employment and the provision of a state-of-the-art broadband product to the people of this city" in the words of Bob Master, Assistant to the Vice President for CWA District 1 in New York.
CWA has since criticized Verizon's FiOS rollout, citing failures to adequately staff the project and a stall in work after the 2012 naming of Lowell McAdam as CEO. McAdam came from Verizon's wireless, rather than wireline division, and Master testified last week that field technicians saw a slowing in the company's FiOS deployment after he took the job.
Verizon disputes the allegations of union leaders and politicians. "In all areas where Verizon has franchises and agreed to deploy FiOS, we have met or surpassed our deployment obligations," the company said in a statement to BuzzFeed News.
The company described complaints by the mayors as part of a "PR stunt" related to ongoing labor negotiations. "Since Verizon started bargaining this year with the CWA, we've seen numerous half-baked and inaccurate letters and statements from union leaders regarding Verizon's FiOS commitments and more. It's all nonsense," Verizon said.
In June, when the New York audit was released, a Verizon representative called the findings a "union ploy" in an email to BuzzFeed News.
But some New York City officials roll their eyes at Verizon's suggestion that the CWA is using Northeastern mayors to improve their contract bargaining position. "They can talk all they want about political machinations, but they are just avoiding the question," said one official. "It's really very, very simple. Large swaths of New York City still don't have FiOS. That's literally all that this is about."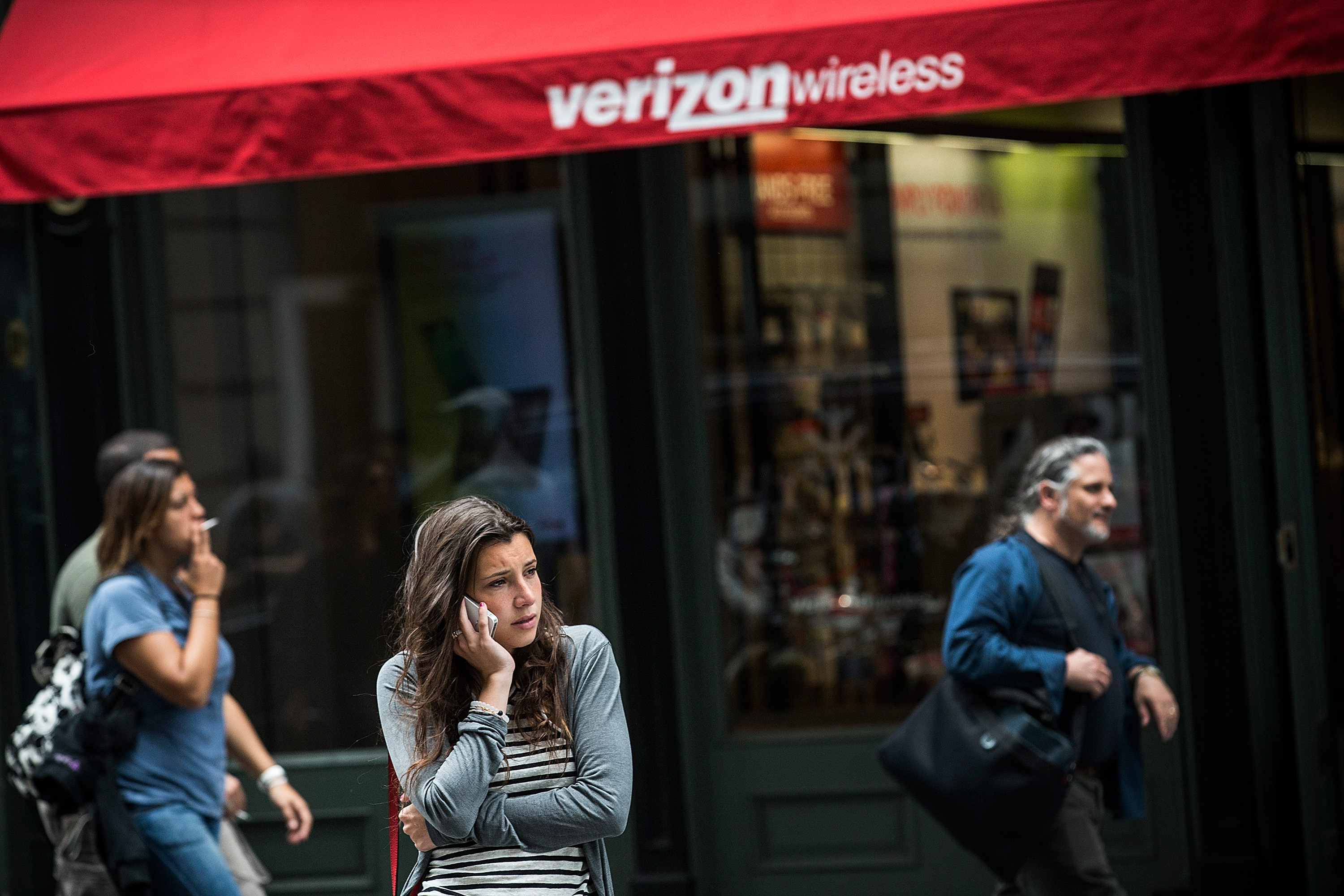 At the hearing, Verizon acknowledged that approximately 106,000 New York households have outstanding requests for FiOS. This shakes out to about 49,000 building addresses where residents have requested a high-speed connection but have not yet received one. More than three out of four of those citizens have been waiting for service for more than a year, according to the audit.
This may be the stickiest point for Verizon. Although the company says it has "passed" every premise in the city with cable (that is, to have laid a wire in every city street), it hasn't fulfilled its obligation to offer and provide service to anyone who asks for it within a year of the request. The difference between laying cable in a street and connecting households to it might be a technicality of contractual language to Verizon — but it's the only thing that matters to the people who live in those households and remain stuck with their local monopoly cable provider.
Both city council members and citizens testified that on calls made as recently as half an hour prior to the council meeting, they were told FiOS was not available in their neighborhoods and that there was no timeline for when it would become available. To this, Verizon executives said they need to better train their customer service reps to say that service will be available within six to twelve months.
"To the extent that they've told somebody that service is unavailable, that's an indication we have more work to do," said Kevin Service (yes, Service), Verizon's senior vice president for network operations.
City officials also claimed that Verizon has disproportionately denied service to residents of low-income neighborhoods. Leecia Eve, vice president for state government affairs for the tri-state region for Verizon, said that the company faced access and right-of-way challenges in many of these neighborhoods, as well as in Manhattan neighborhoods including Midtown and the Upper East and West Sides. Eve and Service also said that landlords across the city regularly deny Verizon workers access to hook up connections.
New York is not alone in accusing Verizon of excluding low-income neighborhoods from access to FiOS. Steve Fulop, Mayor of Jersey City, has leveled similar charges against the company. Verizon has failed to connect more than 20,000 addresses in Newark and over 25,000 in Jersey City, according to a spokesperson for the Mayor and public records. That means some 20% of Jersey City addresses, many of them in low-to-middle income neighborhoods, lack the new high-speed internet connections they were promised.
A map provided to BuzzFeed News by Fulop's office marks every address where Verizon sought FiOS installation exemptions in Jersey City. While it does show exemptions citywide, dense clusters of unconnected addresses are clearly visible in neighborhoods with low to middle incomes, like parts of Journal Square and McGinley Square.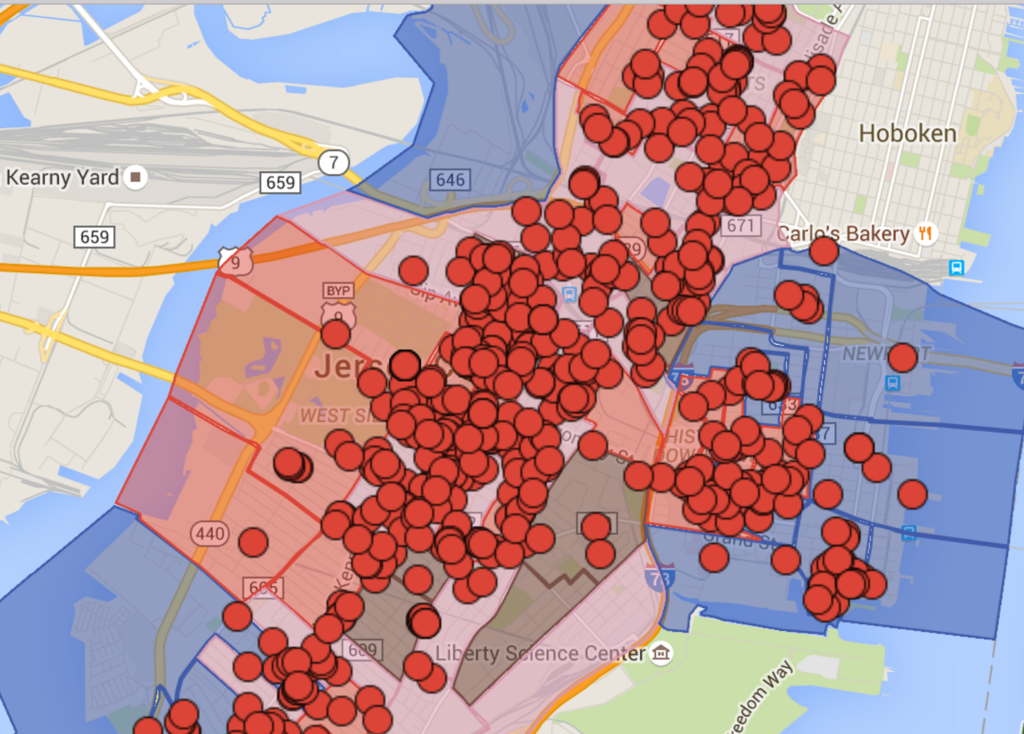 Earlier this month Fulop joined New York City Mayor Bill de Blasio and 11 other Northeastern mayors in denouncing Verizon and its dawdling high-speed rollout. "Based on irrefutable evidence of your company's poor service record, lack of transparency and accountability...we are deeply concerned that you have not acted like a good corporate citizen," the mayors wrote in a letter dated October 1. The mayors also questioned Verizon's good-faith in its ongoing union negotiations.
During last Wednesday's city council hearing, Wiley conceded that Verizon has been more cooperative in recent weeks. But she explicitly noted that the city hasn't yet ruled out legal action over its stumbling FiOS deployment. She told BuzzFeed News that the city's recent audit of Verizon showed definitively that the company "has failed to fulfill its contractual obligations to the city" and said at the hearing that suing them remains an option.