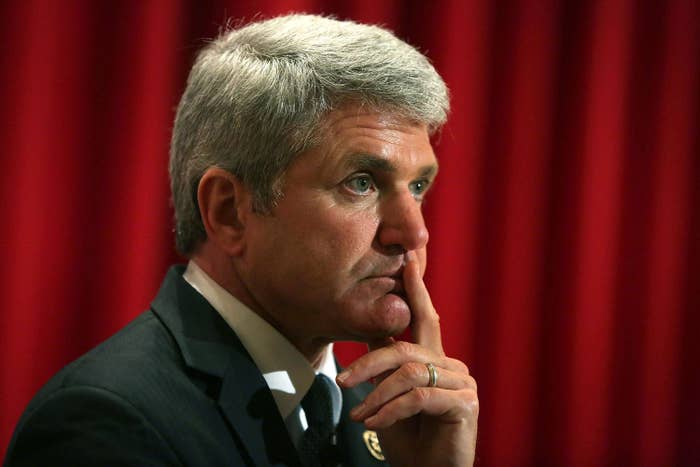 WASHINGTON – Amid the encryption battle between Apple and the FBI that has captured national attention in recent days, Sen. Mark Warner of Virginia and Rep. Michael McCaul of Texas announced Wednesday that they will advance legislation next week to create a special commission to study digital security issues.
Warner and McCaul said the bill will call for a 16-member expert panel, modeled after the 9/11 Commission and comprised of law enforcement officials, technology companies, privacy advocates and cryptologists.
"In many ways, the current litigation that's taking place might not have been needed if we had this kind of approach a few years back," said Warner, who sits on the Senate Intelligence Committee. "My fear is that we are talking past each other."
The group will produce an interim report to Congress in six months, and a final report in one year, the two lawmakers said. The report will seek to address the challenges that encryption poses to law enforcement — a key point of dispute in the encryption debate.
Following the mass shootings in Paris and San Bernardino, the issue of encryption has taken on national prominence. Policymakers remain fearful that criminals and terrorists will exploit communication technology to conspire outside the reach of law enforcement.

"The whole point of the bill and the commission is to find a solution to a Paris-style attack where the attackers are using end-to-end encryption on apps to conduct a major terrorist operation," said McCaul, who chairs the Committee on Homeland Security in the House of Representatives.
During the announcement, however, neither lawmaker had any solutions to share. "Believe it or not, in Congress, we are not always the experts," McCaul said. "Particularly an issue as technical as this one, we don't have the answers."
Warner and McCaul insisted that the Commission would find a path forward.
Apple does not appear concerned about the prospects of a drawn-out Washington debate, as the iPhone manufacturer locks horns with the FBI in court. In a letter to customers this week, the company suggested that the government form a special commission of experts, and that "Apple would gladly participate in such an effort."
When asked by a BuzzFeed News reporter, however, if the FBI should withdraw its legal challenge against Apple as Congress works to resolve digital security issues, Warner replied: "No, I think that case is going to be played out."
In what may be a positive sign to tech companies and privacy advocates, Warner and McCaul emphasized their view of encryption as a vital tool in American society and rejected the common framing of encryption debates as "consumer privacy versus national security." The two lawmakers also noted that the market for encryption tools is thriving outside of the U.S., and that any solution would have to include an international component.
Highlighting the current standoff between Silicon Valley and Washington, McCaul said, "There is no easy, knee-jerk legislative response to this."