In Congress, Drones Represent Money, Freedom — And A Security Threat
Senator Dianne Feinstein: "I do not share your excitement over the drone."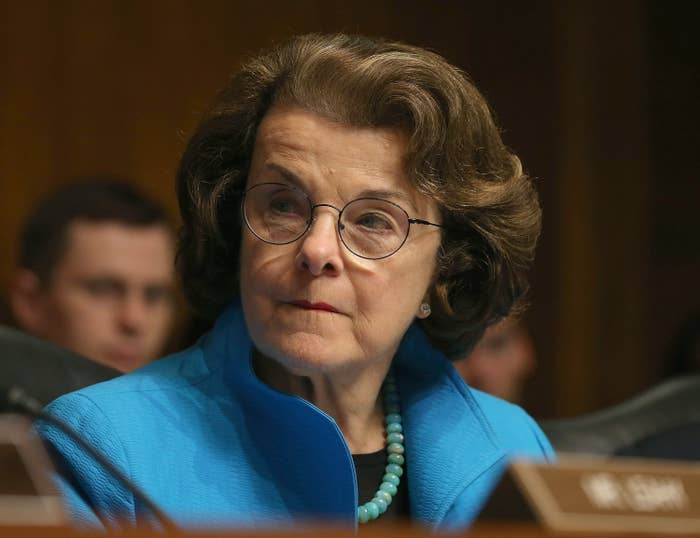 This holiday season, roughly one million drones will be purchased as gifts. That's a Christmas miracle for manufacturers, a boon for young pilots looking skyward, and — maybe, if you're Congress — an ominous harbinger a disaster to come.
In the U.S. Senate Wednesday, Sen. Dianne Feinstein laid out the stakes of an unregulated airspace, and made the case that the government is doing too little to prevent untrained hobbyists from dominating the sky. "Without regulation, Mr. Huerta, it's only a question of time before a commercial airliner comes down because one of those," she said, addressing Michael Huerta, the chief of the Federal Aviation Association.
That argument characterizes much of the opposition to a flexible and liberal drone policy — something that hobbyists and manufacturers want, but airline pilots and first responders fear. This summer, the FAA released figures detailing the number of close calls between pilots and unmanned aircraft, which has drastically increased. Between January 1 and August 9, there were 650 incidents of drone sightings in restricted airspace. That's almost triple the amount of sightings from all of last year, 238.
In response to the increase, earlier this month, the FAA and the Transportation Department announced a plan to require all owners of recreational and commercial drones to register their aircraft with the federal government. It was an aggressive first step to integrate drones into the national airspace without, regulators hope, slowing the staggering growth of markets tethered to unmanned aircraft. One widely cited estimate puts the US economic impact of drones over the next ten years at $82 billion.
A special task force comprised of government and industry officials will recommend how the national drone registry will take shape and what information will be collected from owners. The task force will also purpose which types of aircraft should fall under mandatory registration; when the registration should occur; if the process would carry a fee; and if it would be web-based.
In the hearing, Huerta expressed a careful optimism about the growth of drones. Safety remained his paramount concern, but he shared with lawmakers a vision of economic flourishing and rapid innovation. "This has been characterised by some as really being a Wright Brothers moment in aviation of our generation," he said.
His thoughts weren't shared by everyone in the room. "Mr. Huerta, I do not share your excitement over the drone," said Sen. Feinstein. "We see harm, dramatic harm that can be done by drones, and the re-rigging of drones, and those drones falling into some very bad hands."
"So this is a new industry, it is an unregulated industry, you do not have the authority currently to do anything to see that that does not happen. And this is a serious and grave concern to me," she said.
Sen. Feinstein proposed offering the FAA unambiguous authority to require drone manufacturers to install technological safeguards like geo-fencing, collision-avoidance software, and transponders. While her plan is welcomed by established groups like the Air Line Pilots Association International, drone industry organizations, like the Small UAV Coalition, are skeptical of legislators prescribing technological fixes.
While Aviation and Transportation officials plan to have the national drone registry set up by Christmas, the final rules for regulating commercial drones won't come until next summer. And these rules will apply only to commercial operators, not recreational ones. This may prompt Congress to act — meaning we may soon see lawmakers pitted against a nascent industry skeptical of regulators in a battle for our skies.