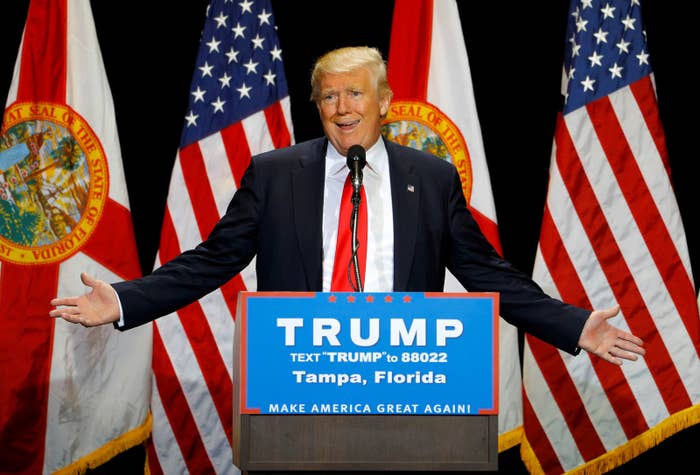 How do you get some of the most powerful and prickly people in the tech industry, including Apple co-founder Steve Wozniak, Vint "father of the internet" Cerf and the founders of Reddit, Medium, Twitter, and Wikipedia, to agree on a divisive political issue? You convince them that the American innovation at the core of their businesses is in danger. Apparently, Donald Trump's presidential campaign has what it takes.
In an open letter published on Medium Thursday that reads like a who's of who of tech-world luminaries, 150 executives, engineers, researchers, and investors voiced their opposition to Trump, whom they say would threaten economic growth and the free expression of ideas if he becomes president.
"We were aligned with one common point of view: Trump would be a disaster for innovation," Katie Jacobs Stanton, the CMO of Color Genomics (and former vice president of global media at Twitter), told BuzzFeed News. Stanton was one of the organizers behind the open letter, which she says began through emails, and took shape in a Google doc as dozens of people added their support.
"The organization of this was organic and went viral across a big network of technology leaders, hence the diversity of signatories." Alec Ross, author of "The Industries of the Future," who also served as a tech advisor to Hillary Clinton in the State Department, told BuzzFeed News. Ross also helped organize the letter, and said that many people "pecking away" at the document crafted its language.
The letter's focus on innovation, as opposed to more explicitly political issues helped garner consensus, said Hunter Walk, a partner at Homebrew. "There's a lot of concern in the Valley about some of Trump's statements, and this started to give people a chance to speak with a single voice," he told BuzzFeed News.
Several organizers said that the goal of the letter was not to necessarily dissuade Trump's supporters, but to express the concerns of the tech community, and to help bring this discussion to the surface. They currently have no plans to use the open letter's coalition for future political action.
Trump's campaign has not yet responded to the letter, but following intense speculation this week over his VP pick, Trump named Indiana Governor Mike Pence as his running mate Friday. Since the announcement, the Consumer Technology Association, a tech industry trade group, has called on the Trump-Pence ticket to release its tech policy agenda, which Hillary Clinton has already done.