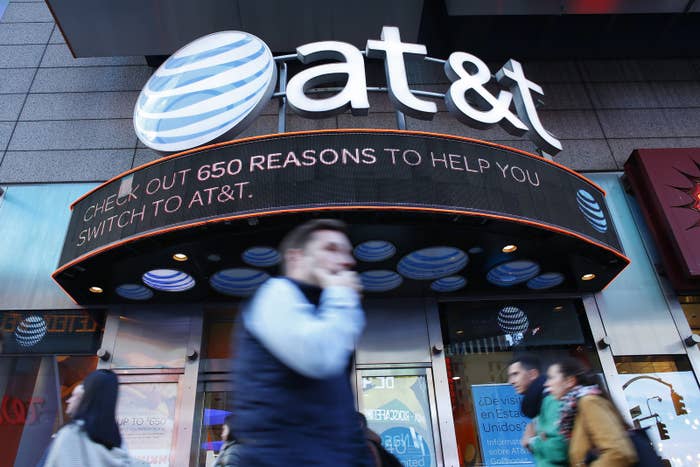 The nation's top telecom regulator has once again warned AT&T that it's practice of zero rating its own streaming service, of allowing mobile customers to watch some programming without it counting against their data caps, may inhibit competition and harm consumers.

The Federal Communications Commission believes AT&T's zero rating programs may favor its own video offerings while discriminating against rivals, "limiting their ability to offer competing video services to AT&T's broadband subscribers on a level playing field," according to a letter sent Thursday to AT&T.
The FCC sent a similar letter to Verizon on the same day, criticizing its own zero rating program, which the agency argued may significantly disadvantage outside video providers, leading to "anti-competitive effects."
The heightened scrutiny from the FCC comes just days after AT&T unveiled its DirecTV Now streaming service. The new package was heralded by the company as a fresh alternative for cord-cutters, the millions of Americans who have ditched traditional cable TV in favor of cheaper, more flexible web-based offerings from companies like Netflix, Hulu, and Amazon.
AT&T bought DirecTV in 2014 for $48.5 billion and is in the process of acquiring Time Warner for $85 billion, whose lineup includes CNN, HBO and Warner Bros.
Before the mega-merger can proceed, the deal must first pass the regulatory scrutiny of the Justice Department's antitrust division. Donald Trump, on the campaign trail, vowed to block the merger, invoking his populist message of dismantling systems where too much power is concentrated. But, as the Financial Times reports, Trump's transition team has reassured AT&T executives that the review process will proceed without prejudice.
Some early critics of the AT&T deal point to zero rating as a potential anti-competitive practice, discouraging other content providers not named Time Warner from getting in front of AT&T's wireless customers. The FCC, however, is concerned this dynamic may already be underway. Regulators are worried that AT&T's zero rating program may privilege AT&T's partner, DirecTV, while denying other mobile video providers "the same ability to compete over AT&T's network on reasonable terms."
In a preliminary conclusion, the agency found that AT&T's practices of excluding the data usage of DirecTV's streaming service would "inhibit competition, harm consumers, and interfere with the 'virtuous cycle' needed to assure the continuing benefits of the Open Internet."
Both AT&T and Verizon told BuzzFeed News their services benefit customers.
A spokesperson for AT&T said in a statement, "These are incredibly popular free services available to millions of customers. Once again, we will provide the FCC with additional information on why the government should not take away a service that saves consumers money."
Verizon said the company will respond to the FCC's letter. "In the meantime, we remain quite confident that our practices are good for consumers, non-discriminatory and are consistent with current rules."
Verizon and AT&T have until Dec. 15 to formally reply to the FCC and address the concerns raised by the agency.
In a statement released Friday, FCC Commissioner Ajit Pai expressed his displeasure over the letters sent to AT&T and Verizon, describing the move as "yet another broadside against free data for consumers." Pai, along with the FCC's other Republican Commissioner, Michael O'Rielly, voted against enacting network neutrality rules, and has argued that zero rating programs offer consumers improved service and greater choice.