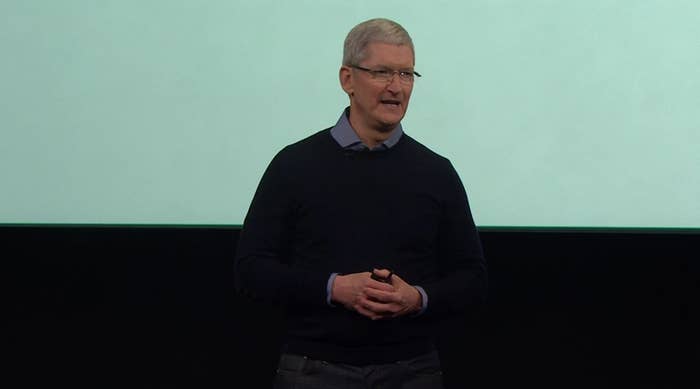 Apple's first keynote event of 2016 began not with a shiny new product but with a challenge to the U.S. government.
Apple CEO Tim Cook kicked things off with a nod to the company's legal battle with the FBI and the Department of Justice, a dispute turned national controversy that revolves around a locked iPhone used by the man behind the San Bernardino terrorist attack that left 14 people dead last year.
"We did not expect to be in this position — at odds with our own government," Cook said. The comments came as the company prepares to square off against government lawyers in court Tuesday afternoon.
"We need to decide as a nation how much power the government should have over our data and over our privacy," he said.
Last month, a federal magistrate judge ordered Apple to help the FBI break into the encrypted iPhone by designing new software that would defeat several security features built into the device. Currently locked, and protected by a passcode, federal investigators believe the iPhone may hold crucial information pointing to possible co-conspirators involved in the San Bernardino mass shooting.
Apple insists that if it were forced to design such software, the security of all other iPhones would be put in jeopardy, and that the San Bernardino case would set a legal precedent, reshaping the limits of law enforcement and Silicon Valley's role in assisting government surveillance.
On Tuesday, Apple will challenge the government's demands in court, and the Department of Justice will argue why Apple should comply.
Cook said, "we believe strongly we have a responsibility to help you protect your data, and protect your privacy. We owe it to our customers and we owe it to our country. This is an issue that impacts all of us and we will not shrink from this responsibility."