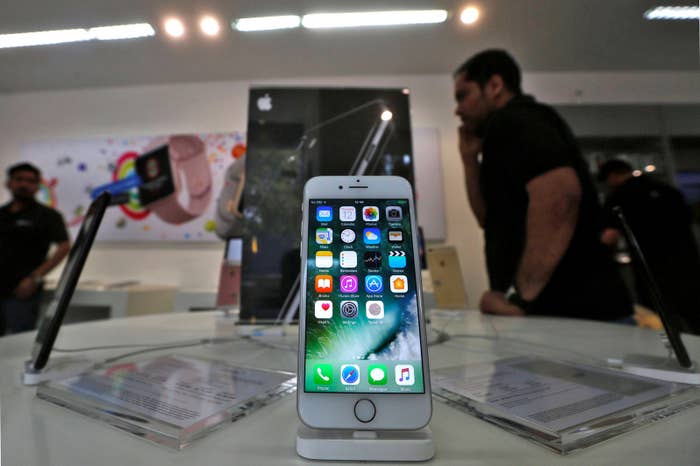 Apple is opposing a bill in Nebraska that's designed to make it easier and possibly cheaper for you to repair your iPhone. On Thursday afternoon, legislators in Nebraska considered a "right to repair" proposal, which was designed to open up the state's repair market for electronic equipment. It would require manufacturers to provide manuals and diagnostic tools that would allow independent shops to fix devices like computers and smartphones. But, according to the bill's supporters, Apple wants to it see it fail. And it wouldn't be the first time the company has tried to defeat such a proposal.
The chair of the Judiciary Committee in Nebraska's legislature concluded Thursday's hearing by saying the bill will likely not be considered this year, reflecting the challenge of passing new legislation with enough urgency and support in state houses.
Eight states — Kansas, Minnesota, Nebraska, New York, Tennessee, Massachusetts, Illinois, and Wyoming — are considering right to repair legislation. The laws would require that device manufacturers like Apple, Samsung, and John Deere provide repair manuals and parts to independent repair shops, giving customers more options to fix their phones and ultimately lowering the cost of repairs, proponents say.
Opponents of right to repair say such laws would unfairly expose their trade secrets and could lead to safety and security concerns for consumers. But one prominent repair organization estimates that phone manufacturers stand to lose billions of dollars in repair services that for now they largely control.

State Senator Lydia Brasch, who is sponsoring the Nebraska bill, told BuzzFeed News that in a recent meeting with Apple representative Steve Kester, she was told her state would become the "Mecca for bad actors" if the bill passed, with hackers flooding into the state. According to Sen. Brasch, the Apple representative said if she were to except phones from the legislation, then Apple would not oppose it. The bill wouldn't just apply to smartphones but to a host of electronic devices, including tablets, computers, and printers, as well as computerized farming equipment like tractors.
New York State Senator Phil Boyle first introduced right to repair legislation in 2014, but he told BuzzFeed News he faced an uphill battle, with tech companies, Apple among them, lobbying him and his colleagues against it.
"Some of us believe that this practice is monopolistic," Sen. Boyle said. "If I buy a computer, they are almost requiring me to go back to the facility to get it fixed at an inflated rate."
"The last time, it came up against strong lobbying from the tech sector," Sen. Boyle said. The bill in the previous session never made it to a vote. But he has reintroduced the right to repair bill with jobs and antitrust concerns in mind.
Massachusetts State Representative Claire Cronin also received opposition from Apple on her right to repair bill during the last legislative session. "Currently, there is a monopoly on the repair industry," Rep. Cronin told BuzzFeed News in a statement. "This legislation serves to expand competition in the repair market, which helps consumers repair their electronic products at a reasonable and affordable cost."
Other state legislators have drawn inspiration from Massachusetts' fight. Signed into law in 2013, landmark automotive right to repair rules there prompted car dealers to pledge to share repair and diagnostic information to mechanics across the country. Rep. Cronin extends the principle behind the automative law into the world of consumer electronics. "Apple opposed this legislation in the last session," she said. "However, we sense growing public support and look forward to the hearing and public debate on the issue."
Apple declined to comment on Nebraska's right to repair legislation or its lobbying efforts in other states. But the company said that limiting repairs to authorized vendors is the only way it can guarantee that genuine parts are used and that the devices are fixed correctly.
Speaking of manufacturers generally, Sen. Boyle of New York told BuzzFeed News that he is open to allowing businesses to authorize specific repair shops to work on their devices, but only if the certification requirements are reasonable. In the past, Boyle said, certifications have included exorbitant fees for small businesses, he said, mentioning one such fee at $5,000, "effectively making it impossible."
A host of tech industry groups, including CompTIA, the Consumer Technology Association, and the Information Technology Industry Council are also opposing the Nebraska legislation. The groups represent some of the biggest names in consumer tech: Apple, Microsoft, Google, Samsung, Nintendo, and Sony.
In a recent letter to Sen. Brasch, the groups wrote that her proposed legislation "compromises intellectual property" and would "jeopardize consumer safety and security," making them vulnerable to hackers and improper repairs. The groups also say that right to repair is unnecessary, since customers already have "substantial choice when it comes to visiting the repair facility that best suits their needs."
Apple told BuzzFeed News that it has 1,371 authorized service partner locations in the country, in addition to 270 Apple Stores across 44 states.
But Gay Gordon-Byrne, executive director of the Repair Association, said authorized repair providers are limited in the types of repairs they can perform. And Sen. Brasch emphasized that it's harder for Americans living in rural communities to access a narrow set of authorized vendors. There is only one Apple Store in the state of Nebraska.
A spokesperson for CompTIA, one of the tech groups opposing the bill, told BuzzFeed News in a statement that: "It's important to stress that we support the ability of consumers to freely and safely repair their electronic devices. But that's not really what these bills are about." CompTIA went on to argue that the Nebraska legislation and similar bills "expose trade secrets," a claim that Sen. Brasch, Sen. Boyle, and Gordon-Byrn insist is false.
"Anybody who deals with technology repair is getting a raw deal in the marketplace," Gordon-Byrne said. "We should be able to repair the things we buy."