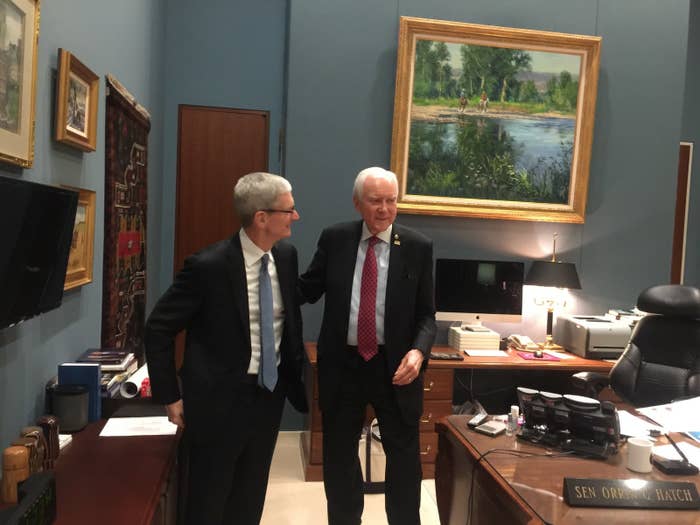 WASHINGTON — Apple CEO Tim Cook met with Senator Orrin Hatch Friday, capping off the first full week of a new Washington, with President Donald Trump at the helm.

Sen. Hatch of Utah, who sits on the Judiciary Committee and the antitrust panel, also leads the Senate Republican High-Tech Task Force, whose mission is to help keep American tech at the leading edge of global markets.
"During today's meeting with Apple CEO Tim Cook, we discussed ways to grow the economy and our tech industry, as well as his recent visit with me in Utah," Sen. Hatch said in an statement to BuzzFeed News. "Given the issues I work on as chairman of the Senate Republican High-Tech Task Force, it's especially useful to listen to innovators like Tim."

In the fall, Hatch hosted Cook at a tech conference in Utah, and the two appear to be friendly. Fellow Utah official Sean Reyes, the state's attorney general, is a leading candidate to chair the Federal Trade Commission, one of two top antitrust posts in the federal government, according to three people with knowledge of Trump's staffing decisions.
Weeks after the Justice Department abandoned its case against Apple over an encrypted iPhone in San Bernardino, Hatch convened a private Senate briefing with Ted Olson, the attorney who led Apple's legal challenge during the contentious dispute with the FBI.
"Technology is advancing faster than ever expected, so lawmakers must consider the legal and policy issues these advancements create," Hatch said in a statement after the briefing. "Right now, Apple is in the middle of the policy debate over encryption, and I appreciate the company's willingness to engage in a public debate about how best to balance the needs of law enforcement agencies with those of our technology companies. These are not easy issues, and it will take input from every side to develop a viable solution."
Cook also met with leadership of the Department of Veterans Affairs on Thursday to discuss promoting hiring, and other ways the company could help veterans, a person familiar with the meeting told BuzzFeed News.

According to Politico, Cook also met with Jared Kushner and Ivanka Trump over dinner Thursday evening. They were joined by Lisa Jackson, Apple's vice president of environment, policy and social initiatives, who served as the head of the EPA under President Obama from 2009-2013.
Cook, along with a who's who of tech industry chieftains including Eric Schmidt, Elon Musk, Sheryl Sandberg, and Jeff Bezos, convened at Trump tower last month to talk jobs with the president-elect. White House Press Secretary Sean Spicer said recently that the meeting showed the President's willingness to listen to people who have previously criticized him.
Before the election Musk said of Trump: "I feel a bit stronger that he is probably not the right guy. He doesn't seem to have the sort of character that reflects well on the United States." Since then, Musk has met with Trump twice, and was recently named an economic advisor to the president.
Following the tech summit at Trump Tower in December, Cook explained to his employees why he chose to meet with the President. "Personally, I've never found being on the sideline a successful place to be," Cook said in a Q&A session with Apple staff. "The way that you influence these issues is to be in the arena. So whether it's in this country, or the European Union, or in China or South America, we engage. And we engage when we agree and we engage when we disagree. I think it's very important to do that because you don't change things by just yelling. You change things by showing everyone why your way is the best. In many ways, it's a debate of ideas."