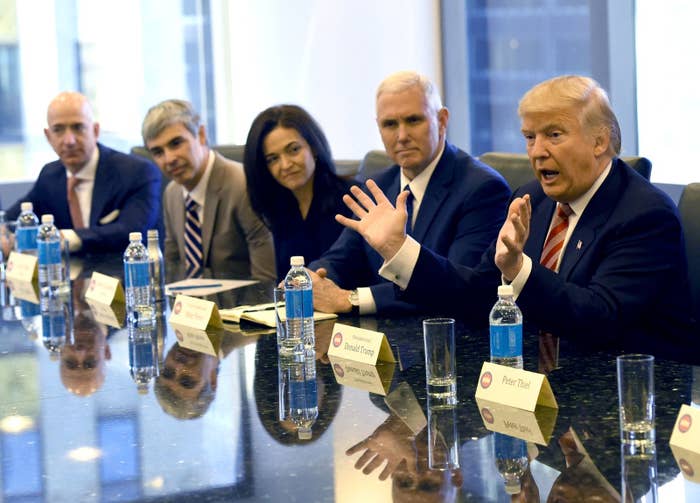 The attorney general of Washington state filed a lawsuit Monday challenging President Donald Trump's controversial immigration order, and he's counting two Washington-based companies as courtroom allies: Amazon and Expedia.
Both companies submitted sworn statements as part of the lawsuit, each highlighting the business harms they face as a direct result of Trump's travel ban. The legal battle marks the latest move in escalating tensions between technology companies and the Trump administration that have thus far played out only in public statements.
"Expedia believes that the executive order jeopardizes its corporate mission and could have a detrimental impact on its business and its employees, as well as the broader U.S. and global travel and tourism industry," Robert Dzielak, Expedia's executive vice president and general counsel, wrote in a declaration.
According to Dzielak, more than 1,000 Expedia customers who hold passports from one of the seven affected countries — Syria, Iraq, Iran, Sudan, Somalia, Libya, and Yemen — have current bookings that begin, end, or connect in the United States. Dzielak noted that it's unclear which of its customers will be affected and how, posing additional burdens on the company as it tries to interpret how airport officials will enforce the rules. In addition, Expedia said several of its employees based in the US and abroad will be prevented from traveling.
"The direct financial impact to Expedia resulting from the Executive Order ranging from increased business costs to the broader impact on the global travel market is not yet known," Dzielak wrote.
Ayesha Blackwell-Hawkins, Amazon's senior manager of mobility and immigration, said the executive order "immediately — and negatively — impacted employees, dependents of employees, and candidates for employment with Amazon."
Amazon is aware of 49 employees born in one of the seven countries, 47 of whom are citizens of another country, while the remaining two have permanent legal residence elsewhere.
"One example of an impacted employee is a senior Amazon lawyer who was born in
Libya but has been a UK citizen for many years," Blackwell-Hawkins wrote. "This employee had plans to travel to the United States for business during the month of February. We have instructed the employee to cancel her plans and remain in the UK rather than risk being denied entry to the United States."
Amazon said it is aware of 10 dependents of employees who were born in the countries affected but live in the US lawfully.
In addition, Amazon has extended employment offers to seven people born in Iran but who are currently citizens of other countries: Germany, Canada, and Australia. According to Blackwell-Hawkins, Amazon is "assessing alternatives," possibly placing them in other countries outside the US.
In an email to employees Monday, Amazon CEO Jeff Bezos said his company would explore legislative options to challenge the immigration order. "We are working other legal options as well," he wrote.
A spokesperson for Microsoft, another Washington-based business, told BuzzFeed News: "Microsoft has been supportive and has provided information to the Attorney General and is willing to provide further testimony if necessary."
Earlier in the day, White House press secretary Sean Spicer defended the president's immigration order. "The majority of Americans agree with the president," he said. "They recognize that the steps that he's taken were to keep this country safe and to make sure that we didn't look back and say 'I wish we had done the following.'"

Here are the declarations in full: