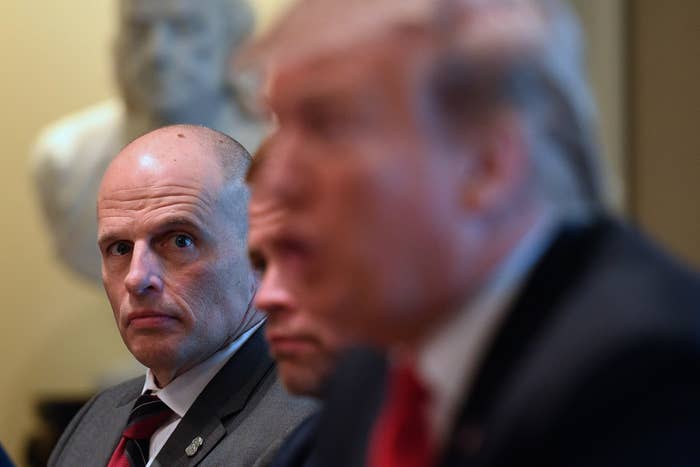 President Donald Trump withdrew the nomination of a former top Border Patrol official to run Immigration and Customs Enforcement, saying he wanted someone who would go "in a tougher direction."
Pulling Ronald Vitiello's nomination was surprising move, especially as the government deals with a surge of families crossing the border.
Trump confirmed the news about Vitiello to reporters Friday morning, hours before he was set to speak at the southwest border.
"Ron is a good man, but we're going in a tougher direction," Trump said.
BuzzFeed News obtained a letter the White House sent to Senate officials, where Vitiello needed confirmation, on Thursday. "To the Senate of the United States, I have withdrawn the nomination of Ronald D. Vitiello," it read.
Vitiello was tapped to be acting director of ICE in late June, before undergoing a stalled and lengthy Senate confirmation process. Along the way, he faced criticism from Chris Crane, the leader of the union that represents ICE officers, who cited past tweets, including one in which Vitiello compared then-candidate Trump to Dennis the Menace as proof that he was not fit for the role.
Crane has been known to have access to Trump on immigration matters, and Trump has been known to not hire top aides who criticized him in the past or whom he does not perceive as loyal to him. CNN reported on Friday that Stephen Miller, a senior advisor to Trump, had a hand in pushing for Vitiello's nomination to be withdrawn.
Both current and former DHS officials were disappointed in the White House's treatment of Vitiello.
One DHS official told BuzzFeed News that Miller was "paranoid about sharing his plans outside of a very small circle, often with disastrous results."
"One blunder after another can be laid directly at his feet; but he has shown a deft ability to backstab people downstream from him to avoid taking any blame for his miscalculations. This dishonorable treatment of a dedicated public servant like Ron Vitiello is simply the latest example," the official said.
A former senior DHS official added that Vitiello "is a good guy and a loyal soldier who unfortunately didn't look out for himself during this process. This is someone who devoted a lifetime to serving our country and he certainly doesn't deserve this treatment."
In a letter to ICE employees Friday, Vitiello thanked Trump for "the honor of being nominated to serve as your director. The critical work we do throughout U.S. Immigration and Customs Enforcement (ICE) is a high calling and each day our workforce represents the best of what it means to serve our nation."
He continued: "No matter the external circumstances, I am grateful knowing you remain engaged and dedicated to the critical work of protecting our communities from the transnational criminal organizations and cross-border crime that threatens our nation," Vitiello wrote. "While I will not become the permanent director of ICE, I look forward to working alongside you in serving the American public with Integrity, Courage, and Excellence."
In her announcement tapping Vitiello to run ICE, Secretary of Homeland Security Kirstjen Nielsen said he brought "to ICE the vision and leadership needed to continue the exceptional work the agency is doing to accomplish its crucial national security and public safety missions."
Nielsen said she was "pleased that ICE will continue to be led by an experienced and well-respected career law enforcement officer who will be a strong advocate for the agency's workforce."
Thomas Homan was picked in the early days of the Trump administration to run the agency, but he withdrew his nomination and decided to retire.
Unlike Homan, Vitiello avoided making controversial statements about cracking down on undocumented immigrants, preferring a more under-the-radar approach.
Before coming to ICE, Vitiello was the chief of Border Patrol before later being named the deputy commissioner of US Customs and Border Protection in late 2017.