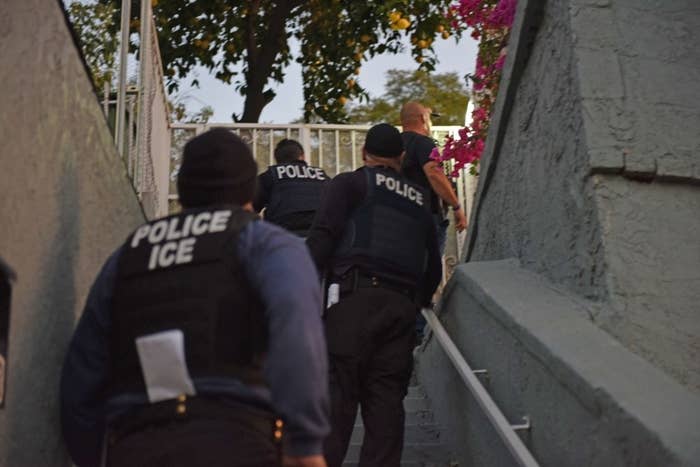 Immigration officials arrested more than a dozen immigrant family members across the country in a recent action targeting those with deportation orders, a Department of Homeland Security official said Monday, far fewer than had been originally targeted in the operation announced by President Donald Trump.

Immigration and Customs Enforcement officers made 18 arrests of family members in the effort, along with 17 others who were not specific targets of the action, according to the official. Officers had a target list of around 2,000 family groups across the country who had been ordered deported after not appearing in immigration court. Those close to the operation had previously told BuzzFeed News that the raids were expected to begin just over a week ago.
The release of the arrest figure comes after weeks of scrutiny surrounding ICE officers' targeting of undocumented immigrant family members across the country, with advocates handing out pamphlets and leading countless seminars for immigrants to demonstrate how to interact with authorities, and other activists preparing to deploy to scenes of enforcement actions.
As anxiety gripped immigrant communities across the country, families prepared for the sweep, hunkering down in their homes, turning off lights, and closing their curtains. One family told BuzzFeed News they were considering leaving their home to stay at a relative's house for the week.

While ICE operations targeting families typically have a success rate of around 10%, the number of arrests in the publicized sweep was even lower than in previous actions. Officials believe the reason for the low arrest rate was the specific population targeted and news reports about the action.
Matt Albence, acting director of ICE, on Tuesday said there were numerous issues that led to the low number of family members arrested, including the population targeted avoiding detection.
"It's very difficult to locate those individuals who don't want to be found," he said.
When asked whether the increased guidance given to immigrants on how to interact with ICE caused a dip in the number of individuals arrested, Albence suggested it had.
"There is no way to quantify the impact that had but you could turn on any TV station for several weeks, this being one of the lead topics ... we are patient, we will continue to pursue cases," he said. "They may have escaped detection in this short period of time but we will continue to be out there working the cases."
Albence said they would continue to go after family units with deportation orders, which he numbered in the tens of thousands.
Elsewhere, from mid-May through mid-July, ICE officers arrested 899 people, the DHS official said, as part of a standard "cross-check" operation in which field offices in specific regions dedicate resources toward targets — like those with final deportation orders or criminal records — and pick up others they come across. Last month, Trump said ICE "would begin the process of removing the millions of illegal aliens who have illicitly found their way into the United States."
In any operation, ICE officials gather data, including a person's address, last place of employment, and other details, and begin surveillance to determine the patterns of immigrants suspected of being in the country without authorization. Often, people on a target list are no longer living at their last known address, or ICE officers are unable to make the arrest. Under the Trump administration, ICE officers have been told not to exempt any group of undocumented immigrants, which can lead to what is known as "collateral arrests."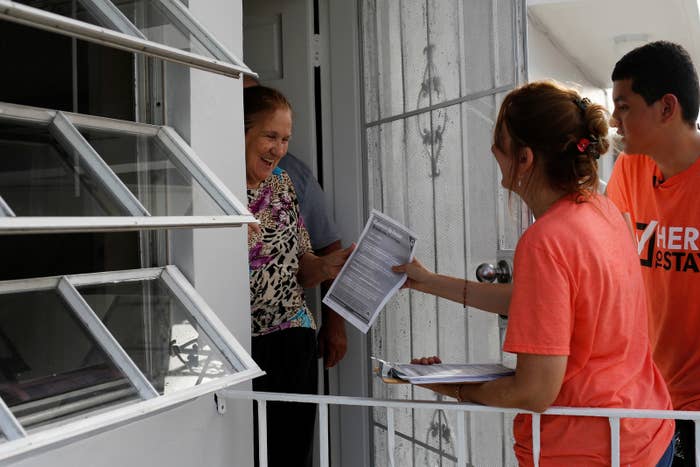 In addition to the arrests, last week ICE agents served more than 3,000 notices to businesses suspected of employing undocumented immigrants, the official said. With such notices, ICE agents demand that employers produce what are known as I-9 forms for their employees, which show that workers produced valid identification, such as a Social Security card, to prove they are in the US legally. Sometimes agents also ask for employees' proof of identity and work authorization.
DHS officials also announced Monday that the agency was expanding a policy that allows for sped-up deportations anywhere in the US and would apply to anyone who cannot prove they have been in the country continuously for two years.
Former ICE director Mark Morgan told reporters last month that those who had been ordered removed without appearing in court — otherwise known as in absentia — had been given an adequate level of due process and a chance to make their case in court. Without officers targeting and removing them, he added, immigrant families from Central America would continue to come without any fear of consequences.
Some Department of Justice officials, and advocates, have pushed back against the claim.
"It's a gross generalization," one DOJ official said. "There are a lot of reasons why someone might miss a hearing. Notice issues, 'exceptional circumstances,' etcetera. To say that people are just skipping out is not appropriate."