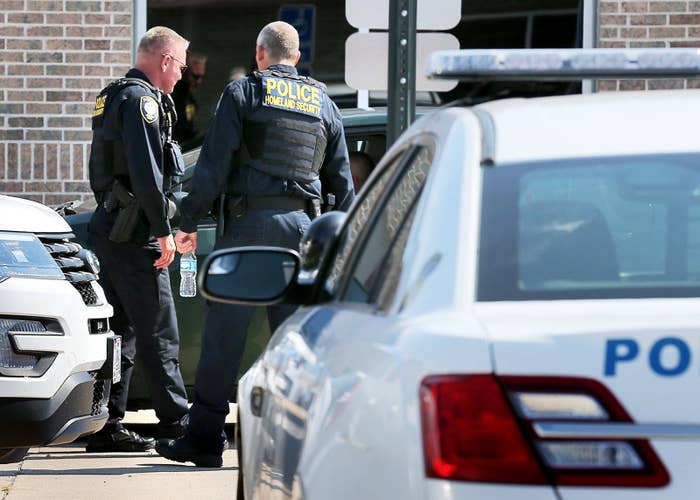 In the hours after Immigration and Customs Enforcement agents raided several workplaces in Nebraska, including a hydroponic tomato plant, farms, and restaurants, more than a dozen children sat together in a public elementary school as teachers and administrators tried to distract them from the chaotic scenes outside and their fears over what had become of their parents.
Teachers and administrators had been in a meeting Wednesday morning when panicked phone calls and text messages streamed in informing them that ICE was in their rural town of O'Neill, made up of around 3,700 people, arresting workers. They decided to open up the only public elementary school, which was closed for summer break, for those children who would need support.
Soon the teachers were caring for children as young as four months and as old as high school age. The teachers assumed that the children had parents who worked in the facilities and had been picked up in the raids.
Some of the older children sat sobbing silently. They'd received phone calls from community members informing them that their parents had indeed been picked up by ICE. The teachers took them aside to talk through their worries.
The younger children cried too, but teachers and administrators made sandwiches for them, brought out toys, played with Play-Doh, and tried to distract them as best they could without knowing where their parents were. They opened pack-and-play sets for babies to sleep.
The 4-month-old, who had been dropped off at the school by her babysitter, was breast fed by her mother. Teachers obtained a bottle and formula to feed her.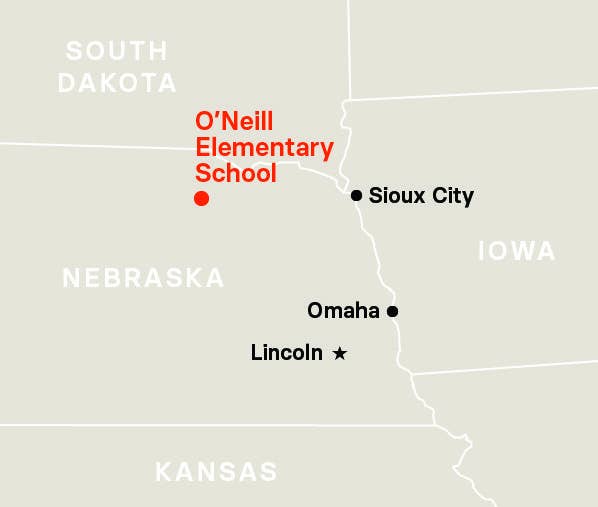 "Kids are resilient but something about their eyes — they definitely knew, they understood why they were there, they could hear people talking," said Jill Brodersen, a 47-year-old assistant principal at O'Neill Elementary School, where the kids stayed Wednesday.
O'Neill was a main target of the operation in which ICE agents served search and arrest warrants for 17 individuals in multiple states who allegedly were connected to a "criminal conspiracy to exploit illegal alien laborers for profit, fraud, wire fraud and money laundering." During the course of the raid, ICE picked up 133 suspected undocumented workers on immigration violations, part of a larger shift by the Trump administration to crack down on workplace violations.
As the hours passed at the school, relatives and friends came to pick up the kids. It was at this point when Brodersen realized that two children, the 4-month-old and her 7-year-old sister, weren't going to be picked up. Both their parents had been arrested in the raid and they had no family in town and no place to go.
She knew she had to take them home.
As she drove the children to her ranch house, Brodersen couldn't stop thinking about their mother.
"My heart went out to their mom, not knowing where her kids were. I just hoped she had a sense that they were loved and taken care of," she said.
Brodersen made them dinner and bathed them. Because she's a grandmother, Brodersen had toys in the house that she brought out for the 7-year-old to play with. She, her husband, her daughter, and her daughter's boyfriend watched as the girl ran around their yard and played on the swing set. They took her to Dairy Queen to get some ice cream before bedtime.
But as the night went on, the girl started asking questions.
"Is mom going to come home? Why isn't she here yet?" she asked.
Brodersen tried to be truthful without being frightening.
"I don't know where your mom is right now but we will get the information. People are looking out for you," she said. "You're safe here with us and we will take care of you until we hear from your mom — she loves you and misses you and will get here as soon as she can."
At around 10:30 p.m., as both children slept, the assistant principal got a phone call from the school interpreter who had been in touch with affected families. The dad had been released.
She woke the 7-year-old and told her her father was home and they would take her to see him. Her mom would be coming home too, a little later, in the middle of the night.
"She had the biggest smile on her face," she said.
When they pulled up to their house, Brodersen reunited the kids with their father, who held them closely and kissed them. The father couldn't speak English, so communication between him and the assistant principal was limited. He shook her hand and thanked her.
"He was so grateful to see them," she said. "The kids were glad to see Daddy."
It's unclear what will happen to the parents, but ICE noted that some picked up in the raid were released and given a date to show up to immigration court to begin deportation proceedings.
Brodersen knows there's a mix of people in her community, some who supported the raid and others who condemned it. Supporters believe the crackdown is necessary to protect jobs for American workers.
"You see the heartache it caused and you realize that those seven or eight people needed to possibly be arrested," she said, referring to those who were picked up on criminal charges. "But there were a lot of innocent families that didn't need to be mixed up in the fray."