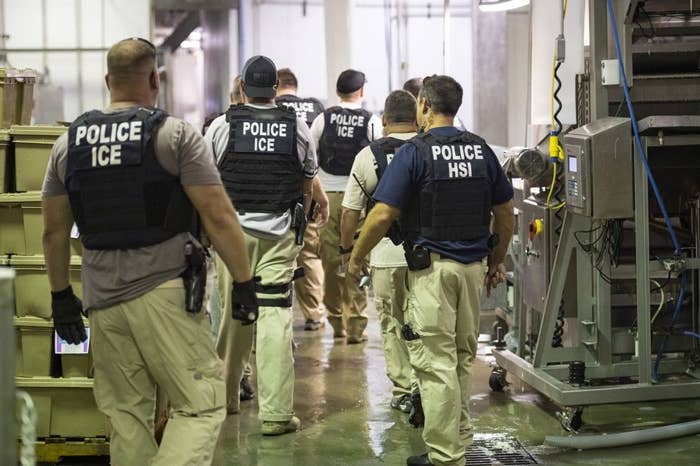 On Wednesday morning, Dianne received an alarming call. It was her fiancé, dialing her from the chicken processing plant in a nearby central Mississippi town where he worked long shifts deboning meat.

"ICE is here!" he yelled. In the background, Dianne could hear other laborers terrified. The panic was palpable. One worker called out in Spanish, "Ayúdame! [Help me!]"
Dianne's fiancé, who came to the country more than two decades ago from Mexico without authorization, told her he had no way out and would not be able to escape immigration enforcement agents. His voice trembling, he told Dianne that she needed to make a promise before he got off the line: "Take care of my kids."
What the workers at the plant didn't realize in that moment was they were about to be arrested in one of the largest worksite operations ever conducted by US Immigration and Customs Enforcement agents. In total, some 680 suspected undocumented workers were arrested Wednesday after ICE's Homeland Security Investigations agents swept through seven agricultural plants in the state as part of a criminal investigation. Deportation officers and HSI agents arrested the workers as they served criminal search warrants at the food plants.
Dianne's fiancé is the father to three children, ages 13, 15, and 19, with his ex-wife, who was also undocumented and worked at a separate food plant in the area.
Not long after Dianne's phone call with her fiancé, she found out that the kids' mother was also arrested. Dianne, who requested her last name not be used for fear of consequences for her fiancé, sped to the local school, where she witnessed other adults coming to pick up children whose parents had been arrested. Some parents, she said, weren't able to retrieve kids because they hadn't been listed as authorized guardians.
On her way out of the school, she saw one girl looking confused, not knowing where to go because her parents had been arrested too.
"They were crying. They were shocked. They're just worried," Dianne said of her fiancé's children. "I'm just trying to stay strong for them. I'm trying to remain as calm as possible. It's one thing to know this could happen but it is another to see it happening. This is heart-wrenching. They are scared."
Details of the targets of the immigration operation, which was conducted in partnership with the local US attorney's office, were not immediately available as officials said the investigation was ongoing.

"We are a nation of laws, and we will remain so by continuing to enforce our laws and ensuring that justice is done," said US Attorney Mike Hurst.
ICE officials said that each worker arrested would be evaluated for potential release on humanitarian grounds.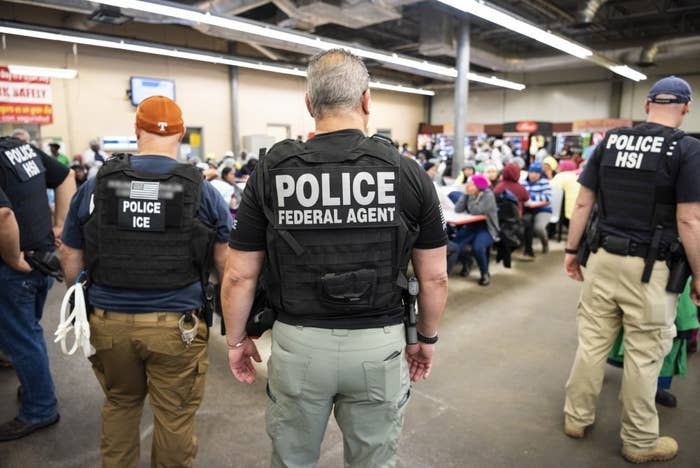 The arrests Wednesday were part of the Trump administration's renewed focus on cracking down on businesses suspected of employing undocumented workers. ICE officials have said that employers who hire undocumented workers gain an "unfair advantage" over others and take jobs from US citizens and legal residents.
ICE agents made nearly 10 times as many immigration arrests at workplaces in fiscal year 2018 than they did the previous year. In April, ICE agents arrested more than 280 immigrant workers at a phone repair business in Texas, the largest such sweep at a single worksite in more than a decade, officials said.
John Sandweg, former acting director of ICE under the Obama administration, said Wednesday's operation was massive in scope and would have a long-term impact on the immigrant community.
"This is a high-profile way to send a message and to create more fear in immigrant communities about ICE and about their ability to live and work in this country," he said. "This burns an incredible amount of resources to apprehend people, few of whom pose any threat to the US. It's for show more than for anything else."
Such raids were once more common. ICE agents arrested nearly 400 workers at a meat processing plant in Postville, Iowa, in May 2008, the last operation that netted more arrests at a single worksite. The Obama administration, however, cut back on large sweeps.
Prosecutions of employers and owners of companies who knowingly hire undocumented workers can be rare. Researchers at Syracuse University found that in the 12 months before March, just 11 employers had been prosecuted.
Luis Cartagena, a pastor in Morton, Mississippi, said he witnessed ICE agents surround the local chicken processing plant. "It looked like an invasion in a war," he said, noting that there were dozens of agents, buses, and helicopters were roaming the air. Cartagena said the operation had already traumatized the Latino community.
"People are terrified," he said. "They are scared to death."
Administrators at Leake County School District first realized something had happened when adults came to pick up children whose parents had been arrested in the operation. A shelter was set up at the local elementary school in case any children went home and found that their parents were arrested. Bus drivers were told to monitor each drop-off to make sure someone was home.
Jordan Barnes, the owner of a gym in Forest, Mississippi, helped house some children whose parents and family members had been caught up in the raid Wednesday. By evening, Barnes said that all of the children in his facility had left and had been reunited with a relative. Barnes said that some workers arrested in the operation — mainly women — had been shuttled back to town.
An ICE spokesperson told BuzzFeed News that some workers arrested in the operation had been released after being processed. Each cases is being evaluated individually, the official said.
Meanwhile, Dianne spent Wednesday trying to track down attorneys to help her fiancé and figure out their next steps. Her fiancé's children were quiet in the afternoon, eating lunch and asking Dianne to help get their parents out of detention. Their mother's birthday is Thursday, and the children knew that she would be likely to spend it in detention. By late Wednesday, they had no idea where either parent had been taken.
Dianne knew that some people would support the arrest of undocumented workers like her fiancé, but she wishes they could empathize.
"He was trying to make a better life for his children," she said. "You see these kids hurting and crying, knowing their parents aren't coming home soon. I've seen that all day. People are freaking out."