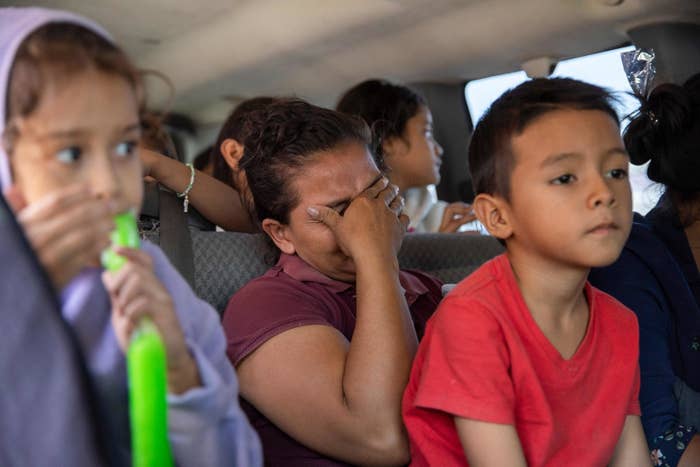 Officials at the Department of Homeland Security had initially sought to give asylum-seekers placed in a controversial Trump administration program that forced them to wait in Mexico the chance to receive a screening to avoid being returned to the country — but the question was cut from the policy before it was finalized, documents and emails reviewed by BuzzFeed News show.

The documents are the first public records to show some within the Department of Homeland Security had wanted to actively ask asylum-seekers whether they had fear of being returned to Mexico, evidence that immigration advocates say bolsters their arguments that the controversial program lacks necessary safeguards.

Under the Migration Protection Protocols policy, thousands of asylum-seekers have been forced to wait in Mexico as their cases are processed, a process that can take months or years to complete. The policy finalized by the administration removed the question and requires immigrants to affirmatively tell DHS officers that they fear for their safety in Mexico in order to have a chance at avoiding being returned to the country.
Immigrant advocates, the ACLU, and even asylum officers, have said the process is flawed because individuals don't know that they can express the specific fear, are too intimidated to bring it up, and don't find out that they are being forced back to Mexico until it's too late.
Some attorneys have reported that border officials refuse to allow asylum-seekers to ask questions during the process. In a decision allowing for the Trump administration to continue the program as it went through appeals, one 9th US Circuit Court of Appeals judge said such questions needed to be asked.
"This shows that the agency made a deliberate, conscious decision to strike a provision in an earlier version of the MPP protocol which would have required [Customs and Border Protection] officers to question applicants about whether they have a fear of being returned or removed to any country," said Judy Rabinovitz, lead counsel for the ACLU in the case challenging the policy. "Instead, the agency decided to strike this language and create a presumption of no fear, and no interview, unless the individual affirmatively brought up such a fear on their own."
A US Citizenship and Immigration Services official told BuzzFeed News the finalized process was legal.
"Under MPP, we require an assertion of fear, which models processes in other contexts. This is similar to other programs and consistent with the law, a USCIS official said.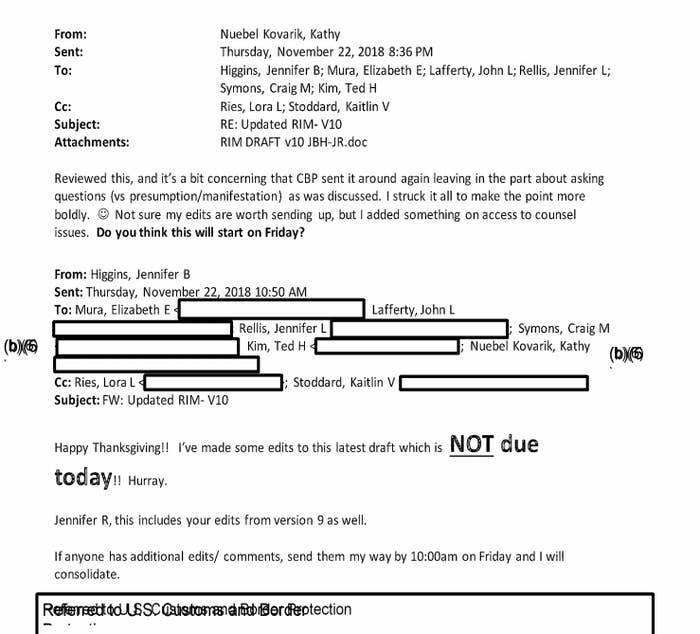 The documents reviewed by BuzzFeed News include emails between top USCIS officials, including an appointee by the Trump administration, and one page of a working plan to implement the policy that was developed by DHS officials in November 2018.
The page, included in a Freedom of Information Act request obtained by American Oversight and shared with BuzzFeed News, includes a section on how implementation of the policy would work at the southern border.
"When an alien is encountered by CBP...questions similar to those below will be asked of the alien by the processing officer/agent and properly recorded," the protocol reads. "Do you have a fear of being returned or removed to another country? If so, to which countries do you fear return or removal?"
On the margins is a comment that appears to have been included from Jennifer Higgins, the associate director of USCIS' Refugee, Asylum and International Operations division.
"At the morning call on Wednesday, we believed a decision was made to use a presumption and only if alien manifested a fear to MEXICO would they be referred for screening. Has that decision been revisited?" reads the comment, which was written by "JBH," or Higgins' initials.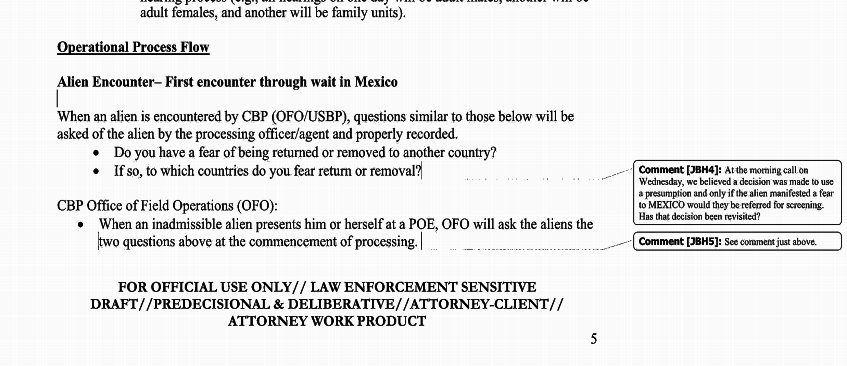 USCIS officials discussed the issue of whether CBP agents or officers would actively ask individuals placed into the program whether they feared being in Mexico both internally and with CBP officials.
"Reviewed this, and it's a bit concerning that CBP sent it around again leaving in the part about asking questions (vs presumption/manifestation) as was discussed. I struck it all to make the point more boldly :)," wrote Kathy Nuebel Kovarik, the head of policy and strategy at USCIS and an appointee of the Trump administration, in discussing a version of the plan in November.
In a previous email with Meghann Peterlin, a leading CBP official, Higgins brought up the issue: "Can you make sure it has the presumption built in rather than CBP proactively asking the two questions?"
Peterlin's response is redacted.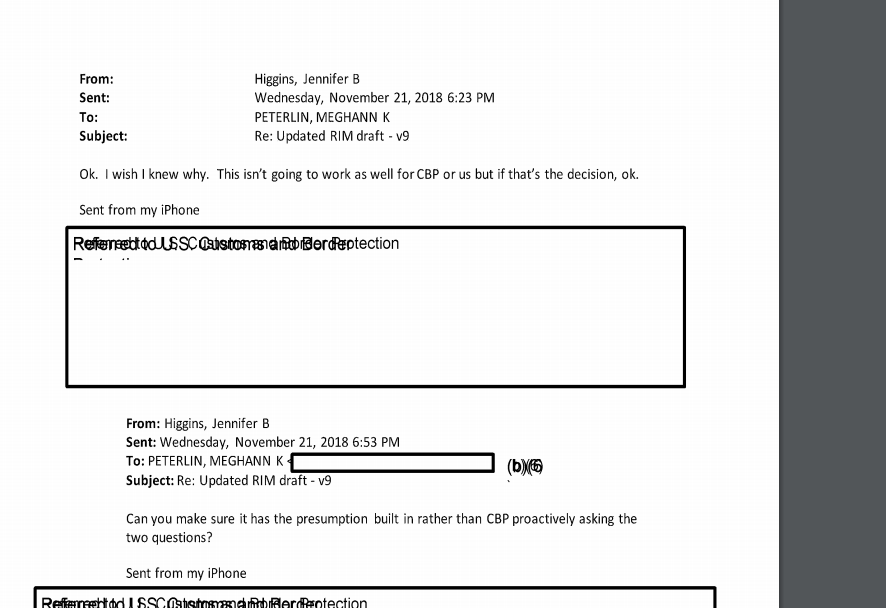 Immigration experts said the documents were revelatory.
"These documents show that even CBP itself originally recognized that they should be asking people whether they have a fear of returning to Mexico," said Aaron Reichlin-Melnick, a policy analyst at American Immigration Council. "In the face of all evidence to the contrary, DHS instead chose to adopt a presumption that people weren't afraid of remaining in Mexico and required people to 'affirmatively' express that fear."
Sarah Pierce, an analyst at the Migration Policy Institute, said that integral to the legality of the program is whether it has adequate safeguards. "The fact that DHS walked back protections that its own personnel recommended adds fuel to the argument that DHS is failing to ensure that immigrants are not returned to dangerous situations," she said. "It also further belittles the idea that this program is somehow going to protect migrants."
The topic of whether CBP officials should ask the questions was one part of the 9th Circuit's hearing over the case earlier this year, as ACLU attorneys had said the lack of active questioning put individuals in precarious situations.
The judge who gave the decisive vote to allow the administration to continue the policy as it went through appeals said the lack of questions was a flaw and would need to be included.
"I expect that appropriate relief for this arbitrary and capricious aspect of the MPP's implementation will involve (at the very least) an injunction directing DHS to ask applicants for admission whether they fear being returned to Mexico," wrote 9th Circuit Judge Paul Watford in May. "The precise scope of such relief would need to be fashioned after further proceedings in the district court."