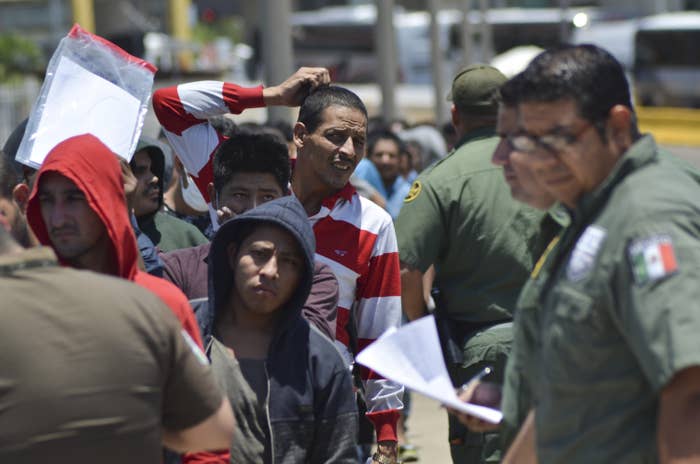 US immigration officers implementing a Trump administration plan to deport asylum-seekers from Central America to Guatemala were provided materials this week detailing the dangers faced by those in the country, including gangs, violence, and killings with "high levels of impunity."

The "resource guide" on Guatemala was given to asylum officers as part of materials to implement a controversial policy to deport adult asylum-seekers from El Salvador and Honduras to Guatemala. The guide, which was obtained by BuzzFeed News, relies primarily on public sources: academic publications, research from Human Rights Watch and other organizations, and news reports.
The materials include information on pervasive violence against women in the country, killings of indigenous activists, prevalence of the notorious gang MS-13, and a link to a research paper that states "a culture of violence and impunity pervades all of Guatemalan society today."
A Human Rights Watch report from 2018 that was included in the guide for asylum officers, said "Violence and extortion by powerful criminal organizations remain serious problems in Guatemala. Gang-related violence is an important factor prompting people, including unaccompanied youth, to leave the country."
The research provided to the officers confirmed some of their worst fears about sending people to the country.
"Being told to send asylum-seekers to Guatemala without even a screening on their claim while also being given research explaining, in detail, the incredible danger that exists throughout the country is extensively frustrating," said one asylum officer, who requested anonymity because he was not authorized to speak to the media. "This agreement feels like a pretext to get rid of as many asylum claims as possible."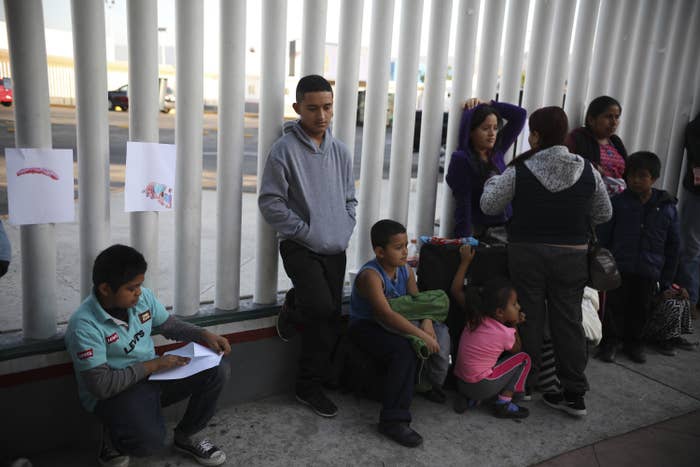 The Trump administration began this week carrying out its controversial new policy of deporting to Guatemala adults from El Salvador and Honduras who have sought asylum at the southern US border. DHS officials confirmed an initial flight to Guatemala in a Thursday press briefing.

The Trump administration says the plan is a key element in its strategy to deter migration at the border and another method to restrict asylum-seekers from entering the US. Advocates and asylum officers previously told BuzzFeed News that the unprecedented plan lacks legality and organization, and will lead immigrants to be placed in dangerous circumstances.
"Data from Guatemala's Attorney General's Office shows that nearly 8,400 extortion complaints were filed in 2017, but less than 700 convictions made," reads one research paper linked in the guide to asylum officers on extortion issues in the country. "Amid such high levels of impunity, fear of reprisals for not paying extortion demands is a huge concern among victims." A link to a Guardian article titled "Guatemala in grip of 'mafia coalition,' says UN body in scathing corruption report," is also included, among other stories detailing major safety issues in the country.
US Citizenship and Immigration Services officials included the guidance in an email to asylum officers across the country Wednesday morning in a notice that implementation of the policy would begin, according to a copy of the email provided to BuzzFeed News.
Under the policy, border officials in the El Paso, Texas, area will refer a small number of adult asylum-seekers from El Salvador and Honduras who have recently arrived at the border to asylum officers for interviews, according to two sources with knowledge of the process.
BuzzFeed News recently revealed that, up until late last week, Department of Homeland Security officials were still scrambling to resolve critical details about the Guatemala plan. "There is uncertainty as to who will provide orientation services for migrants as well as who will provide shelter, food, transportation, and other care," read a DHS brief drafted for Acting Secretary Chad Wolf in the run-up to a meeting Friday with Guatemala Interior Minister Enrique Degenhart.
Guatemala is one of the poorest countries in the Western Hemisphere and has the sixth-highest rate of malnutrition in the world. Nearly half of the country suffers from chronic malnutrition, with the prevalence reaching about 70% in some indigenous areas, according to a 2018 report from USAID.
The country has struggled with violence but has seen a drop in murders in recent years, with a homicide rate of 22.4 per 100,000 people. By comparison, the US had a homicide rate of 5.3 per 100,000.
"We are being asked to violate human rights," the asylum officer told BuzzFeed News.