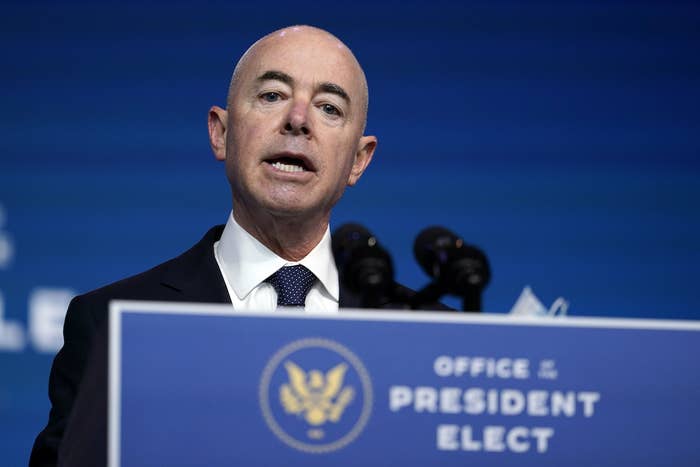 Alejandro Mayorkas, a former top Obama administration official, will become the first Latino and immigrant to run the Department of Homeland Security after the US Senate voted to confirm his nomination on Tuesday.
The DHS has not had a Senate-confirmed leader since the departure of Kirstjen Nielsen in April 2019. Mayorkas was sworn in by Vice President Kamala Harris later on Tuesday.
Mayorkas, who was born in Havana, Cuba, and became a US citizen in 1973, served as the director of the US Citizenship and Immigration Services (USCIS) and deputy secretary of DHS during the Obama administration. The 60-year-old led USCIS in 2012 when the agency rolled out the Deferred Action for Childhood Arrivals (DACA) policy, which sought to protect undocumented immigrants brought to the US at a young age from deportation. Biden has promised to restore those protections.
Senate Republicans largely voted against Mayorkas's nomination, with some pointing to the Biden administration's stated goals to change immigration policies at the southern border and beyond as their main issue.
"Not only has Mayorkas pledged to undo the sensible protections put in place by the Trump Administration that ended the dangerous policy of catch and release, but his nomination is further evidence that the Biden Administration intends to pursue a radical immigration agenda. I oppose his confirmation," Sen. Marco Rubio said in a statement.
Under the Trump administration, the agency faced a series of legal challenges over the legitimacy of its leadership, including successful efforts to block policies enacted by former acting DHS Secretary Chad Wolf, whose appointment was deemed unlawful by federal judges.
Senate and House Democrats, meanwhile, celebrated Mayorkas's confirmation.
"I am glad that the Senate finally confirmed Mr. Mayorkas to be the next Secretary of Homeland Security. But given the importance of this national security cabinet post, he should have been confirmed on day one of the Biden Administration," said Rep. Bennie Thompson, chairman of the House Homeland Security Committee. "DHS has been without a permanent leader for almost two years, and there was no valid reason for Senate Republicans to filibuster and delay his confirmation."
Mayorkas's selection comes as the Biden administration aims to undo the immigration policies that former president Donald Trump installed during his four years in office.
Trump redefined the role of the Department of Homeland Security while instituting a series of unprecedented immigration restrictions. Trump banned citizens of Muslim-majority countries from coming to the US, blocked asylum protections at the border, kept asylum-seekers in Mexico, and cut back DACA.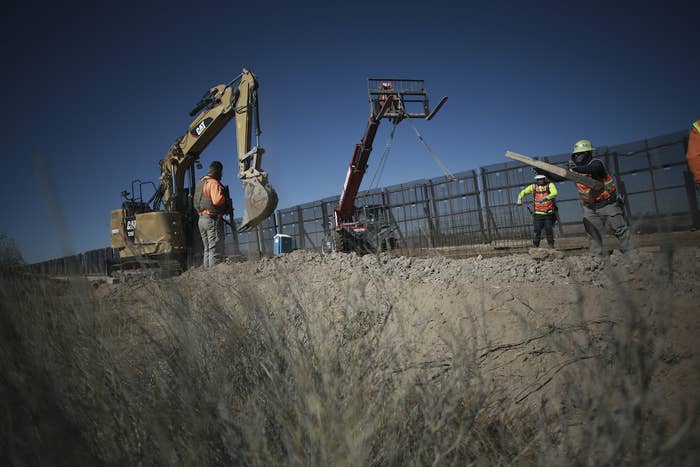 The torrent of policy changes, which the Migration Policy Institute estimated to number more than 400, had its effect on DHS employees who were told to implement the measures quickly, often without preparation or adequate training.
In a meeting with immigration groups in December, Mayorkas said the immigration system is "badly broken and we all know it."
"We must stop vilifying these communities," he said, while adding that there needs to be an immediate end to the "unjust treatment of immigrants." In a message to DHS staff after the confirmation, Mayorkas said the agency's success will be measured "not only by the results we deliver, but also by the values we uphold in achieving them."
"We will act with integrity and humility. We will be open, transparent, and accountable," he added.
The Biden administration has already attempted to pause many deportations for 100 days, added new guidelines for ICE officers on who they can arrest, and suspended any additional people from being added to the Remain in Mexico program.
Mayorkas's family fled Cuba in 1960 after the ascent of Fidel Castro, according to a 2015 profile of him in the Los Angeles Times.
"He did not want to raise the family in a communist country," Mayorkas, who primarily grew up in LA, told the paper of his late father. "He believed in democracy, and he understood the perils and the challenges of living otherwise."
Mayorkas would eventually travel back to Cuba in 2016 to negotiate a memorandum of understanding between the two countries.