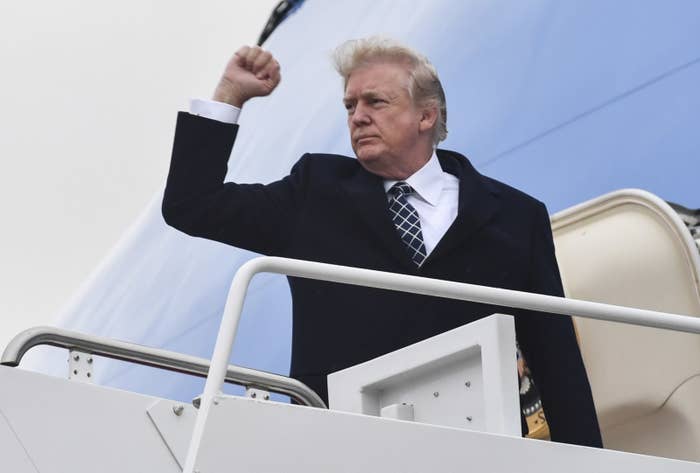 President Donald Trump insisted Sunday that he is "not a racist," and denied making derogatory comments about immigrants from Haiti, El Salvador, and Africa during a meeting with a bipartisan group of senators in the Oval Office last week.
"No, no. I am not a racist," Trump said during a dinner photo opportunity with House Majority Leader Kevin McCarthy in West Palm Beach, Florida. "I am the least racist person you have ever interviewed. That I can tell you."
Asked about vulgar comments he reportedly made during the Oval Office meeting — including referring to Haiti and African nations as "shithole countries" — Trump denied making the remarks that have been attributed to him.
"Did you see what various senators in the room said about my comments? They weren't made," he told reporters, presumably referring to two Republicans who said earlier Sunday that they had not heard the president make derogatory comments about Haiti and Africa during the meeting.
The denial follows several days of controversy over his reported "shithole" remark, which sparked widespread condemnation from foreign leaders and bipartisan criticism in the US.
Until Sunday, both the White House and Trump had stopped short of denying that the president had used the word "shithole" in his discussions with lawmakers, and several senators who attended the meeting have suggested that reports of the president's comments were accurate.
Democratic Sen. Dick Durbin, who was in the room with Trump when he made the remark, said that Trump did use "vile, vulgar" language including the word "shithole."
"He said those hateful things, and he said them repeatedly," Durbin said Friday. Durbin's account was later backed up by Republican Sen. Lindsay Graham, who also attended the meeting, and by Republican Sen. Jeff Flake, who said that Trump's words had been related to him after the meeting by those in attendance.
Two other Republican senators who attended the meeting came to Trump's defense Sunday. Despite initially saying that they "did not recall" the president's comments Thursday, the senators, David Perdue and Tom Cotton, denied Sunday that Trump made the vulgar statements reported, and essentially accused Durbin of lying about what transpired in their Oval Office meeting on immigration.

"I didn't hear it," Cotton said when asked about the "shithole" comment during an appearance on CBS's Face the Nation Sunday. "And I was sitting no farther away from Donald Trump than Dick Durbin was."
Durbin, he added, "has a history of misrepresenting what happens in White House meetings, though, so perhaps we shouldn't be surprised by that."
In a separate interview on ABC's This Week, Perdue also insisted that Trump did not use the word "shithole" in describing Haiti and African countries. "I am telling you that he did not use that word," he said. "And I'm telling you it's a gross misrepresentation."
Durbin spokesperson Ben Marter responded in kind, attacking Perdue's credibility in a tweet Sunday.
The rift threatens to further upend negotiations over the Deferred Action for Childhood Arrivals program, or DACA, and erode relations in Congress in advance of a vote to extend government spending before it runs out this week. Democrats have threatened to vote against a federal spending bill that does not deal with the DACA issue by extending protections for hundreds of thousands of immigrants brought to the country illegally as children.

After rejecting a bipartisan deal last week that would have provided a pathway to citizenship for young undocumented immigrants as well as additional funding for a border wall, Trump tweeted Sunday morning that a deal on DACA was "probably dead."
In comments to reporters later, Trump attempted to shift blame for the failure to reach a deal onto Democrats, whom he accused of failing to negotiate in good faith. "Honestly I don't think the Democrats want to make a deal," he said. "I think they talk about DACA but they don't want to help the DACA people."
"We have a lot of sticking points but they're all Democrat sticking points," he continued. "We are ready, willing, and able to make a deal."
Asked about the possibility that Congress would not reach a deal to avoid a government shutdown before next week's deadline, Trump demurred.
"I don't know if there will be a shutdown," he said. "There shouldn't be."