Editor Of Oscar-Nominated Documentary "The Square" Sentenced To Prison By Egypt Court
Sanaa Seif, an activist and editor of the documentary about Egypt's popular uprising, was sentenced to three years for protesting anti-demonstration laws.
Sanaa Seif, a 20-year-old activist who served as an editor on the Oscar-nominated Netflix documentary The Square, was sentenced on Sunday along with 22 other defendants to three years in jail by an Egyptian court.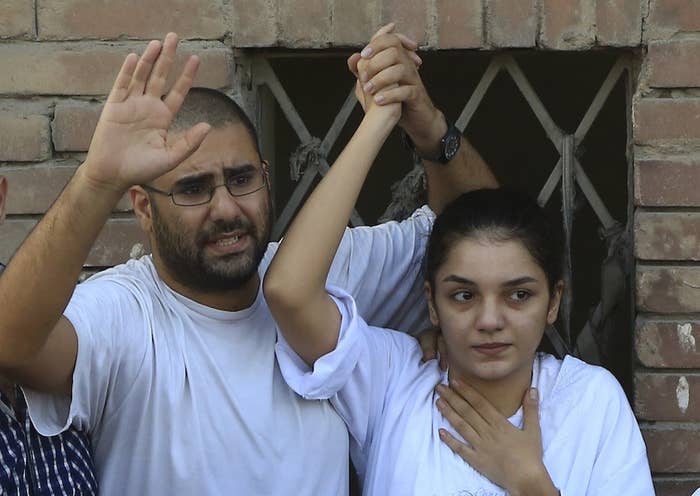 Seif and her co-defendants were found guilty by the Cairo court of staging an illegal demonstration in June. The 23 men and women took part in a peaceful protest at the presidential palace in Cairo's Heliopolis suburb, rallying against the government's harsh anti-demonstration laws. They faced charges ranging from assaulting police officers to defacing public property.
"They were charged with protesting the protest law," said Jehane Noujaim, director of The Square, to The Hollywood Reporter.
Seif comes from a family of prominent pro-Democracy activists in Egypt, including her brother, blogger Alaa Abdel-Fattah, who himself was sentenced to 15 years in prison for violating anti-demonstration laws in a separate trial. The 23 defendants have been in pre-trial custody for more than 100 days, and Seif has been on hunger strike for two months to protest their incarceration and trial.
"This is a politicized sentence. There isn't any evidence against the defendants," said Ali Abbas, the defense attorney for the 23 accused, according to Ahram Online. Amnesty International has called the accusations "baseless" and "farcical."
Seif and the other defendants will be allowed to appeal the ruling.