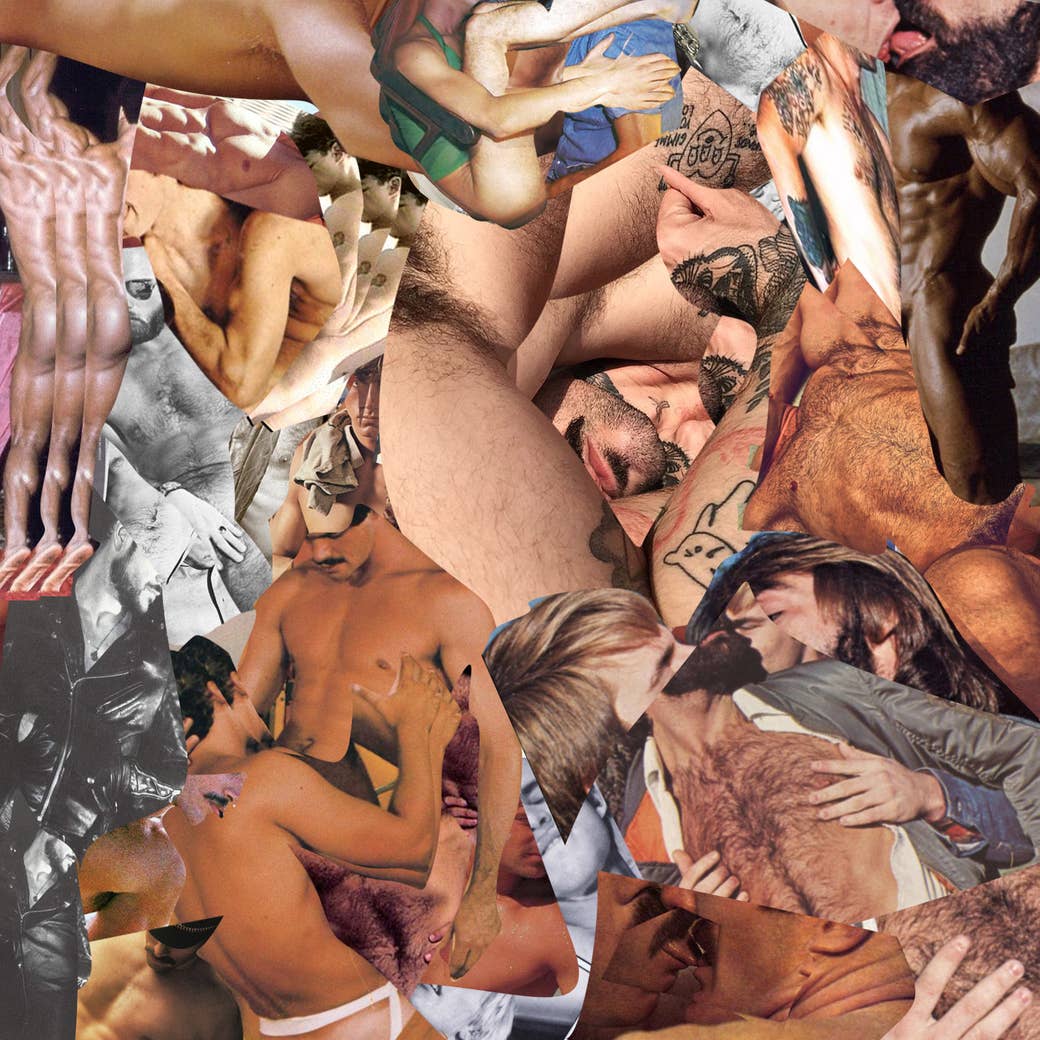 G Books, a gay used bookstore, was crouched at the garden level of a brownstone on DC's U Street, back when the block was still snaggletoothed. I went there often in college, to browse videos and rummage through magazines from that golden age of late- '80s gay porn. So often that, at a certain point, I exhausted their supply and was forced to choose something from the more sanitized stack of '90s mags that I usually avoided. I liked the look of the cover model, his handlebar mustache a relic of a bygone era. But the model, when I opened up the centerfold, turned out to be a bait-and-switch. In the photograph — just a still from a movie, when I looked closer — he stood wreathed by text: a column that posed the question of whether gay men were in danger of OD'ing on porn.
The article warned that watching porn would jeopardize my mental and emotional health, a threat more pernicious than all the moral arguments against my sexuality I'd heard at church over the years and finally faced down. All that work, to secure the space to masturbate without shame, and now my wellness was imperiled. All that work to enter basements like this bookstore and maintain eye contact, and now I had to trouble over what Colt Studios might mean to the man I was becoming, or how my adoration for Catalina Video would limit the way I might view other men — turn them into fetish objects, the projections of my own desire.
I railed against that. Couldn't even finish reading the thing. And so I flung the magazine back on the shelf. Obviously, it wanted to snatch away the bounty of secret knowledge I'd found at G Books, which offered up so much to me at the time. Straight people had their love songs, I fumed. Even black straight people had their haven, my college, a historically black university; thusly, straight people had the world. Their instructions — on how to get a man and keep him, on how to keep yourself when you needed to leave him, or most vitally, on when you wanted him and that sentiment was unrequited — were embedded in the lyrics of the girls I sang along to: Coko and Mary J. Blige and Monica. But where were mine?
I had this place, this dank corner in the back room of a shop, to discover what new permissions I would grant myself. And I remained there spiritually for much of my twenties, in righteous, ribald rejection of the sentiment in that magazine column. Still, through much of my adult life, that warning about porn has hounded me. At times, I've reassured myself that I was only giving myself the education — on legislating feelings and relationships, on developing my emotional well-being — that I was denied as a gay man in a heteronormative society. At other times, I've thought of myself as an addict.
Desire had driven me to the bookstore in the first place. All the habits I'd developed to still my anxiety — the fast food, the liquor, the cigarettes, the porn — were resulting in serial overdrafts to my bank account. Having sold most of my literary titles to Second Story Books for quick cash, and my DVDs to CD/Game Exchange, I turned to the cache of porn I'd been hoarding since freshman year, VHS tapes that ran $50 a pop and came in big, muscular boxes. I toted the least coveted items from my stash to G Books in order to liquidate them quickly.
The store grew like a polyp at the edge of the black neighborhood where I was attending undergrad, and I inhabited the world of my university in much the same way. This was the year I'd cut off my dreadlocks, grown my hair back, and permed it bone-straight, a kind of penance for failing to accomplish what I'd arrived on campus from Arkansas two years ago to do: to be validated as a black man, to make coherent the frustrated parts of myself that grew neurotic, speaking in so many voices all the time — butch masculine black, token black, dutiful church black, black best friend. At Howard, I imagined I would resolve the discord between the representations of black men I'd seen, and the smart, sensitive, expressive one I longed to be.
I imagined I would resolve the discord between the representations of black men I'd seen, and the smart, sensitive, expressive one I longed to be.
The dreadlocks had been an attempt at making physical the kind of person I wanted to be then — bold, exotic, and unmanicured. But there were only so many times I could be mistaken for a spoken-word poet before I realized that I was giving a counterfeit impression. No self-respecting conscious soul would have longed, like I had, to skip out on the midnight affirmative action march on the Mall in the dead of winter to watch mustachioed Chad Douglas plow California Blonde Cory Monroe in Spring Break: Falcon Pac 48.
I escaped campus, too afraid to pursue gay friendship yet, and made my first forays into gay bars. But I soon swore off the lonely sojourns to the clubs near South Capitol, where rounds of drinking myself slurry made me courageous enough to insert myself into huddles of gay men, stand at the periphery nodding my head to the beat, and hope to catch the eye of the one who was the closest approximation of Chase Hunter.
The frustration from those nights sent me hurtling toward kinkier scenes, leather bars I rode to in secret on my bike and snuck inside, being underage. There were the awkward nights when I came to, licking the boot of some leather daddy perched in a shoe shine chair, begging off when he got too mean with the titty-twisting. And there were the nights when I shut up and suffered the rough nipple play because I worried this might be as good as it got.
I wondered why all of this had to happen in secret, why I couldn't find spaces on my campus that might have made the transition easier — a support group for failed black twinks. A mixer? But I did nothing to establish those scenes myself; I wanted to simply arrive upon them, the way my straight classmates had. My own rainbow identity at the time remained small enough to fit in my pocket, and the most audacious things I did then, I did with my wallet. And so my porn collection grew.
After finding G, I discovered my predilection for the dated VHS stuff over the newer, glossier DVDs, and began hoarding them like a fanboy. My college had only just installed ethernet cables, and access to most online porn required a membership. Unable to find classes that even acknowledged gay bodies in the course catalogue, I skipped class to go to the library, where I determined to do that reading on my own. I slunk most days from the library, having skipped a day's worth of classes, and took my envy of the good time I assumed everyone else was having, at the place that was supposed to have been my salvation, to G Books.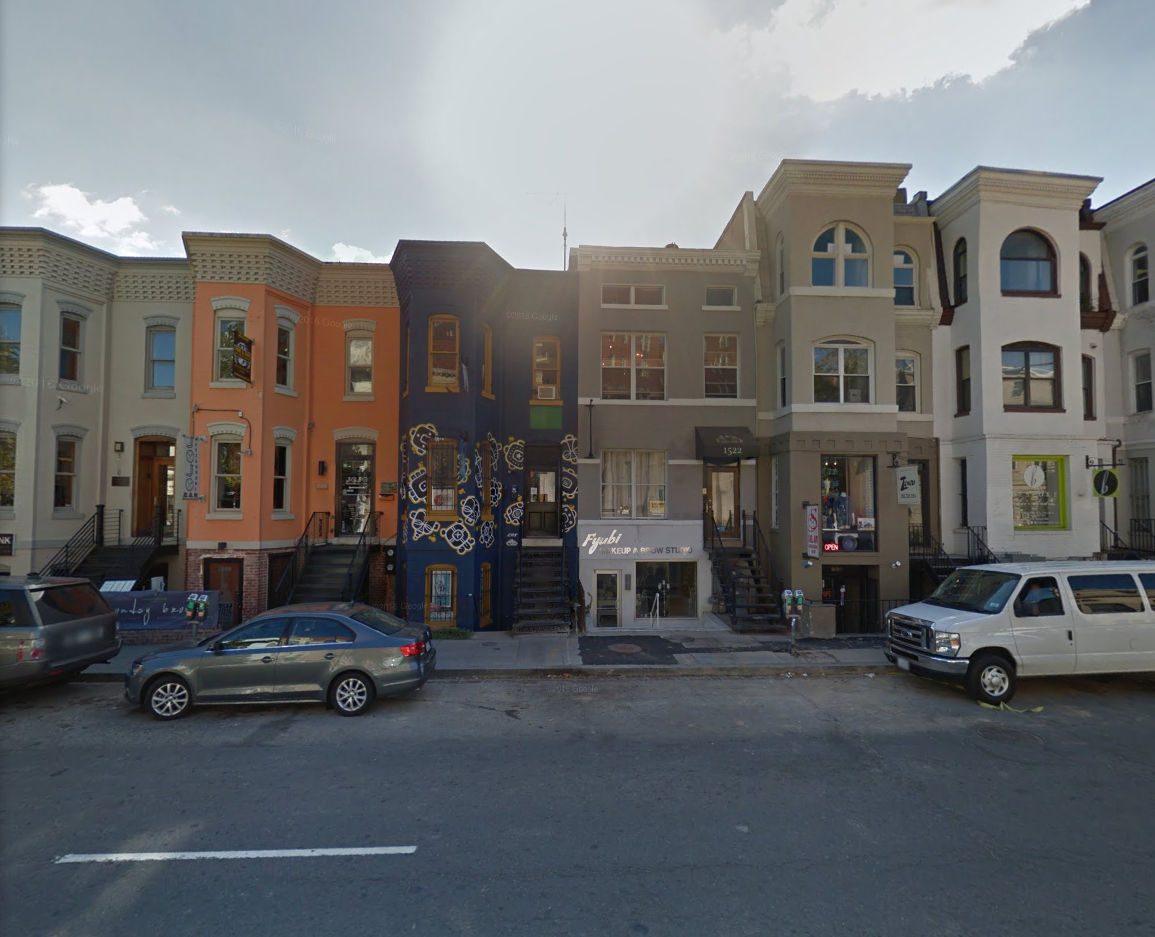 The bookstore, like me, had made a pathetic attempt at declaring itself, this far from Dupont Circle: a letter-sized rainbow flag Scotch-taped to the window. But inside, the store took the contents of an inner life I'd hardly explored and displayed it proudly: classic gay novels, queer theory, sex aids festively heaped in jars on the front counter, a wall of dildos behind the cashier. The only light streamed in through the front windows, leaving the back, where the sex tapes were kept, shrouded in darkness. But even the paper goods chastely displayed closer to the front, the vintage erotic magazines, put crotch and pec and bicep right up in my face. And it was at G that I realized my desire did have a lineage, and unearthed not just my identity but the term for it: bossy bottom, indeed. I went there to mine the things men had always known about me, what I liked and how I liked it, before I'd even known myself.
I went there to mine the things men had always known about me, what I liked and how I liked it, before I'd even known myself.
There were stacks of tattered, musty magazines to rifle through, the perfect texture and scent for what they contained: the kitschy machismo of all those pinup men from late-'80s Playgirl, hair erupting all over their bodies. New stock arrived at random, drawn from the collection of some anonymous perv — someone I liked to imagine had, like me, missed out on all the real-life fun looking at dirty pictures, and so had survived the '80s themselves. I hoped never to meet any of said people. We maintained our dignity by remaining anonymous.
I brought in my wares, the VHS tapes, along with books of critical theory whose titles and subtitles had turned out to be much sexier than the dense prose inside. Most times I went, I ended up spending back whatever I'd earned. I think the shop proprietor, an Asian guy with silvering hair and preppy clothes, saw me — saw the ambition in the titles I'd collected and the exhaustion in my gait, when those books finally made their way into the shopping bags I toted from campus. He scanned each title politely, always, though he'd probably scanned them before and would now have to refuse them again. Most times, I came in so early in the day that there were no other customers. When the shop was empty, he'd step from behind the counter and smoke a cigarette on the sidewalk with me, and mostly we'd just exhale together. I was thankful for the company.
I spent enough time in that place to need smoke breaks. It felt almost as if it were a friend's bedroom, and I was stashing things there for safekeeping until I could come retrieve them or they passed out of memory (which most of them did). But really, the store just became a very expensive library; I would check things out for purchase, and return them for much less.
At G, I could look at enough of those images of glowering Castro clones, the gay paper dolls from San Francisco in their macho costumes, that my now-aching desire to be bent at the waist and fucked started to make a kind of sense. No black man had claimed a desire like that within earshot of me in my entire lifetime.
The ire I'd brewed back home in Arkansas — growing up black, gay, closeted but helplessly signaling, in a world that validated straightness, whiteness, and most avidly, their admixture — seemed newly neutralized. How could it touch me anymore, when I was the one now granted the right to see, to frame, to discover, to discern, to discriminate? This is why looking — becoming a black body looking, hungry and devouring — meant so much to me. It gave me the power not to feel looked at; it made me the person who got a choice.
There's a tension in me still, acknowledging all that might've passed me by while indulging my impulse toward porn, and allowing it to shape my desire. I do wonder if so much looking was also a distraction, a chance to sidestep regret or disappointment. I never even bought a condom, a bottle of poppers, a tube of lube or Anal-ease. Those were for men far more successful at being gay than I was then, things that admitted that desire involved someone else.
At G, I did not have to acknowledge all the things I was not, or lament all the things I was not having: the white, blonde, athletic bodies I watched so rabidly on those tapes. Instead, I could concern myself only with what I wanted. I believed that understanding what I wanted would guarantee possession of it.
I believed that understanding what I wanted would guarantee possession of it.
That's not the sexuality I want anymore: one that refuses to acknowledge the longing I feel for another person, because I'm afraid they won't talk to me. I've wrestled enough with that (mostly unrequited) longing to have become cautious of letting myself want. The volume at which I spoke my right to desire in my twenties has been tamped down by age, and by an abiding fear that no amount of ranting will compensate for the companionship I'm missing.
There are only so many new things to learn about gay-for-pay actors, only so many interracial scenes where the black guy gets to be the bottom, only so many times to grow righteously angry over everyone's seeming inability to see black men as fuckable — as deserving of that kind of indulgence, or desirable enough for it. It's begun to feel like a fixation; I worry that my zealotry on these counts masks some pretty deeply rooted racial self-loathing, that my reluctance to turn away from the retro vids in favor of a dating app signals toward a nostalgia for a world that will never be again, and an impulse to justify rather than confront my fears.
But too, there's a delicious power in knowing myself this well. There's a self-reliance I've learned in not expecting the universe to deliver me beautiful things. And this instinct toward self-authorship has sustained me in a world that has often refused to see black boys like me the way I think we should be seen. It has let me forgive that earlier me for failing to find the courage to say so many things. It has pushed me to make something rigorous and exacting of myself, that is also sometimes heedless and addicted — something beautiful.