The president of the United States of America tweeted this video on Sunday morning:
The clip is an edited version of Trump's appearance on WWE's WrestleMania 23 in 2007, in which he beat up the wrestling empire's head honcho, his longtime friend Vince McMahon, before shaving McMahon's hair.
The edited version of the clip has circulated on Reddit's r/The_Donald — which has become a hub for followers of alt-right and far-right ideologies, and fervent Trump supporters — over the last few days prior to the president tweeting it. It is not clear how the president became aware of the clip.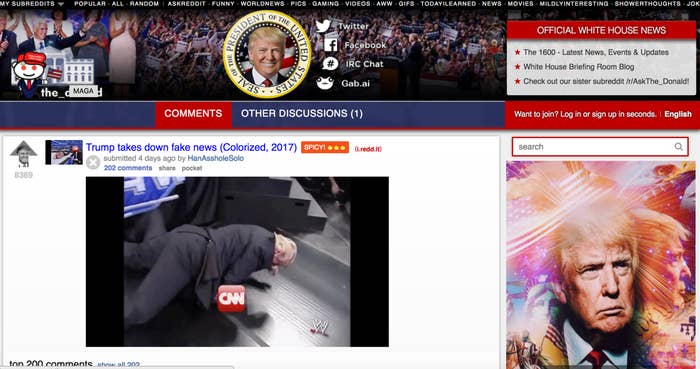 Trump's White House press team have attempted to focus the media's attention on the president's policy agenda in recent days, but seem to have been thwarted by the president himself, who has devoted time to stoking his Twitter feuds with CNN and the hosts of MSNBC's Morning Joe.
The White House did not return requests for comment from BuzzFeed News Sunday.

Trump's feud with CNN has escalated over the last week following the resignations of three reporters after a report into the Russia investigation was retracted. The president has started to refer to the network as "Fraud News Network," which appears at the end of today's video clip.

CNN replied to Trump's tweet with White House spokesperson Sarah Huckabee Sanders' claim from Thursday that he's never advocated for violence:
And in a statement, the network called Trump's tweet "juvenile behavior far below the dignity of his office."
Homeland Security Adviser Thomas Bossert was the first administration employee to react on Sunday. He watched speechlessly as he was showed the clip on ABC News:
But he then smoothly launched into the administration's talking points, adding: "No one would perceive that as a threat. I hope they don't."

Health and Human Services Secretary Tom Price said, "The fact of the matter is he can do more than one thing at a time," in regard to the president tweeting and also getting policies in place and legislation passed.
"What I'm concentrated on is the job he's given me," Price said.

When asked if the tweet violated Twitter's terms of service, which prohibit "violent threats (direct or indirect)," a spokesperson for the social media company said "we don't comment on individual accounts, for privacy and security reasons."

Before the end of the day, the tweet was already the most liked and retweeted of his presidency.