These two young boys live in Aleppo, the Syrian city that has become the scene of an increasingly brutal battle between government troops and rebels. This week, their home was bombed and their brother was reportedly killed in an airstrike. The video below captures their reaction to the news.
The footage of the two dust-covered, grieving children sitting on a dilapidated hospital bed was shared by the Aleppo Media Centre (AMC) — which also posted the image of Omran Daqueesh that was widely shared last week — and the Facebook page of Hadi Abdullah on Thursday.

By Friday morning, Abdullah's post — which BuzzFeed News has not been able to independently verify — had been viewed more than 500,000 times.

The two unidentified boys are pictured wailing to god, and embracing one another, as they cry "the heartache — my brother is gone."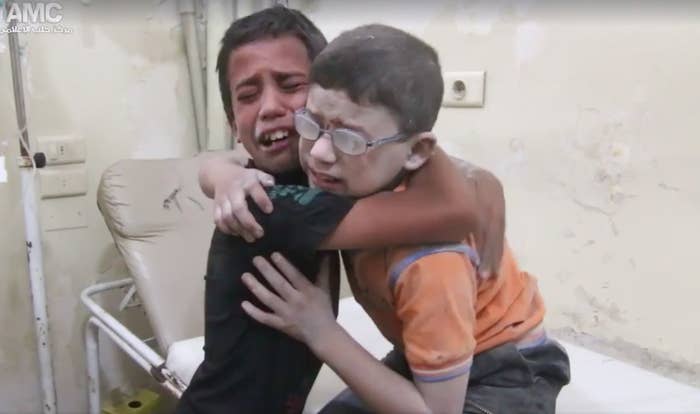 "They're crying. But their crying is futile," Abdullah wrote on his post.

Dozens of children have been admitted to Aleppo's hospitals amid reports of government planes dropping barrel bombs on the city's neighborhoods.

The AMC had earlier shared footage of several more young children, including a baby, who had been wounded in the bombings.

UK-based charity Save the Children also shared footage shot by a doctor of an 8-year-old boy identified as Abbas on Thursday, who described his experience of surviving a bombing in the city.

Three of his siblings — two babies and his 7-year-old sister — died, he said.
My heart started to hurt. It hurt a lot. Darkness fell and the missiles began to strike. Like this — boom! — and then I was buried under the rubble, but they took me out.

The whole ceiling fell on us. It was all dark. We couldn't see anything. Three of my siblings died. Two were young, babies. And my 7-year-old sister died.
In a statement, the charity's Syria director, Sonia Khush, bemoaned the lack of progress on a ceasefire in the city, and said: "The situation is growing more desperate in Aleppo by the day, with aid workers reporting severe shortages of fuel for ambulances and hospital generators, fresh food and drinking water."

"Children who have been injured in airstrikes and shelling — often complex head injuries and severe burns — cannot be removed for medical treatment. And yet the world does nothing," she added.

Fierce fighting has continued in Aleppo in recent weeks, a key flashpoint in the ongoing battle between Syrian government troops, jihadis, and more moderate rebel groups.

A rebel coalition was able to puncture the Russian and Iranian-backed regime's blockade earlier this month, but airstrikes have continued to pound the city.