Romania's Prime Minister Resigns After Nightclub Fire Protests
Prime Minister Victor Ponta announced he and his ministers would step down after thousands took to the streets on Tuesday to protest a deadly fire at the Colectiv nightclub last week.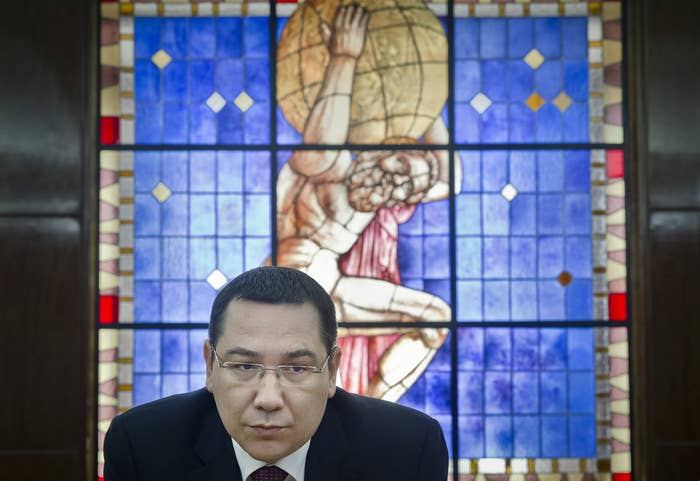 Romanian Prime Minister Victor Ponta on Wednesday morning announced the resignation of his government following Tuesday's mass protest over last week's deadly nightclub fire.
The fire and subsequent stampede at the Colectiv nightclub in Bucharest on Oct. 30 killed 32 people and injured some 180 more after a band performing at the venue set off fireworks indoors. The three owners of the nightclub were arrested.
The incident prompted widespread protests in the Romanian capital on Tuesday night, with an estimated 20,000 people taking to the streets to demand the resignation of Ponta and other senior government figures. They accused officials of corruption in granting of permits and carrying out safety inspections, according to the BBC.
On Wednesday morning, Ponta bowed to the protesters' demands and announced that he would step down in a statement delivered to journalists at Bucharest's Victoria Palace.
The Romanian prime minister was already mired in corruption allegations. In September, he became the first sitting prime minister to be formally accused of corruption, and faces charges of forgery, money laundering, and being an accessory to tax evasion, Reuters reported.
Speaking at the Victoria Palace on Wednesday, Ponta delivered the following statement, Romanian news agency Agerpres reported:
I have the obligation to note the legitimate discontent that exists in society and the wish ... to have greater responsibility than the owners of the nightclub. The people feel the need for more and it would be a grave mistake for me to ignore this. I do not want and I do not believe it is fair to leave this responsibility on those who have been in the field, or on mayors, state secretaries, ministers. I am ready to make this gesture that an important part of society is expecting and, obviously, starting today I am submitting my resignation as Prime Minister and, implicitly, of the Government.

Never, however, will I go against the people. And I believe it would be a great mistake and we would all suffer.