On Sunday, Germany's Chancellor Angela Merkel arrived in Saudi Arabia for talks with the oil-rich nation's monarch King Salman.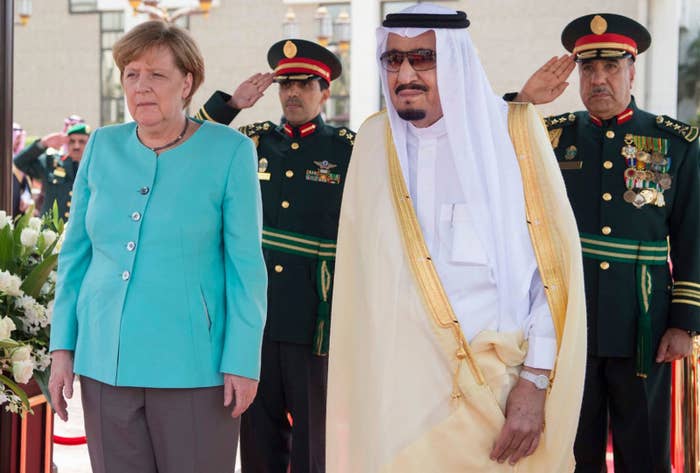 The trip was Merkel's first visit to the country in seven years, and she was reported to have pressed its leaders on issues such as women's rights, refugees, and Saudi Arabia's involvement in the conflict in Yemen.

A number of media outlets also commented on Merkel's decision not to a wear a headscarf on a visit to a country that places heavy restrictions on women's attire and requires them to cover their hair.
In the days following the visit, an image purporting to be a screengrab of Saudi TV began to circulate online, showing the top of Merkel's head pixellated in an apparent attempt to censor her hair. It was written up by websites including the Daily Caller.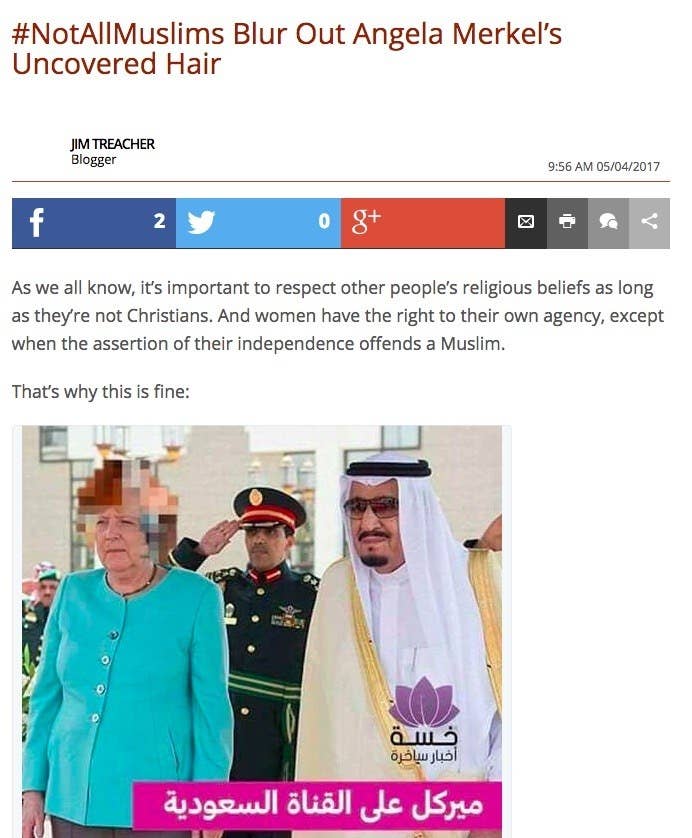 The image — with an Arabic text overlay reading "Merkel on the Saudi channel" — has also appeared on image-sharing website Imgur and 4chan, a forum that has become a hub for far-right trolls in recent years.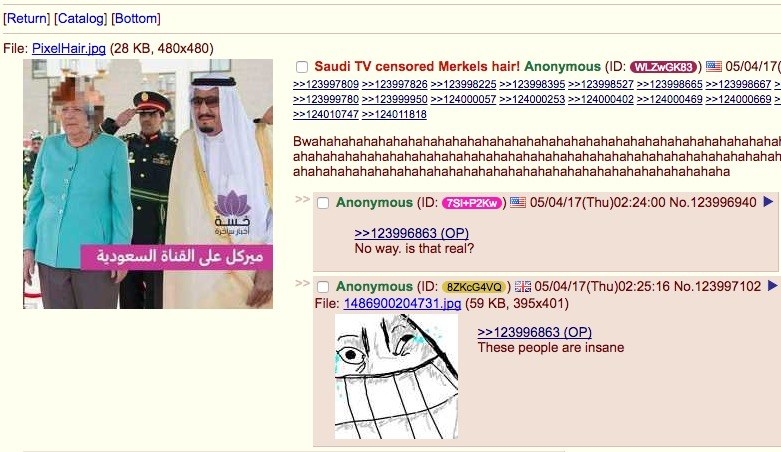 However, the image started getting picked up on Twitter after it was posted by Sarah Abdallah, a self-described "independent Lebanese geopolitical commentator," on Thursday morning — and has since been retweeted more than 20,000 times.
Abdallah wrote that the image was "not a joke," and pointed out Saudi Arabia's recent controversial election to the a UN women's rights commission.

BuzzFeed News has reached out to Abdallah to ask about her sourcing of the image, and is awaiting response.
But even before Abdallah shared the image, it was already featured on a number of Russian sites, including the front page of Pikabu, a Reddit-like site with a strong focus on user-generated content.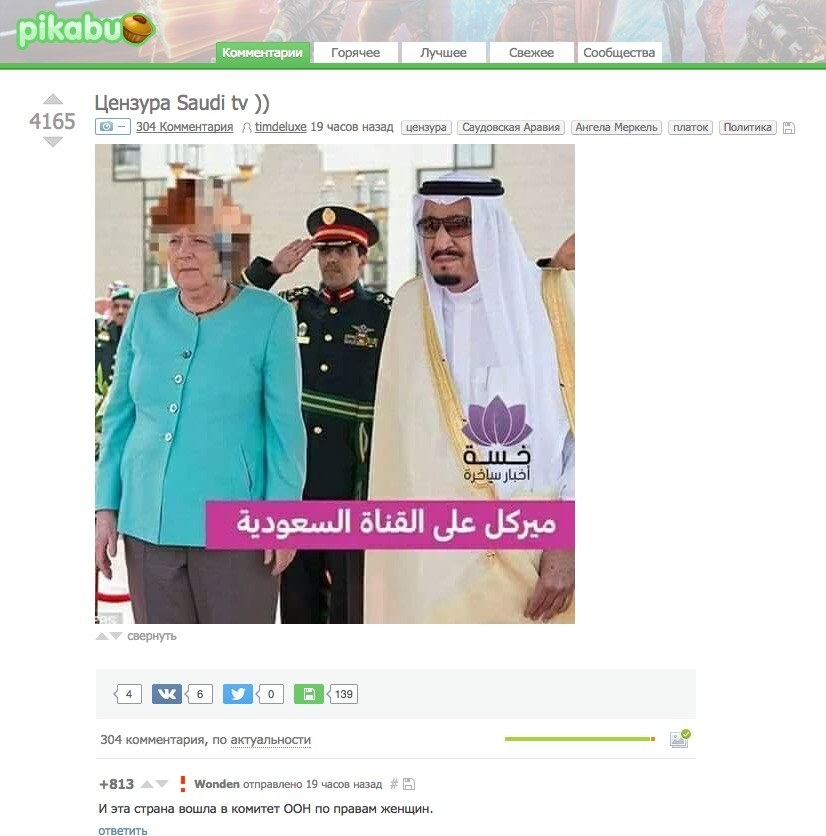 It was posted on Pikabu late Wednesday evening with the header "Censorship Saudi TV."

The earliest instance of the image appearing online is from an Arabic-language satirical Facebook page called Khase News, which is part of the website dhklak.com.
The viral image was originally posted with the caption "just for fun," contradicting Sarah Abdallah's claim that it is "not a joke".

It even has the site's logo as a watermark, clearly marking it as satire to Arabic audience. The attention it has received after being lifted from the page prompted Khase News to issue a clarification in the comments under the original post in which it said "satirical page = ironic post."

People on Twitter responded to Abdallah by posting footage from the state-run Saudi 2 TV station showing Merkel without her hair censored.
The official state Saudi Press Agency website also has a gallery featuring unpixellated images of Merkel meeting Saudi officials.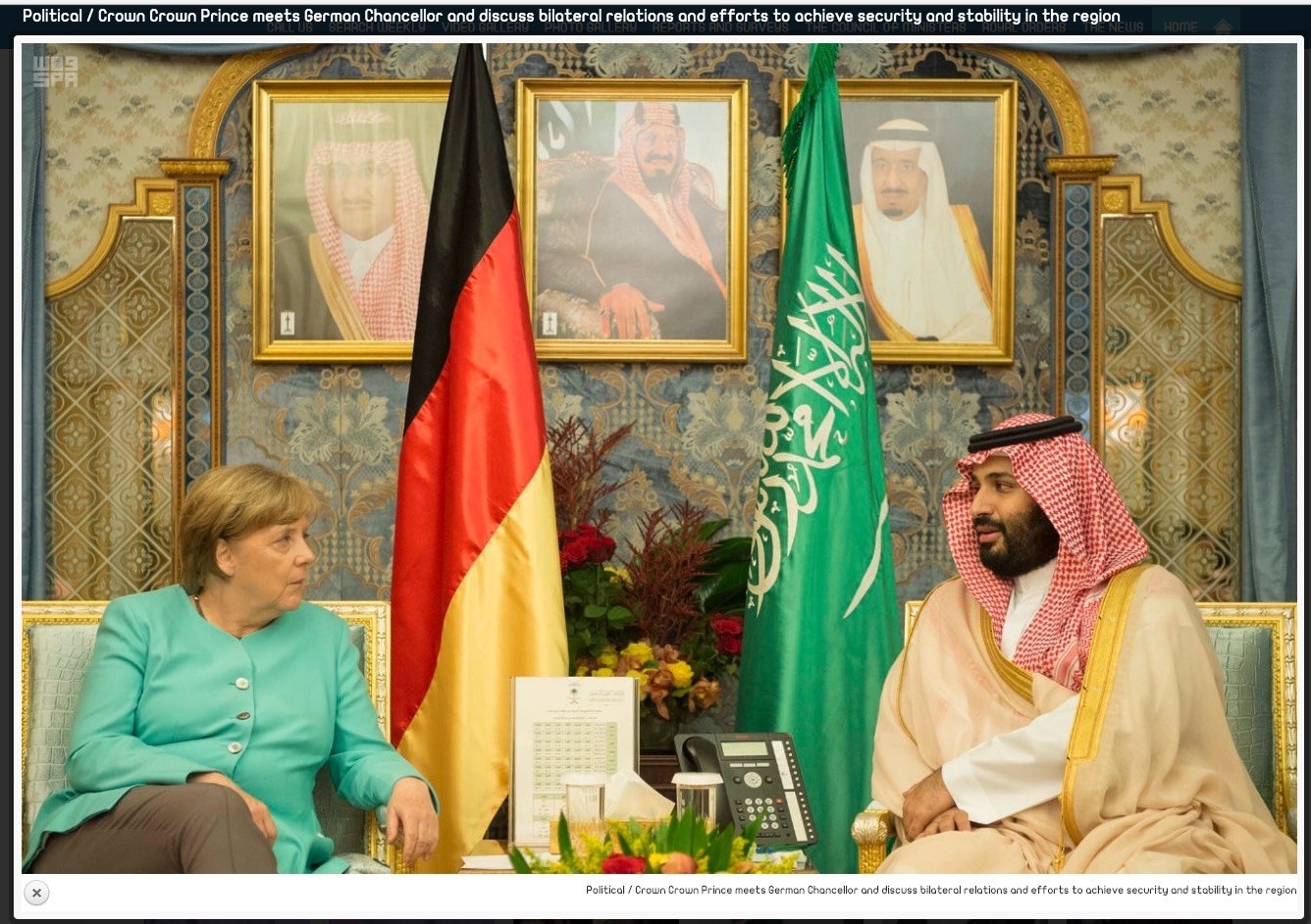 So, while Saudi law does require women to cover their hair, it seems state media had no issue with showing uncensored images of Merkel on air.