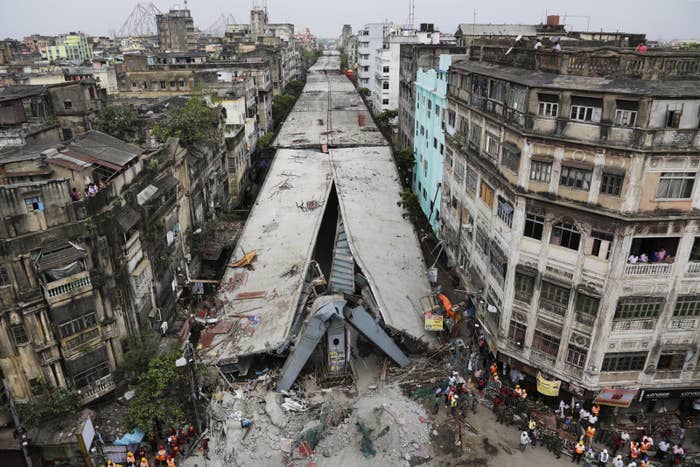 Indian police say they may charge 10 construction workers with murder over the collapse of an underpass in Kolkata which killed at least 26 people.
Since the accident Thursday, 69 people have been pulled alive from the rubble but authorities doubt they will find any more survivors, the Associated Press reported.
On Saturday, Kolkata City Court Judge Sanchita Sarkar remanded three arrested employees of the construction company, IVRCL Infrastructure Co., to police custody for nine days for questioning and investigation.
Seven other company employees have been detained for questioning, police said.
The employees face possible charges of murder and culpable homicide, which are punishable by death or life imprisonment, and criminal breach of trust, which carries a prison sentence of up to seven years, police said.
Rescue workers pulled out two more bodies from under the rubble on Saturday, raising the death toll to 26, said police inspector Debashish Chakraborty. Police believe there may be more bodies under the debris.
While most of the injured have been discharged from the hospital, 18 were still undergoing treatment, Chakraborty said.
In the aftermath of Thursday's collapse, local residents attempted to rescue people from the piles of debris using their bare hands, as emergency vehicles had difficulty accessing the site.
Images of the carnage quickly circulated on Twitter.
Officials at the scene on Thursday complained about the chaotic nature of the rescue effort. Police officer Raichand Mohta told Reuters: "The condition is pathetic. At this moment no one has any clue how many people are trapped."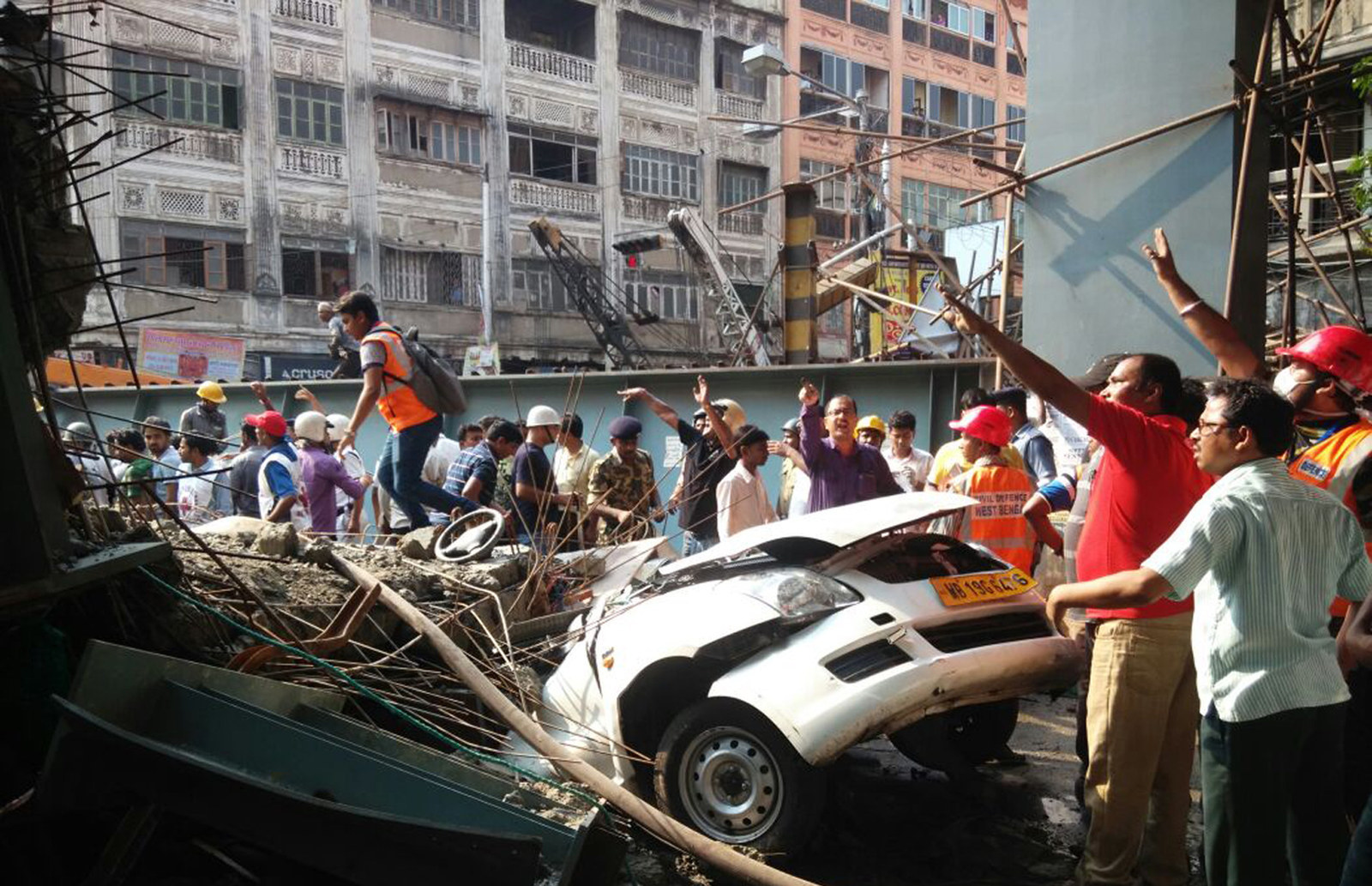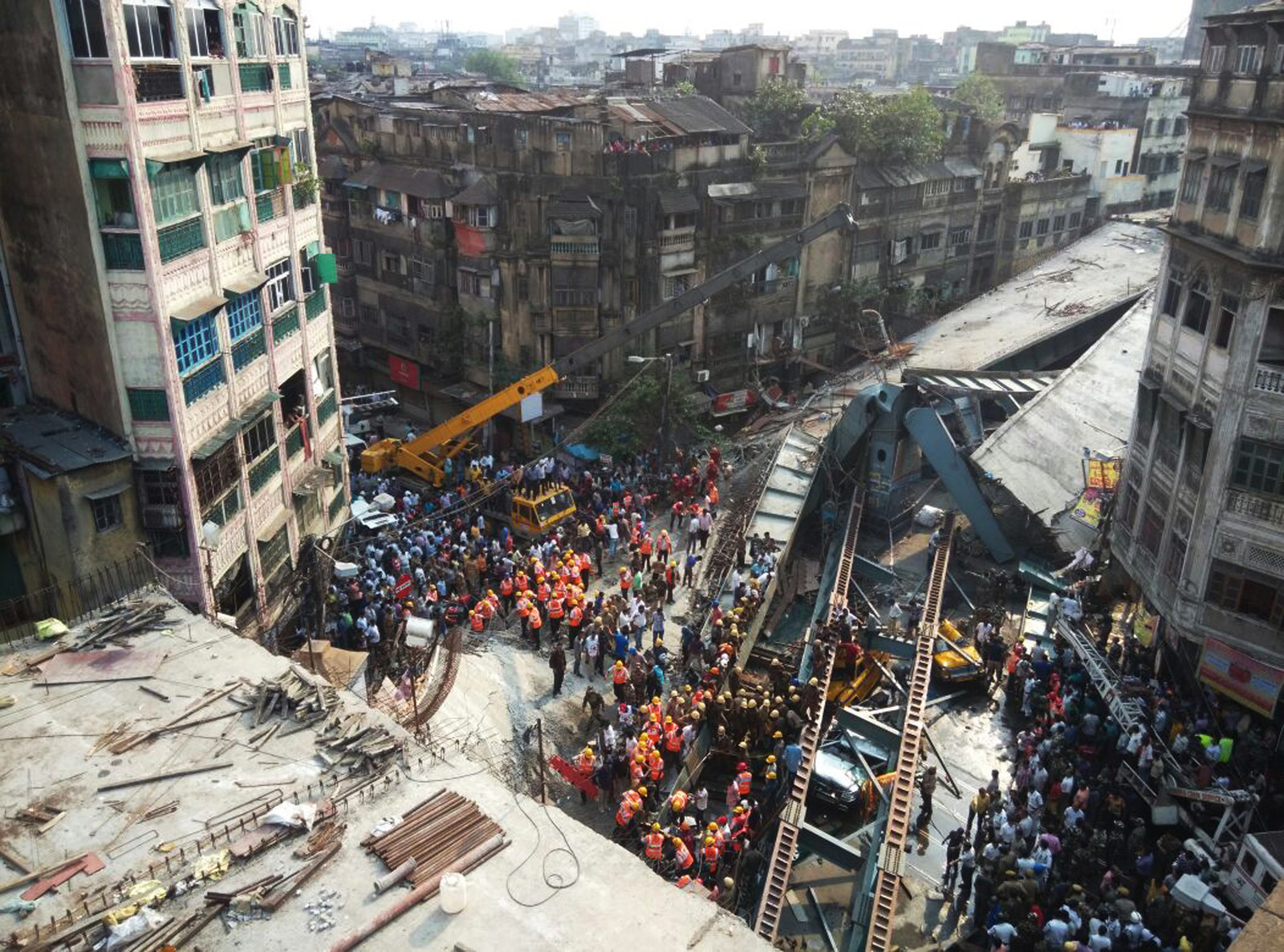 India's Prime Minister Narendra Modi tweeted he was "shocked and saddened" by events in Kolkata.

Debate has raged over who is responsible for the collapse of the flyover, which has been under construction since 2009 and missed several deadlines for completion.
Chief Minister Mamata Banerjee, who is contesting regional elections next month, rushed to the scene to survey the damage on Thursday. She later said that those responsible would not be spared, blaming building company IVRCL and the previous state administration, which had awarded it the contract for the crossing in 2007, Reuters reported.
A senior official for IVRCL also sparked controversy by calling the collapse an "act of God," according to AP.
This raw AP video shows the moments following the collapse on Thursday.