Video footage has emerged from inside the cabin of a passenger jet which was evacuated at Dubai airport before bursting into flames on Wednesday emerged on Wednesday evening.
The clip, shared on Twitter by Rehan Quereshi, shows some passengers scrambling for their luggage in the overhead compartments, before cabin crew can be heard shouting "leave your bags behind — jump and slide, jump and silde" as passengers evacuated through the emergency exits.
As passengers land on the runway, flames can be seen coming from one of the plane's engines.
After the evacuation, part of the plane appeared to explode.
All 300 passengers and crew on the Emirates airline flight escaped from the aircraft safely and were accounted for, the airline said Wednesday.
However, a firefighter died battling the blaze, Emirates' chairman, Sheikh Ahmed Bin Saeed Al-Maktoum, told reporters.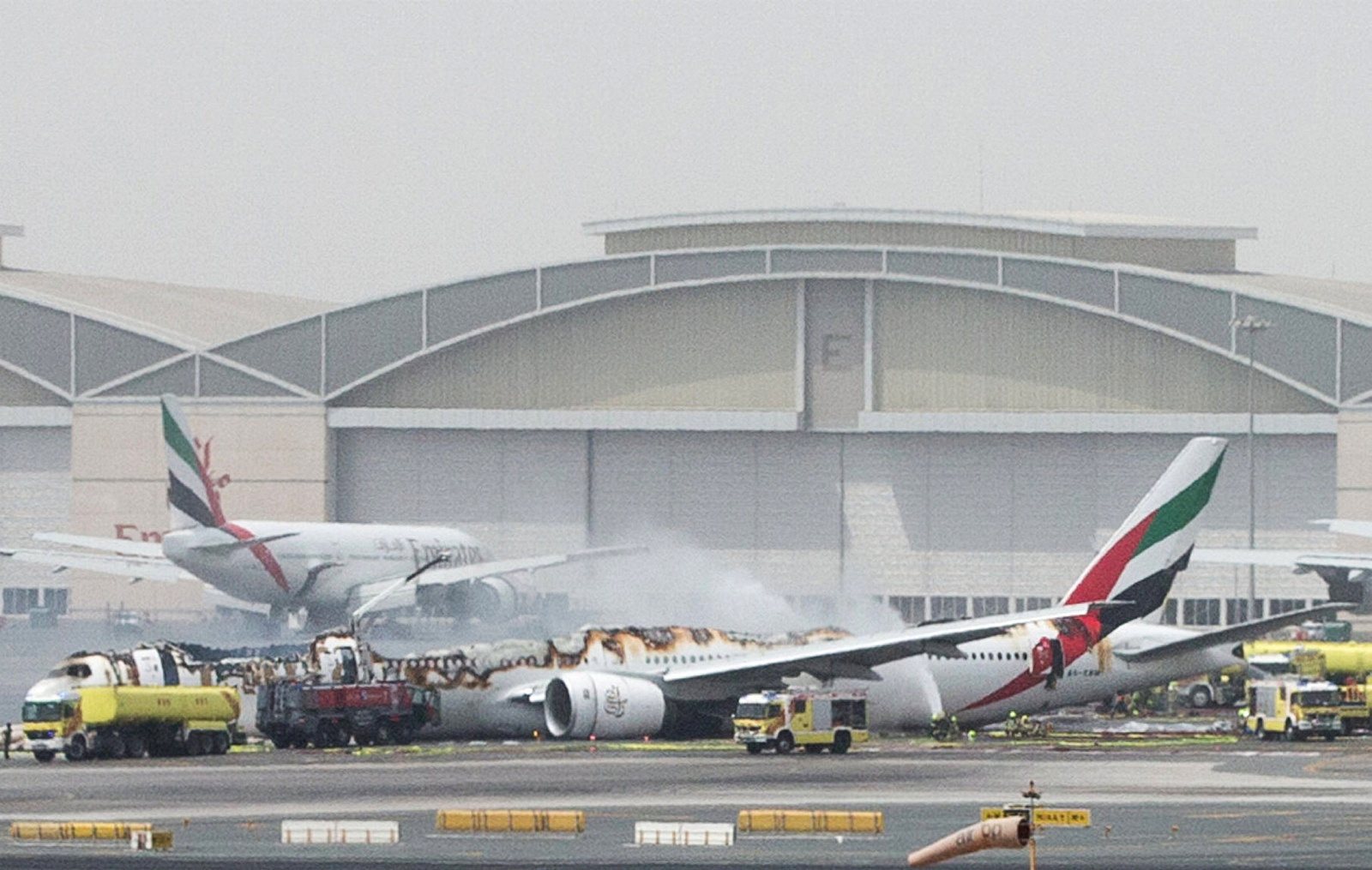 "We pay tribute to the firefighter who lost his life fighting the blaze. We thank all teams that dealt with the incident," he said, according to the Dubai media office.
The plane involved in the incident was a Boeing 777 that had traveled from Thiruvananthapuram on the southern tip of India.
The airline said the accident occurred at 12:45 p.m. local time (4:45 a.m. ET), with images and video showing thick black smoke billowing from the fuselage of Flight EK521 circulating on social media.
One video appeared to show one of the plane's engines had become separated, as its right wing dragged along the ground.
The fire was extinguished shortly before 3 p.m. local time (7 a.m. ET), Dubai authorities said.
The vast majority of the passengers on board — 225 — were from India. Twenty-four were from the UK, 11 from the United Arab Emirates, and six from the US, Emirates said in a passenger manifest statement.

Evacuation procedures were executed "professionally," and the flight crew were the last to leave the plane, the airline's chairman told reporters at a press conference on Wednesday evening.
Thirteen people required treatment for minor injuries, he said.
The cause of the blaze is not yet known. All arrivals and departures at Dubai International were suspended following the accident, but the airport later resumed its normal schedule.

Emirates said it was cooperating with authorities and emergency services.
CORRECTION
The flight number of the plane involved in the incident is EK521. An earlier version of this article incorrectly stated the number.