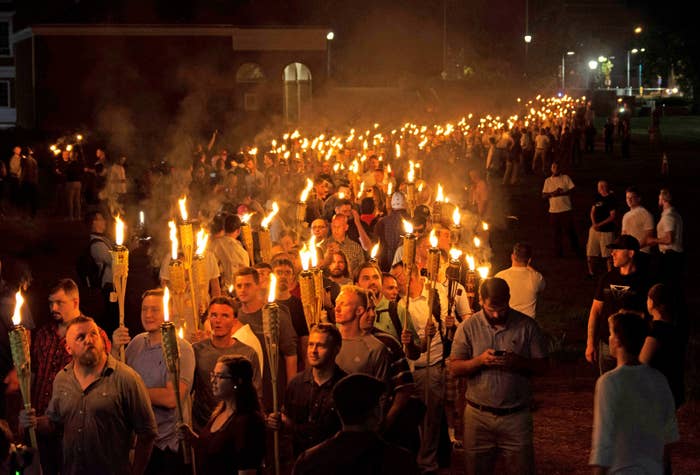 An estimated several hundred white nationalists descended on the University of Virginia's campus in Charlottesville on Friday night for an impromptu torchlit rally.

The demonstration, which took place ahead of the alt-right Unite the Right event in the city's Emancipation Park on Saturday, led to violent exchanges with counter-protesters on the university grounds.

The protest came amid an ongoing dispute over the proposed removal of the statue of Confederate General Robert E. Lee in Emancipation Park, previously known as Lee Park.

One protester was arrested and charged with assault and disorderly conduct, while several injuries were reported, UVA officials said in a statement on Saturday. At least one of the injured was a university police officer.

"Several other members of the University community sustained minor injuries during the confrontation," the UVA officials said.
Videos posted on social media by reporters at the scene showed tiki torch–wielding marchers chanting, "End immigration," "One people, one nation," and "Blood and soil." Blood and soil is a Nazi-linked ideology based on ethnic descent (blood) and territory (soil).
Other chants included "You will not replace us" and "White lives matter."

A smaller group of counter-protesters met the march at the Jefferson statue on campus, circling the monument and linking arms, according to the local Cavalier Daily.
They were then surrounded by the chanting white nationalists, before fighting broke out.
Police reportedly separated the two groups, having declared unlawful assembly.
Far-right figurehead Richard Spencer — who attended UVA — appeared to confirm via Twitter that the white nationalists had intentionally surrounded the counter-protesters.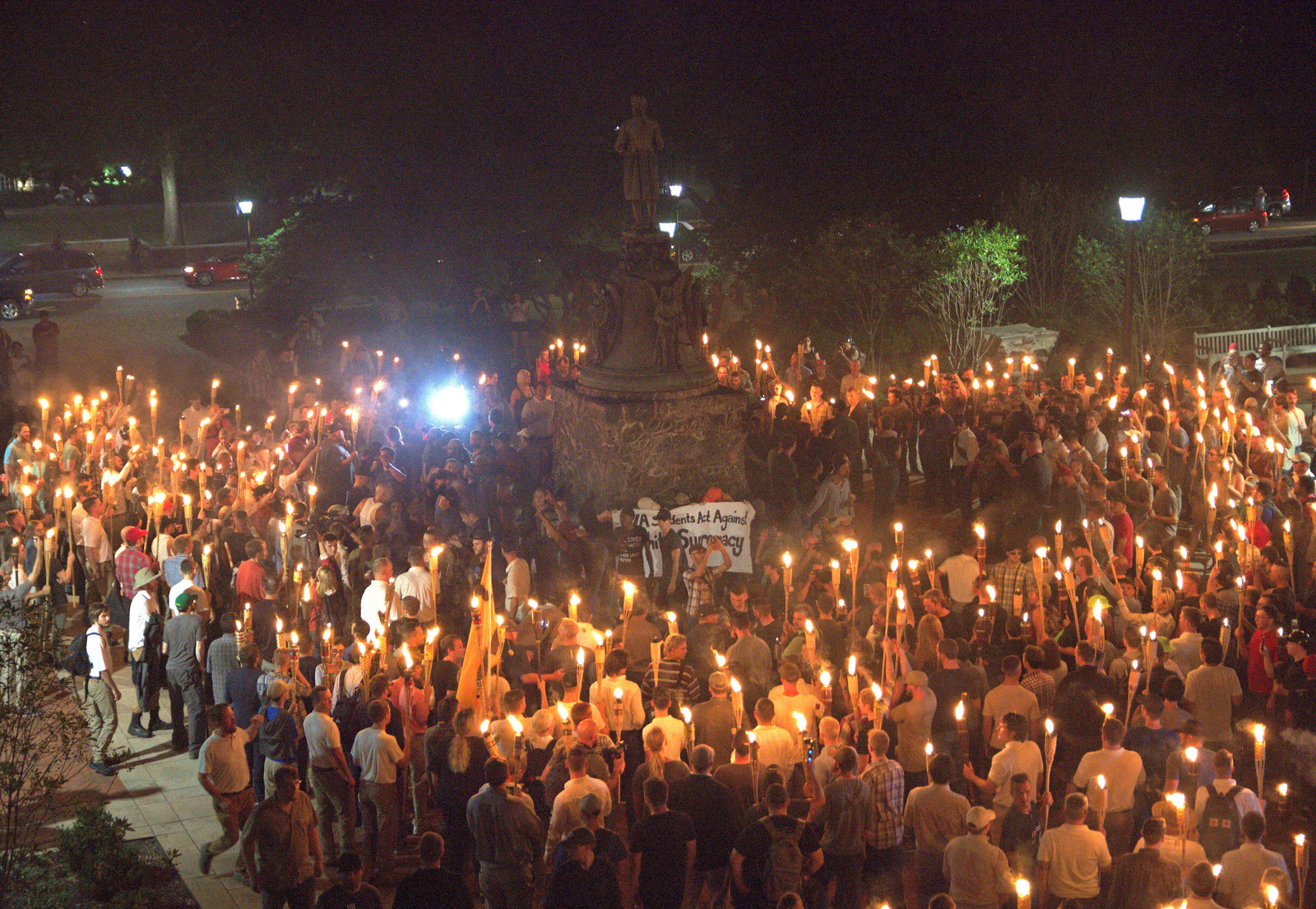 There are also multiple reports of pepper spray being used. A local left-wing group posted pictures appearing to show one of the white nationalists deploying pepper spray against the counter-protesters.
A reporter for the Huffington Post also said that anti-fascist and Black Lives Matter protesters had been pepper-sprayed. The reporter and other media outlets said journalists and residents had been threatened by some of the marchers.

The university's statement said law enforcement did not use pepper spray or other chemical agents.
"Law enforcement on the scene declared an 'unlawful assembly' once physical altercations among the protestors began to escalate," the UVA officials said.
They condemned the march as "disturbing and unacceptable."
"Those who gather with the intent to strike fear and sow division do not reflect the University's values and will not influence or diminish the University's commitment to inclusion, diversity, and mutual respect," the UVA officials said.
Alex Spratley, a second-year college student who was among the counter-protesters, told the Cavalier Daily: "This is not something that we thought would ever happen, that we would ever see in our lifetime. It's wild."

Charlottesville Mayor Mike Signer also issued a strongly worded statement of condemnation:

I have seen tonight the images of torches on the grounds of the University of Virginia. When I think of torches, I want to think of the Statue of Liberty. When I think of candlelight, I want to think of prayer vigils. Today, in 2017, we are instead seeing a cowardly parade of hatred, bigotry, racism, and intolerance march down the lawns of the architect of our Bill of Rights.

Everyone has a right under the First Amendment to express their opinion peaceably, so here's mine: not only as the Mayor of Charlottesville, but as a UVA faculty member and alumnus, I am beyond disgusted by this unsanctioned and despicable display of visual intimidation on a college campus.
Republican Senator Orrin Hatch of Utah was one of the first senior national lawmakers to condemn the march.

Prior to Friday night's protest, Virginia Sen. Mark Warner, a Democrat, told the white nationalists to leave Charlottesville.
In a statement issued prior to Friday night's events, Virginia's Gov. Terry McAuliffe said that "personnel from Virginia's National Guard were standing by to respond if needed" ahead of Saturday's rally.

Charlottesville was also the scene of a smaller white nationalist rally in May.
Ralph Northam, Virginia's lieutenant governor and the Democratic nominee for governor, bemoaned that Charlottesville was once again the scene of a white supremacist rally.
"White supremacists have descended upon Charlottesville again to evoke a reaction as ugly and violent as their beliefs," he said. "Just as they did before, I am urging Virginians to deny them the satisfaction."
Ed Gillespie, the Republican candidate for governor, also condemned the protest, while praising the police response.
Brandon Wall, David Mack, and Lissandra Villa contributed reporting to this article.