Russian President Vladimir Putin has accused Western powers of trying to damage the country, although he denied that its current economic situation is their revenge for the annexation of Crimea.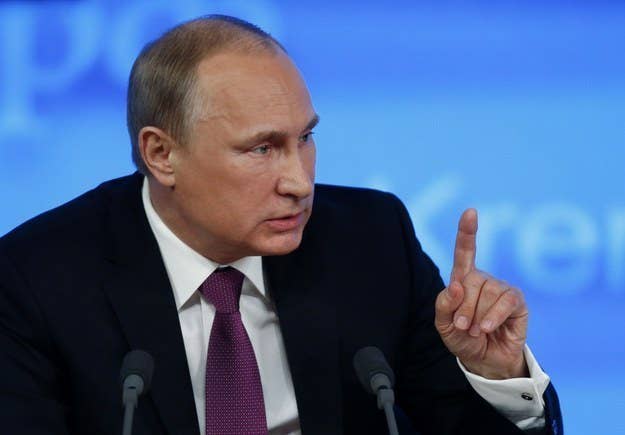 President Putin said Russia's economic woes are not "payback for Crimea, but payback for our natural desire to survive as a nation." He also blamed "outside factors" for the ruble hitting an all-time low.
He did, however, concede that Russia's central bank could have acted more quickly in its response to the current economic crisis.
During his much-hyped end-of-year press conference, which featured a litany of accusations against Western powers, a defiant Putin pledged that Russia's economy would be fixed within two years and insisted growth was "inevitable."
He said he would diversify the nation's gas-dependent economy and would try and persuade businesses to help prop up the collapsing ruble, AP reported.
He acknowledged that Western economic sanctions surrounding Russia's actions in Ukraine were one contributing factor in the economic crisis. However, he insisted that a key reason for the country's current predicament was its overdependence on oil and gas. He suggested this accounted for between 25-30% of the ruble's current troubles.
Putin also argued that the crisis in Ukraine was a pretext for action by the West, and accused Western powers of trying to undermine Russia's sovereignty. He said the E.U. and U.S. sanctions placed on Russia following the March annexation of Crimea were part of a broader historical campaign to weaken the country.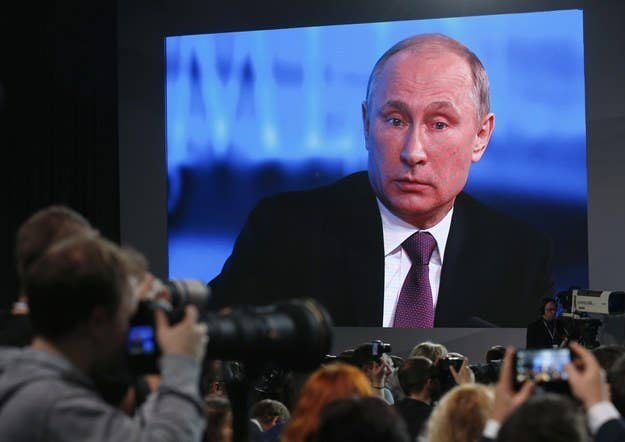 Speaking defiantly and confidently, albeit with a heavy cough, Putin evoked the image of the Russian bear in an analogy to describe the country's relationship with the West, and what he sees as its desire to weaken Russia's nuclear arsenal, He said:
Maybe the bear should sit back and relax, not chase piglets and swine across the forest, but snack on berries and honey. Maybe they'll leave him in peace?

They won't leave him, because they're always going to try and put him on a chain.

And as soon as they manage to put him on a chain, they'll rip out his teeth and his claws. In today's understanding that's [our] nuclear deterrent forces.

As soon, God forbid, as that happens, and the bear's done for, then they'll start snapping up the forest straight away.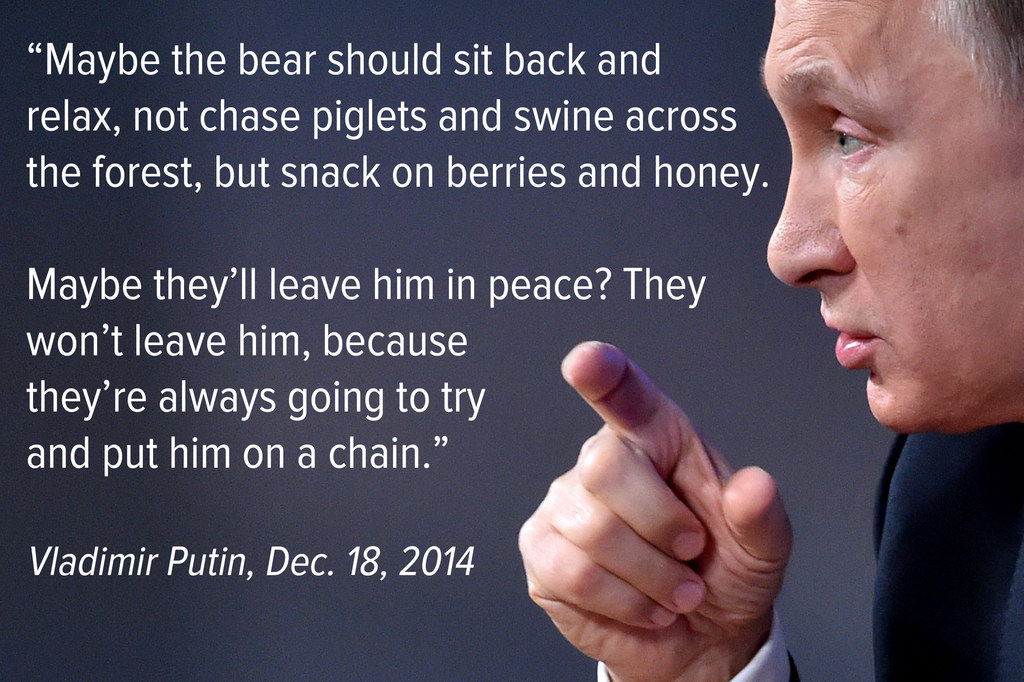 Despite the otherwise defiant rhetoric, there was a marked softening in Putin's tone regarding Ukraine.
He said he believed the country should stay as a single political entity, meaning that he thought Ukraine's conflict-hit eastern regions should remain a key part of the nation.
He suggested Kiev and the pro-Russian rebels should conduct a swift "all-for-all" prisoner exchange ahead of Christmas.
Putin said he felt sure his Ukrainian counterpart, Petro Poroshenko, sincerely wanted peace, but that there were others in Ukraine who didn't, and he urged the Kiev government to fulfill its end of the September peace deal, AP reported.
He also said he had invited Russian oligarch Vladimir Yevtushenkov — who was freed from house arrest after being cleared of money-laundering allegations only yesterday — to a key meeting of Russian business leaders, due to take place before the end of the year. Shares in Yevtushenkov's company, Sistema, more than doubled in value following Putin's announcement.