Update — July 30, 10:45 a.m. ET
The United Nations said at least 15 Palestinians were killed while sheltering at a school used as a refuge in Gaza.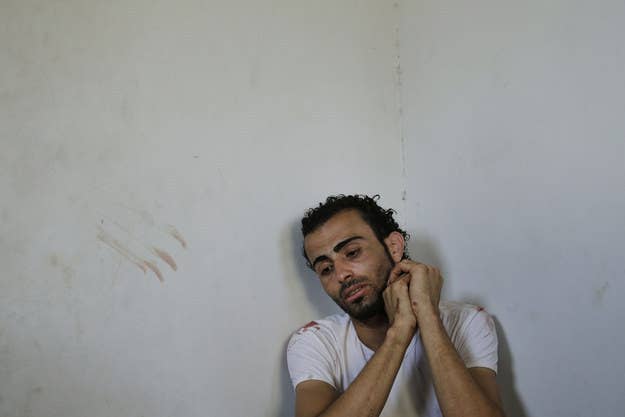 The school's prinicpal, Fayez Abu Dayeh, told the Associated Press the shelling began around 4:30 a.m. local time, and hit two classrooms and a bathroom.
One classroom had its front wall blown out, while another strike left a large hole in a second floor classroom's ceiling. Palestinian health official Ashraf al-Kirdra said an additional 90 people had been wounded.
Reuters reported an Israeli spokeswoman saying Hamas militants were firing mortar bombs from the school's vicinity, and Israeli troops returned fire. The incident is being reviewed. Reporters in the area say the Israeli army denies it targeted the school.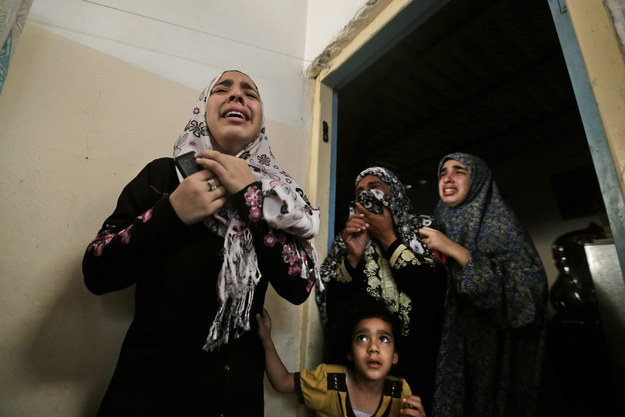 Looking around me I can see some with have what appears to be shrapnel wound and some have far more serious wounds.As we were travelling to the hospital, we saw families with many children leaving other UN schools. They feel insecure. There seemed to be no safe shelter for them in Gaza, not even in UN schools.
Chris Gunness, a spokesperson for U.N. aid agency U.N. Relief and Works Agency, has condemned the attack in a lengthy series of posts on his Twitter account, summarized below.
It is too early to give a confirmed official death toll. But we know that there were multiple civilian deaths and injuries including of women and children and the UNRWA guard who was trying to protect the site. These are people who were instructed to leave their homes by the Israeli army.The precise location of the Jabalia Elementary Girls School and the fact that it was housing thousands of internally displaced people was communicated to the Israeli army seventeen times, to ensure its protection; the last being at ten to nine last night, just hours before the fatal shelling. I condemn in the strongest possible terms this serious violation of international law by Israeli forces. This is the sixth time that one of our schools has been struck. Our staff, the very people leading the humanitarian response are being killed. Our shelters are overflowing. Tens of thousands may soon be stranded in the streets of Gaza, without food, water and shelter if attacks on these areas continue. We have moved beyond the realm of humanitarian action alone. We are in the realm of accountability. I call on the international community to take deliberate international political action to put an immediate end to the continuing carnage.
We condemn the group or groups who endangered civilians by placing these munitions in our school. This is yet another flagrant violation of the neutrality of our premises. We call on all the warring parties to respect the inviolability of U.N. property.
Earlier today, the Israeli military tweeted that Hamas have fired more than 2,670 rockets at Israel since the start of the conflict.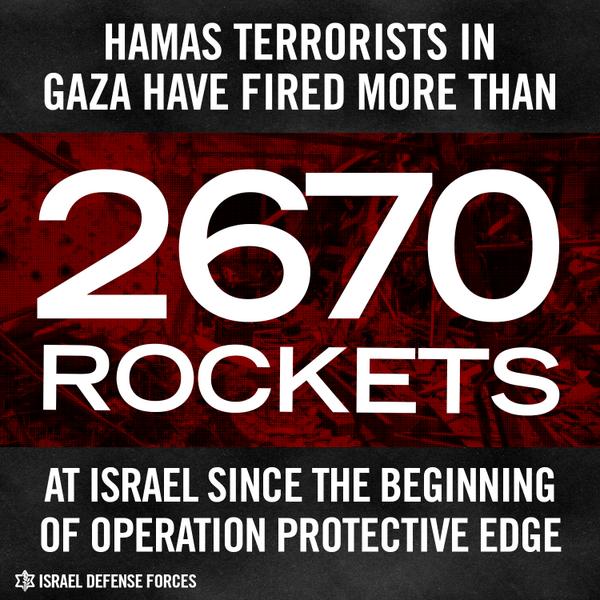 This is the second time a United Nations school has been hit during the current Israel-Hamas conflict.
On July 24, another 16 Palestinians were killed in an explosion at a school in Beit Hanoun, with uncertainty surrounding who is responsible.