Al Jazeera Journalists Pardoned By Egyptian President
Mohamed Fahmy and Baher Mohamed had been imprisoned for aiding the outlawed Muslim Brotherhood during a retrial in August.
Jailed Al Jazeera journalists Mohamed Fahmy and Baher Mohamed have received a presidential pardon from Egyptian President Abdul Fattah al-Sisi, according to a statement by the President's office.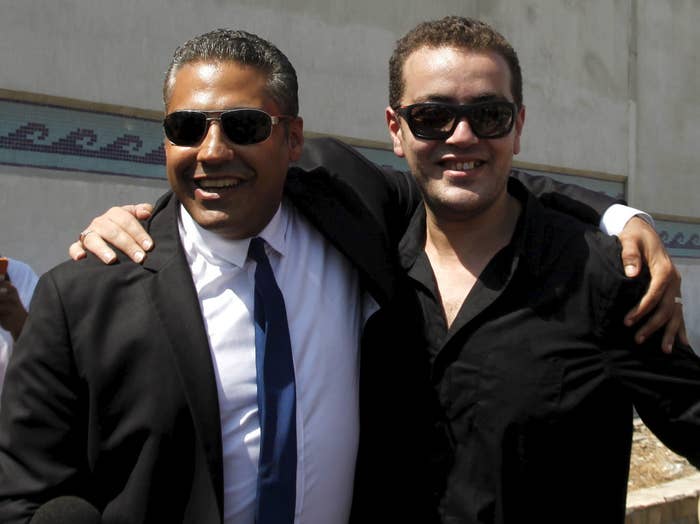 After more than 400 days in prison, Fahmy and Mohamed's family learned from State TV that the men were to be set free, along with 100 other Egyptian prisoners pardoned by the president ahead of the religious celebration of Eid al-Adha.
Last month, Fahmy and Mohamed were sentenced to three years in prison after a retrial that saw prosecutors accuse them of aiding the outlawed Muslim Brotherhood, operating without a press license, and broadcasting material harmful to Egypt. Their co-defendant, Australian Peter Greste, was sentenced in absentia.
Greste, Fahmy and Mohamed have denied the allegation, and said they were doing their jobs as journalists and reporting the news.
"I try in my journey as a journalist not to obsessively take on the role of an agent of democratic change usually embraced by many members of our prestigious fourth estate. But, I still live to challenge governments in their shortcomings through my craft," Fahmy wrote in a message delivered to the advocacy group Canadian Journalists for Free Expression after his release. "It's a cause not worth dying for, but in time it becomes a way of life, even behind bars."
Journalists who bumped into Fahmy and Bahrooz in Cairo's Maadi neighborhood following their release, said they were almost immediately stopped by police for taking photos to celebrate the occasion.
Fahmy's International counsel, Amal Clooney, released a statement thanking Egypt for the pardons, and adding, "This is a historic day in Egypt where the government has finally corrected a longstanding injustice, and set two innocent men free".
No reason has been given for the pardons, the BBC said. Sisi travels to New York to address the U.N. General Assembly tomorrow.
Among those also pardoned by Sisi Wednesday are a number of prominent human rights activists. According to local reports, Yara Sallam and Sanaa Seif, who were jailed in 2014 for taking part in an "illegal protest" will also be set free Wednesday.