38,000 NYC Transit Workers To Join Occupy Wall Street Next Wednesday
On Wednesday, 5 Oct., over 38,000 members of New York City unions will join the Occupy Wall Street protest in Lower Manhattan. The cause just got real, people.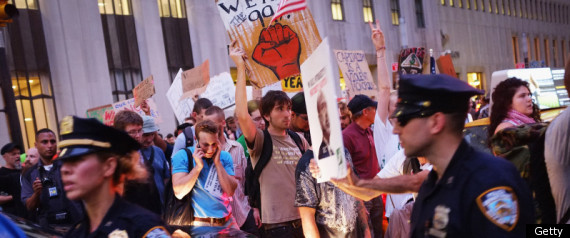 Up until this announcement, the Occupy Wall Street movement has been unwieldy and somewhat lacking in a coherent voice, but that's all about to change. New York City labor unions have decided to descend upon the streets of Lower Manhattan on Wednesday.
The leadership of the Transit Workers Union Local 100--comprised of subway and bus workers--voted unanimously to support the protestors. With a membership of 38,000, 5 Oct. will easily be the largest day yet in the protest. On 12 Oct., SEIU 32BJ, representing doormen, security guards, and maintenance workers around the city, is also staging a rally in support of the cause.
It's unclear for now whether the transit system will be completely shut down while the 38,000 workers are participating in the protest. If it is, the Occupy Wall Street movement will definitely make its mark in history. And either way, it now has a substantial footing to make a real statement about American economic policy.
Jackie DiSalvo, an #OccupyWallStreet organizer, summarized the movement's policy as such: "Occupy Wall Street will not negotiate watering down its own message."
Just trying to make a goddamn living.

Got a confidential tip? Submit it here.