Egyptian Court Sentences American Citizen To Life In Prison
U.S. national Mohamed Soltan was on Saturday told by a court in Cairo he will spend the rest of his life in prison for protesting against the ousting of President Mohamed Morsi in 2013.
Mohamed Soltan, an American citizen, was sentenced to life in prison by an Egyptian court on Saturday for participating in a protest against the ousting of Islamic President Mohamed Morsi in the summer of 2013.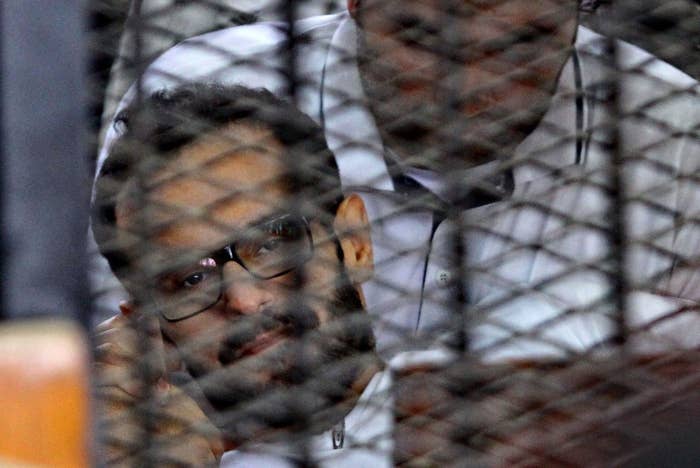 Soltan, who has been on hunger strike for months, was sentenced along 35 other defendants. Presiding judge Mohamed Nagy Shehata, handed the death sentence to 14 defendants, the BBC reported.
Among those sentenced to be executed was 71-years-old Mohamed Badie, the Muslim Brotherhood's top spiritual guide.
Gehad el-Haddad, a spokesman for the Muslim Brotherhood, was also sentenced to life in prison.
The sentences come as the government of Egyptian President Abdel Fattah el-Sisi continues to crack down on members and supporters of the Muslim Brotherhood, considered by Egyptian officials to be a terrorist organization.
President Barack Obama recently announced the U.S. would resume military cooperation with Egypt, but in a telephone call with his Egyptian counterpart a few days ago the U.S. President expressed concern "about Egypt's continued imprisonment of non-violent activists and mass trials."
U.S. State Department spokeswoman Marie Harf issued the following statement on Saturday afternoon:
"The U.S. government is deeply disappointed in the Egyptian court's decision in the case of U.S. citizen Mohamed Soltan. We understand from reports that Mr. Soltan has been sentenced to life in prison.

We remain deeply concerned about Mr. Soltan's health and detention. The United States reiterates our call for the release of Mr. Soltan on humanitarian grounds, and we urge the Government of Egypt to redress this verdict.

The Department of State takes its assistance to U.S. citizens abroad very seriously. Embassy officials remain in contact with Mr. Soltan and will continue to provide all possible consular assistance."
Soltan, 27, graduated from Ohio University in 2012 and found a job in Cairo's oil industry. His father is reported to be a staunch supporter of the Muslim Brotherhood. According to his family and friends, Soltan actually disagrees with his father's politics and the Muslim Brotherhood, but he was opposed to the military's removal of Morsi, who was democratically elected.
Judge Shehata is the same judge who also handed heavy sentences to three Al Jazeera jounalists. Peter Greste, Mohammed Fahmy, and Baher Mohamed were sentenced to seven years on charges of spreading false news. After more than a year behind bars and much international outcry, the three were finally freed earlier this year.
Sisi has the option of extraditing Soltan to the U.S. but has not yet given any indication he intends to do so.