White House Declares Mission Accomplished After Obama's "Between Two Ferns" Appearance
Funny or Die became the No. 1 referral site for HealthCare.gov in the hours after President Obama appeared on Zach Galifianakis' web series, the administration says. The dignity of the presidency emerged unscathed too, according to Jay Carney.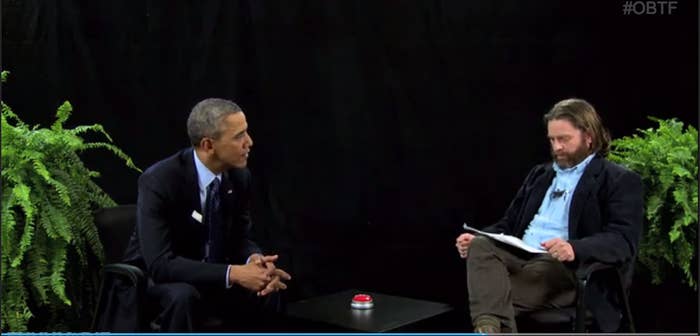 WASHINGTON — White House press secretary Jay Carney told reporters Tuesday that in the hours after President Barack Obama appeared in a comedy skit with actor Zach Galifianakis on the website Funny or Die, the presidency has remained dignified and visitors were pouring into HealthCare.gov.
The administration cast Obama's unprecedented appearance on Between Two Ferns Tuesday as a rousing success, rebuffing critics of the move who characterized it as an undignified stunt.
"Was the presidency in any way damaged?" a reporter asked at the daily briefing.
"No," Carney responded. "We, obviously, assess opportunities that we have and look at whether or not they're going to be successful and wise, and I think we made the right call here."
The press secretary told reporters Obama's Between Two Ferns appearance had racked up 3 million views by early afternoon Tuesday, just hours after it was first posted at 7:30 a.m. ET.
"I think the average video gets something like 6 million views," Carney said. "I'm convinced we're going to break that average."
Obama appeared on the popular web show as part of an effort to boost youth enrollment in the Affordable Care Act as the clock ticks down until March 31, when enrollment closes. Tara McGuinness, the president's Affordable Care Act spokesperson, took to Twitter just before Carney's briefing to declare that Funny or Die had become "the #1 source of referrals to http://HealthCare.gov."
McGuinness did not respond to a request for further detail on the claim. Neither did the Department of Health and Human Services, which administers Affordable Care Act Enrollment.
The Between Two Ferns appearance was just one of the many efforts the White House has taken up recently to encourage youth enrollment. Administration officials say enough young people have enrolled to ensure the newly expanded insurance market will have the proper balance between healthy people and sick people, but they're still pushing hard to get more enrollees. Carney said the effort is working.
"I can assure you that the Funny or Die video will be one of the reasons we get young Americans to HealthCare.gov, one of the reasons we get young Americans to enroll in health insurance programs, but not the only one," he said.