White House "Confident" They Will Implement Immigration Executive Actions Despite Republican Opposition
White House domestic policy adviser Cecilia Munoz hit back at House Republicans Wednesday, saying the current battle over President Obama's executive actions won't keep DREAMers and other undocumented immigrants from coming forward.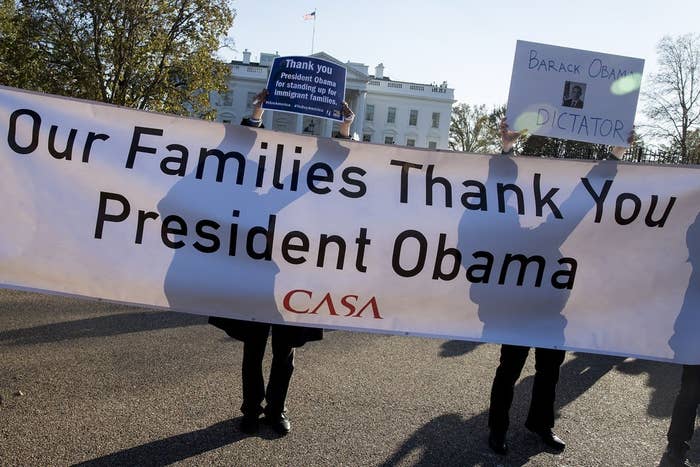 WASHINGTON — A top adviser to President Obama said Wednesday that the White House won't allow legislation passed by House Republicans to dissuade undocumented immigrants from claiming temporary protections granted to them by executive order.
The GOP-controlled House of Representatives passed legislation Wednesday aimed at stripping the government's ability to implement DACA as well as Obama's 2014 executive actions extending deportation deferrals to millions more undocumented immigrants, including adults who crossed the border within the last five years.
White House domestic policy adviser Cecilia Munoz promised a White House veto of the House bill if it passes the newly Republican-controlled Senate.
"We're confident we're going to be implementing these executive actions," she said on a conference call with reporters.
Asked if the ongoing wrangling in congress, including Republican rhetoric condemning the executive actions, could have a chilling effect on undocumented immigrants coming forward to participate in the deferred action, Munoz said the fight has resonated outside Washington.
"It's clear that people in the community that is affected by these issues are watching the debate very closely," she said. She said the White House expected the immigration actions to be controversial and has already seen that Republican outrage doesn't put a damper on undocumented immigrant participation in the new programs.
"DACA has already been in existence for a couple of years and it's had a really transformative impact," she said. DACA is the shorthand name for Obama's 2012 executive action deferring deportation of undocumented immigrants brought to the United States as minors by their parents who come forward and apply for work permits. The success of DACA helps make the White House case to undocumented immigrants that they should participate in the new actions announced late last year, she said.
The White House was prepared for the backlash, Munoz said, and administration allies are ready to ease fears of immigrants closely watching the news.
"We have strong examples to point to and we're gong to continue to point to those examples and I know that leaders in the effective communities are going to do the same," Munoz said. "And hopefully that example will be stronger than the political theater you're seeing taking place in the House."