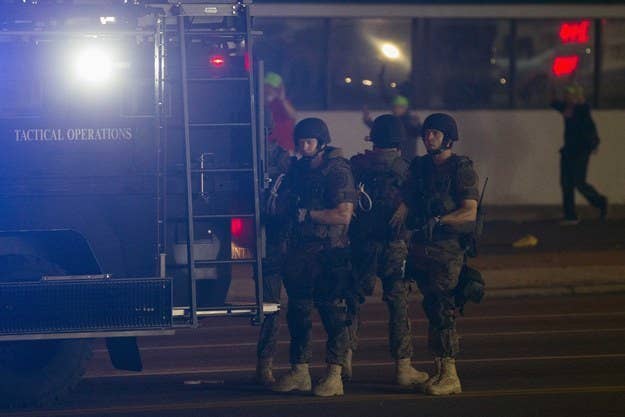 WASHINGTON — Lawmakers vowed changes to the Pentagon programs that deliver military-grade equipment to local police after images of cops climbing out of armored vehicles with military-grade weapons filtered out of Ferguson, Missouri, in August.
But months later, the chaotic 1033 program — which sends surplus military gear built for combat to local police forces with little oversight — hasn't changed at all.
The 113th Congress will end without substantive changes to the program. The White House hasn't announced the results of its policy review. The flow of billions in technology designed for the battlefield to local police forces will go on unabated.
"The fear is that this is some kind of moment that passed. It's just another example of temporary interest in a crisis and inevitably things go back to normal," said Radley Balko, a prominent expert on police militarization and author of the most cited book on the topic. "Looking at the history on this issue tends to make one cynical."
Balko knows firsthand how serious the post-Ferguson militarization conversation was in Washington. Around the time Sen. Rand Paul published his August op-ed calling for a re-examination of programs that send military equipment to local police forces — making the Kentucky Republican the most prominent politician on demilitarization in the country — a member of Paul's staff reached out to Balko to discuss his work on militarization.
They talked about the 1033 program. The Pentagon program is free to local police forces, and transfers billions in property to local law enforcement, most of it nonlethal gear like office furniture. But the program also offers armored vehicles and military weaponry. For what it's worth, Balko doesn't think 1033 is the most worrisome program aimed at sending military gear to local cops — a Department of Homeland Security grant program that helps police forces pay for brand new military gear is more worrisome, he says — but 1033 quickly became the focus of the anti-militarization movement in Congress after the August tensions in Missouri.
"This issue was nowhere on the congressional radar before Ferguson," Balko said.
The Pentagon transfer program is a small part of the giant defense authorization bill, and until recently was a relatively noncontroversial one outside of a few activist circles.
Which is not to say it escaped notice entirely.
In the House, a Georgia Democrat had been trying to build support for changes to 1033 since Dec. 10, 2013, when he walked behind a hulking military vehicle with police markings during a Christmas parade in a small town outside Atlanta. Rep. Hank Johnson asked his staff to find out where the vehicle came from, and started to grow concerned when he learned about how 1033 worked. He orderd aides begin crafting a bill in March.
"We were ready to introduce that legislation just before we left for the August break, but my staff and I decided to wait until we returned into session before we actually filed it. So during that time, of course, Ferguson happened," Johnson told BuzzFeed News. "When Ferguson happened it was a visual display of what my legislation was attempting to stop, and that was the free-flow of military-grade weaponry onto the streets of America. … Then we were able to get some bipartisan interest in this bill."
From that point, there was a brief period of intense bipartisan momentum to investigate and change the program — before that momentum hit a wall.
After Ferguson, Rep. Raúl Labrador, a libertarian-leaning Republican from Idaho, offered to sign on to Johnson's bill if the Democrat made some changes. Johnson agreed, and shortly after Paul wrote his op-ed, Johnson put his bill forward. The two men started lining up support, Johnson said. (Labrador's staff said he wasn't available to comment.)
In the Senate, Missouri Democrat Claire McCaskill hosted hearings on 1033 in late August. Oklahoma Republican Sen. Tom Coburn, a strict conservative, put forward his legislation that would stop the transfer of combat technology to local police forces. The Republican-controlled House Armed Services Committee readied its own hearings as well.
Meanwhile, President Obama announced a White House-led task force on police militarization that promised to be the first top-level review of the program since its inception in the mid-1990s.
But the prospects for legislation — or policy changes from the administration — have faded.
Police groups rallied around 1033, scaring off many potential supporters, according to staff involved with moving the issue forward on the Hill. Police lobbyists argue that the equipment provided by 1033 keeps officers safe and keeps them prepared to deal with terrorist attacks and other threats.
"We got a lot of pushback we got from law enforcement," said one Republican staffer involved in the militarization debate. The police lobby spread "misunderstanding" about the congressional efforts, which were by this point generally united in banning only the deadly equipment from 1033 while leaving the rest of the program largely in place.
The calendar moved into election season, and members grew skittish about putting controversial votes on the floor.
"Everybody kind of hit the pause button," the staffer said.
After her hearing, McCaskill pushed potential legislation until after the election. Last week, she suggested her efforts would be focused on training police to use the equipment they get from the 1033 program, rather than making big changes to how the program works.
"We learned we have no oversight and the people that are doing these programs aren't even talking to one another and there hasn't been any rhyme or reason to who's received this equipment, whether or not they've been trained, and how they are utilizing it," she told BuzzFeed News. "So we're now looking more at an oversight function of those issues. I've visited with other senators who are interested, including some of my Republican colleagues, and we're going to try and sit down between now and the first of the year and see if we can come up with some guidelines."
Ebola, ISIS, and the election took over the White House calendar. Obama's task force has not been heard from much, and there's no official timetable on when it will make official reccomendations on changes to 1033.
The last real chance for demilitarization in the Senate is "if someone slipped it into the [National Defense Authorization Act] at 11 p.m.," according to one former Republican Hill staffer who worked on demilitarization until recently. But that's not likely to happen, thanks to a rules structure that makes it hard to apply amendments.
Activists are left to pin their hopes on the next Congress coming back to the issue. But this poses problems too. Coburn, one of police demilitarization's most powerful and longtime Washington allies, will retire in January.
Paul's staff, which will stand as the most vocal group of Republicans advocating for demilitarization of police after Coburn exits, blames Democratic leadership for the lack of action on 1033.
"The Senate's broken, we're not allowed to amend bills," said Brian Darling, a spokesperson for Paul. The 1033 program could be changed, Darling said, but only if senators are forced to vote on it with an amendment. With mounting pressure to change 1033 from powerful libertarian-leaning voices in the GOP like the Koch Brothers, Darling said senators would be hard-pressed to vote to keep the 1033 program as it is.
"Tough decisions have to be forced on members," he said. "They're not willing to make tough decisions." Darling said that incoming Senate Majority Leader Mitch McConnell's promise to "return to regular order" in the Senate could give demilitarization advocates a real shot.
"I would not expect it to happen this Congress," Darling said.
Over in the House, Johnson has already abandoned his efforts to move demilitarization through the chamber, instead shifting his efforts over to planning how to move it in the 114th.
"I was hopeful it would gain such momentum as to force passage," Johnson said. "But I also was practical and knew that when the August break ended that we only had I think three weeks, twelve legislative days, before we would break for the elections ... So I did not go in misty-eyed, and reality has set in."
The prospects for demilitarization in the 114th, wholly Republican controlled, Congress are difficult to predict at best. While so-called "right on crime" Republicans have risen to prominence versus the more traditional "tough on crime" variety, the most powerful Republicans in the Senate will be the ones who represent the old-school way of thinking.
Demilitarization advocates hope the Ferguson moment won't fade entirely, and they hope militarization will remain part of the debate next year. But Balko isn't confident Paul will be able to lead the fight alone.
"With the exception of Paul I'm not sure this leads to a change in militarization on a local police level," Balko said. "The Republicans in the '90s were very concerned about the militarization of the ATF because they were going after gun owners. But that never translated into concern about militarization of local police going after minorities."
Still, after the first congressional hearings on 1033 in the program's history following Ferguson and the rise of the libertarian right, Balko says militarization is now in the Washington consciousness. Even if action in Congress is less likely as August passes further and further into history, Balko said lawmakers across the country are re-examining the 1033 program and local police usage of combat gear in general.
"These are all positive developments," he said, adding, "there's been some movement in the legislatures."
Kate Nocera contributed reporting.