Latino Advocates Step Up Pressure On Obama To Nominate Perez For Attorney General
Groups including National Council of La Raza and League of United Latin American Citizens join the push to have Labor Secretary Tom Perez replace Eric Holder.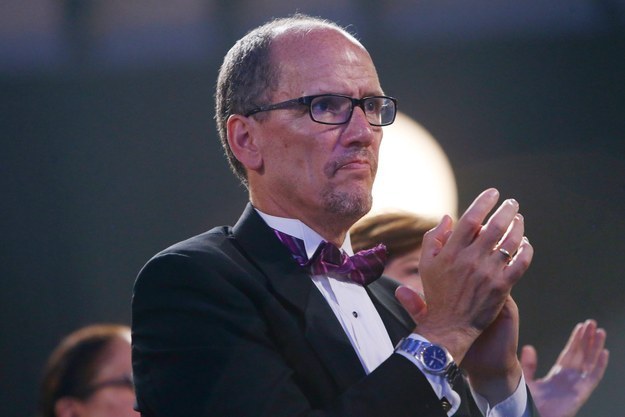 WASHINGTON — The biggest names in Latino advocacy stepped up their efforts Friday to persuade President Obama to nominate Labor Secretary Tom Perez to replace outgoing Attorney General Eric Holder.
In a letter set to be sent to Obama, leaders of the National Hispanic Leadership Agenda — a group representing National Council of La Raza, the League of United Latin American Citizens, and 37 other Latino advocacy groups — cite Perez's history as the head of the Justice Department's Civil Rights Division under Holder as qualification enough to earn him the nomination.
NHLA first pushed for a Latino nominee in a letter putting forth several names last month. Now it's stepping up the pressure for that nominee to be Perez. A source familiar with the process behind the letter said Latino advocates consider Perez to be a front-runner for the attorney general job, but have not received any indication from the White House as to who the pick will be.
Perez's name was first mentioned in the hours after Holder announced his resignation last month. Organized labor has been pushing for Perez along with the Latino advocates. Last week, the Congressional Hispanic Caucus called on Obama to nominate Perez.
The White House has been tight-lipped about who the nominee will be, though Obama is operating on a tight timeline. The White House is expected to announce the nominee after next week's election and try and win Senate confirmation during the post-election lame-duck session.
Perez has also been quiet about the speculation. Asked by BuzzFeed News if he has been in conversations about the job with the White House on a unemployment conference call this month, Perez demurred.
"My conversations with the White House have been all about the long-term unemployed, all about the Department of Labor, all about the progress we're making as a nation and putting people back to work and the unfinished business that is left," Perez said, "and that's my singular focus and my job."
Update, 6:13 PM: The NHLA sent this letter to the president Friday afternoon.