The Obama Administration Has Stopped Pretending They're Not Worried About Edward Snowden
"Some 29-year-old hacker" got the business Friday. So did his international friends.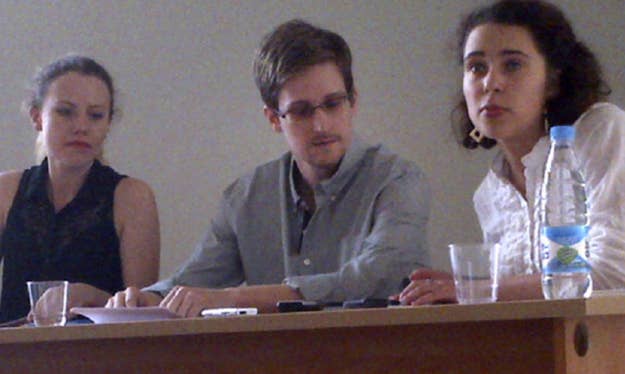 WASHINGTON — Just a couple of weeks ago, President Obama was brushing off Edward Snowden as a "a 29-year-old hacker" hardly worthy of causing an international incident.
On Friday, that attitude changed dramatically as Obama administration officials called out nations that have been friendly to the former intelligence contractor on the day he asked Russia for asylum. Officials also took a hard line against Snowden.
Obama and Russian president Vladimir Putin were scheduled to have a phone call Friday afternoon, where it was expected that Snowden's situation would be discussed. White House Press Secretary Jay Carney made it clear that the U.S. will be upset if Russia grants Snowden's request.
"Providing a propaganda platform for Mr. Snowden runs counter to the Russian government's previous declarations of Russia's neutrality and that they have no control over his presence in the airport," Carney said. "It's also incompatible with Russian assurances that they do not want Mr. Snowden to further damage U.S. interests."
Carney added that "our position also remains that we don't believe this should and we don't want it to do harm to our important relationship with Russia," and restated the American position that "there is absolute legal justification for him to be expelled" from the airport in Moscow and sent to the United States.
Over at the State Department, the words for Russia were equally tough.
During the State Department press briefing, spokesperson Jen Psaki said the department was "disappointed" in Russia for facilitating the meeting between Snowden and human rights groups on Friday. Snowden invited officials from Human Rights Watch and Amnesty International, among other groups, to the airport before making his formal request for asylum from Russia.
America is not happy about it, Psaki said.
"Our focus is on our concern about how Russian authorities clearly helped assist the ability of attendees to participate in this," she said.
The Russians "facilitated a propaganda platform for Mr. Snowden," Psaki said.
Carney said the airport gathering was hypocritical for Russia, a country that often comes under scrutiny from human rights groups.
"We would urge the Russian government to afford human rights organizations the ability to do their work in Russia throughout Russia. Not just at the Moscow transit lounge," Carney said.
Psaki echoed Carney's call for Russia to release Snowden.
"We still believe that Russia has the opportunity to do the right thing and facilitate his return to the United States," she said.
Psaki said that State Department officials had been in touch with their Russian counterparts asking for Mr. Snowden back. She also said that a State Department official had spoken with Human Rights Watch about that meeting, but the official was not US Ambassador to Russia Michael McFaul. The wrangling over Snowden has gone to the highest levels of American diplomacy: Secretary of State John Kerry had discussed the Snowden issue with Russian Foreign Minister Sergei Lavrov during a meeting earlier this month, Psaki said.
Obama's direct call to Putin will be the step in the effort to get Snowden back on American soil by administration officials.
China also got some tough talk at the White House briefing. Hong Kong originally harbored Snowden, before allowing him to leave for Russia over U.S. objections. Carney said the move had threatened the relations built at Obama's recent summit with the new Chinese president.
"We were very disappointed with how the authorities in Beijing and Hong Kong handled the Snowden case, which undermined our effort to build the trust needed to manage difficult issues," Carney said. "At the U.S.-China Strategic and Economic Dialogue this week, we made clear that China's handling of this case was not consistent with the spirit of Sunnylands or with the type of relationship, the new model that we both seek to build."
As for the man himself, both Carney and Psaki were unimpressed by his summit with the human rights groups.
Snowden "is not a whistleblower, he's not a human rights activist," Psaki said.
Carney dinged the groups who met with them.
"Those groups do important work, but Mr. Snowden is not a human rights activist, or a dissident," Carney said. "He is accused of leaking classified information, has been charged with three felony accounts, and should be returned to the United States where he will be accorded full due process."