The Left Is Basically Still Figuring It Out, One Week Into Hillary Clinton's Campaign
The progressives don't really know what they're doing, but they're doing a lot of it. Update: Bill de Blasio's campaign says it didn't troll Hillary Clinton on Twitter.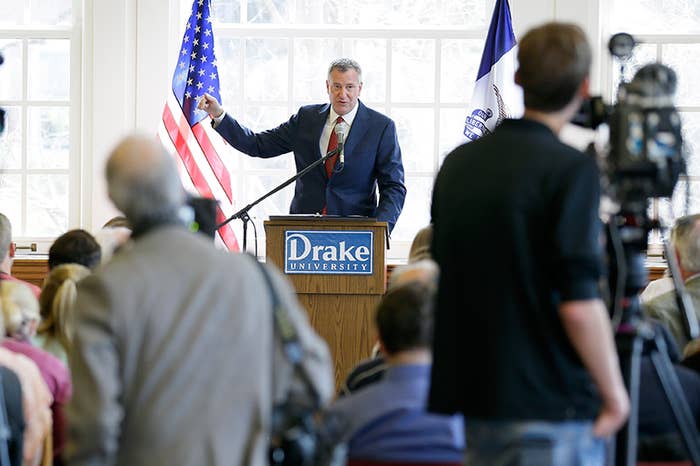 Howard Dean desperately needed to make his train. But before he could leave a gathering of high-profile New York City progressives Friday, he had to stop and repeatedly sell them on Hillary Clinton.
"I think Elizabeth [Warren] is absolutely right and I think Hillary agrees with Elizabeth. She just doesn't use the same rhetoric," the former Vermont governor told one wary progressive woman among the mob looking for photos. He had just stepped off the stage, following his lunchtime keynote at the day-long Tackling Income Inequality symposium at New York City Law School in Lower Manhattan.
The event was hosted by many top officials in the administration of Mayor Bill de Blasio. The official Q&A after his speech was dominated by leaders in philanthropy and education reform. There wasn't a single question about 2016, despite Dean's promise to answer any thrown his way at the outset of his 30-minute speech.
But in the post-speech glad-handing, the questions came. Progressives, it seemed, still don't know exactly what to do with Clinton and they were looking to Dean — who has carried the mantle of progressive leader since his anti-Iraq War-focused 2004 presidential bid — to help them understand it.
Back to that talk of Clinton rhetoric. Dean explained to the woman, a lawyer and NYC Law School graduate, that the demands of Iowa just didn't allow for Warren-style populism to be fully unleashed. But Dean assured her Clinton was on board with the new Democratic Party.
"You can't — well, people work differently in places like the Midwest and you can't say the things — look, I listened really carefully to her announcement speech and she said some things that we wrote," Dean said.
"She embraced Obama's community college thing, which I was surprised at," he offered.
The woman protested that Clinton "really wanted to distance herself from [President] Obama but…" when Dean cut her off.
"Oh, she has this game she has to play," Dean said. "For some populations that's true [that she needs to distance herself from Obama] and for others it's not. She's got a tough row to hoe."
By this time, Dean was really, really late. His plan to ride the subway to the train station was abandoned for the nearby SUV of an audience member. As he made his way through the halls of New York City Law School, he briefly discussed his support for Clinton's campaign. Dean's been formally backing Clinton's presidential campaign since August, 2014 at least, putting him weirdly at odds with Democracy For America, the group founded out of his 2004 bid and run by his brother.
"I think it's fine," Dean told BuzzFeed News when asked about the continued effort by some progressives to pressure Clinton. "I think it's helpful for the Democratic Party."
How healthy the progressive effort is exactly remains to be seen, however.
Dean's argument about Clinton, one week into her official campaign, is essentially: She's already doing what the left wants her to do, even if she's not saying it exactly like they want her to say it.
The rest of the Clinton-wary left, meanwhile, has spent the week honing sharp contrasts with Clinton, trying to poke holes in her inevitability shield, and still more fixated on the progressive candidate not in the race versus the candidate that is.
Aides at Ready For Warren, the progressive grassroots effort to coax the Massachusetts senator into the Democratic primary race (Warren has said no to that idea many, many, many times) told BuzzFeed News they enjoyed their best-ever fundraising week in the days since Clinton made her campaign official.
The Monday after Clinton announced her campaign was Ready For Warren's biggest day in terms of money raised. The money coming in was 400% more than on an average day. December 2014 was still the group's best fundraising month, but the 30-day period ending April 15 is the very close to that level, an official with the group said, and it only includes a few days with Clinton as an official candidate.
The group declined to share the total amount raised with BuzzFeed News. An official said they couldn't be fairly compared to the fundraising capabilities of more established groups.
Ready For Warren has also changed tactics in recent days. In the leaders of that organization's telling, Warren's 2014 book A Fighting Chance, describes her overcoming her reticence about a run for Senate after hearing a personal story of one woman's struggle with the system. So Ready For Warren launched "#DearElizabethWarren," an online effort to collect videos of people telling their personal stories and directly asking Warren to get into the race.
At the same time, the would-be progressive torchbearers actually interested in running for president used the first week of a Clinton candidacy to draw contrasts while mostly staying away from direct shots at the frontrunner for the Democratic nomination.
Speaking at Harvard on Thursday, Martin O'Malley basically gave progressives everything they want in proposed economic vision. The former Maryland governor promised raising taxes on the wealthy to pay for an expansion of Social Security. He got behind a $15 minimum wage and called for the federal minimum to be indexed to inflation. He took direct aim at Obama's trade agenda, which is one of the few places where the president and his base are far, far apart.
And he took a shot at Clinton. A passive-aggressive shot over shifts on same-sex marriage and driver's licenses for undocumented immigrants that put her squarely in the Democratic mainstream, but a shot nonetheless. O'Malley is stepping up his profile ahead of a formal campaign announcement he said Thursday will come by the end of May. He recorded a wide-ranging interview with NPR that will broadcast Monday, a week and a day after Clinton announced herself as a former presidential candidate for the second time.
The trade talk has come at the perfect time for progressives trying to make their voices heard over the cacophony of Clinton's campaign. Vermont Sen. Bernie Sanders, also considering a bid, released a statement Friday calling on Clinton to formally oppose Obama's push to get fast track authority from Congress and, eventually, support for his Trans-Pacific Partnership trade pact. In a statement Friday, Clinton's campaign said the former secretary of state is watching the TPP very closely, but didn't say she opposes it.
The combined efforts of Sanders and O'Malley have not stood as most vocal attacks from the left on Clinton, however. Those have come from de Blasio, the man Dean is joining forces with. The New York City mayor kicked off the week by refusing to endorse Clinton's candidacy before heading to Iowa to pressure everyone running for president to support tax hikes on the rich. He ended the week with a tweet that appeared to play on Clinton's false claim that her grandmother was an immigrant.
"Proud of my grandmother and the many immigrants who've made our city thrive. Happy #ImmigrantHeritageWeek," de Blasio tweeted before linking to a picture of his grandmother's immigration paperwork.
Update: de Blasio's camp says he meant nothing by the tweet.
After this story published, a de Blasio spokesperson denied the mayor's tweet had anything to do with Clinton.
"No, it's Immigrant Heritage Week," the spokesperson said. "This is a story the Mayor has told many times, and it's especially relevant as we celebrate Immigrant Heritage Week."