The Bern Is Felt
Euphoria at Bernie Sanders' victory party. "The first American Revolution began in Concord, Massachusetts," one supporter says. "Tonight, this is the vote that will resonate around the world to start the second revolution."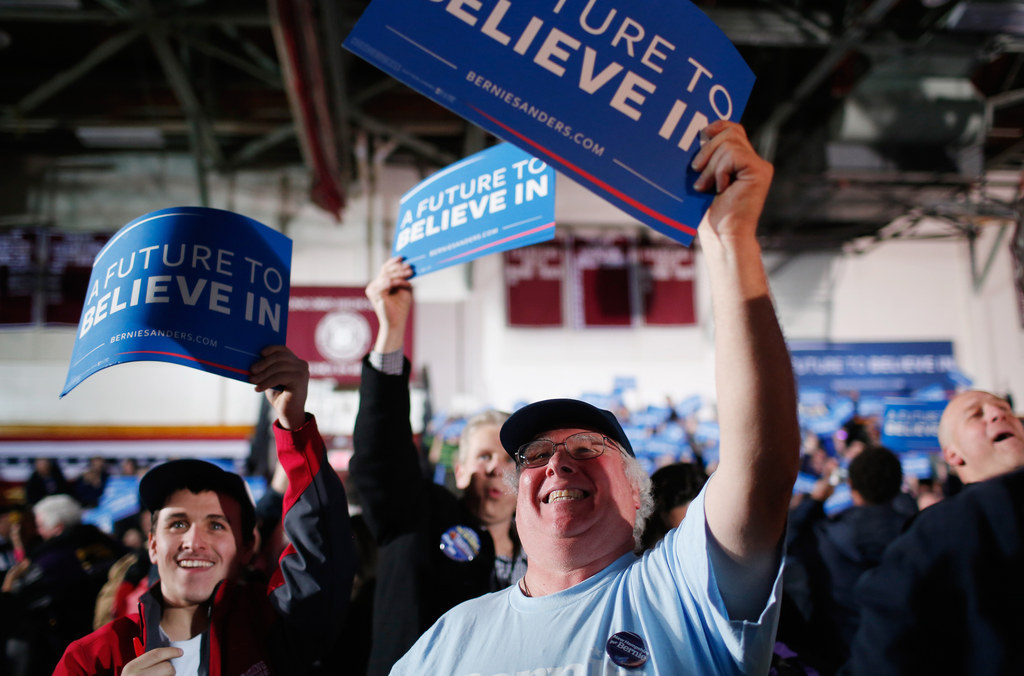 CONCORD, New Hampshire — There is a feeling that something real, something serious is happening with Bernie Sanders at his victory party here Tuesday night.

Cable networks called the race immediately after polls closed — a triumphant, dominating victory — and Sanders supporters were ready, finally, to declare their revolution starts now.

"We feel the change," said Selina Marcille, a 28-year-old college administrator from Pembroke, New Hampshire. "Iowa was a travesty, and two coin flips absolutely does not speak to what what America needs. This is just the start."
Marcille is the exact kind of voter Sanders aides said for weeks they could pull to their side. She didn't work on the campaign, didn't volunteer for the campaign. She's a young woman who listened to one of Sanders' hour-long stump speeches in July and was hooked.
In him, she sees not the divisive figure painted by Hillary Clinton supporters, but a singular phenomenon capable of stitching together a coalition from just about every corner of the American electorate. "He can reach everybody in America, regardless of age, regardless of sex, regardless of income, or regardless of their personal background. You see that here and it makes me really excited."
There is something for everyone at Sanders' New Hampshire victory party on Tuesday night.
Tony Badman, 70, of Marlborough, Massachusetts, said he's waited his whole life for a candidate like Sanders to catch fire. He sees the New Hampshire win as nothing short of a seminal moment in American history.
"The first American Revolution began in Concord, Massachusetts," he said. "Tonight, this is the vote that will resonate around the world to start the second revolution."
Revolution was everywhere in the Concord High School gymnasium — even as Sanders, on the surface, now looks like a more normal candidate. A very presidential-ish lectern was set up for Sanders, and the room was bedecked in the standard American political tropes of patriotic bunting and flags. Guarding the entrances were Secret Service — leaving a couple of far-left Sanders supporters a little freaked out.
For Sanders and his campaign, the night could not have been more perfect. High voter turnout — Sanders told his cheering fans in Concord it may end up being record voter turnout — helped fuel his big win. That high turnout means progressives win, and that Sanders can drive that turnout, are central messages of the Bernie for President effort. (Whether that turnout will translate in the states beyond Iowa and New Hampshire, the ones with more diverse electorates, like South Carolina and Nevada, remains to be seen.)
Midway through the speech, Sanders was already telling the Democratic Party to get used to The Bern. "In a few months," Sanders said, Democrats will need to unify, to get ready for the general election.
Winnie Wong, a co-creator of the #FeelTheBern hashtag and leader of The People for Bernie Sanders — an Occupy Wall Street-tied activist group — stood in the back of the room. Originally, she'd planned to skip New Hampshire and head straight to Nevada to help Sanders. So she was in open-toed sandles. It's 19 degrees in New Hampshire.

But being here for this was too good to pass up.
"This is the funnest shit I've ever done," she said. "What I see as a political win, the first political win of Occupy Wall Street in my mind."
Another supporter called it a victory for Occupy, too.
For progressive groups back Sanders — especially the economic-motivated ones — this is validation. The virtual tie in Iowa meant two weeks of arguments about who's the real progressive, who's truly effective. This is the best night in years for that movement.
"There's nothing more exciting for the progressive movement than to be having candidates arguing about which one is the more progressive," said Charles Chamberlain, the executive director of Democracy for America, a liberal activist group founded by Howard Dean. Against Dean's own wishes, the group endorsed Sanders in December.
Sanders' huge win in New Hampshire, and the giant voter turnout that helped fuel it, means Clinton and Sanders will continue to battle for the title of America's progressive leader. Chamberlain is thrilled.
"That's exactly what we want," he said.