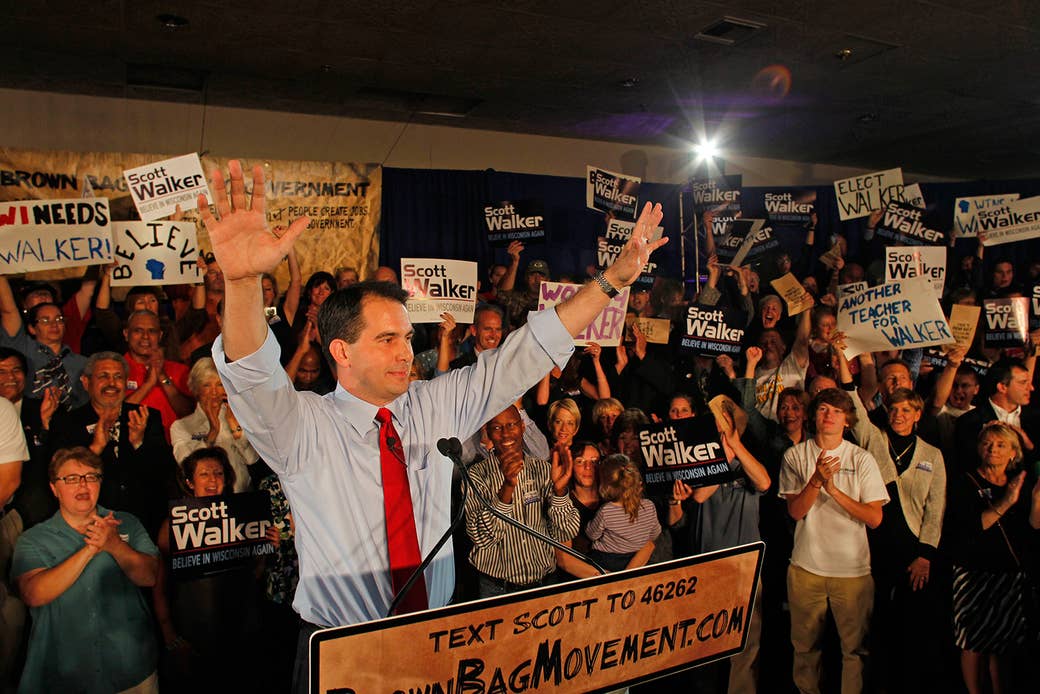 In 1999, voters in Wauwatosa, Wisconsin, received an email newsletter from their state assemblyman touting "the most important piece of legislation" passed that cycle: the Truth In Sentencing Act.
The new law effectively ended parole as Wisconsin knew it, creating the conditions for a prison system that would eventually house more inmates than any surrounding state.
Splashed in that section of the newsletter was a photo of Scott Walker, standing, arms crossed, outside a jail.
Sixteen years later, Walker is Wisconsin's governor and a top-tier, real-deal contender for the Republican nomination — at a critical moment in the criminal justice debate that could become an inflection point in the way Americans are prosecuted and jailed.
After decades of tough-on-crime policies, a bipartisan group of lawmakers and activists is advocating for changing sentencing laws, drug policies, and more — changes that poll well broadly but are untested on the presidential political stage.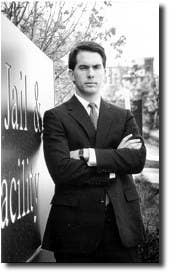 Walker was a tough-on-crime guy, and he made his name sponsoring and strongly advocating for some of the most stringent criminal penalties in the country. He helped introduce laws that allowed children as young as 10 years old be tried as adults for homicide and automatically charged 17-year-olds as adults for all felonies. Walker championed a return to chain gangs for prison labor and mandatory minimum sentences for all manner of offenses.
This is what defined Walker's early career, and made him a star in a state where people voted to clamp down on crime — a reality that's made Wisconsin one of the toughest-on-crime states in the country, even as progressives say the policies disproportionately and dangerously affect minorities and conservatives say the policies just cost too much to sustain.
It's complicated for Walker, the Wisconsin politician: If changing criminal justice laws has swept some corners of the country on both left and right, Wisconsin has gone untouched.
But it's also complicated for Walker, the national candidate: Some of his rivals for the Republican nomination — most notably Rand Paul, but others, too — are aggressively calling for changes big and small to the criminal justice system. And while the best-known political donors in the country, Charles and David Koch, are said to be very taken with the Wisconsin governor and his record on unions, they are also possibly the biggest advocates in political money for changing the exact kinds of criminal justice policies that Walker championed in Wisconsin.
These days, Scott Walker doesn't talk much about criminal justice.
Walker aides did not respond to repeated requests for comment, including detailed questions about his past positions and opinion on the modern conservative criminal justice movement. And while the few things he does say lean more toward the bipartisan criminal justice advocacy movement, Walker hasn't taken any legislative steps in that direction, even standing in the way of some changes favored by advocates just a year or two ago. Nevertheless, some conservative advocates take Walker's new, quieter approach to be a sign he's turning their way.

Either way, rhetorically, Walker has made a big shift, mostly toward silence, on the issue that was once the hallmark of his political career.
"Other states learned to go a different way, and we never did."
The same year that Walker posed out in front of the jail, Mark Pocan got saddled with a job most new members of the Wisconsin State Legislature wouldn't jump at: a minority seat in the General Assembly's Corrections Committee, which oversees the state's prison system.
Pocan, a liberal Democrat from Madison, quickly found himself working closely with the committee's chair —Walker.
"We were pretty much at the place where most states were, which was being tougher on crime not smarter than crime," Pocan recalled in a recent interview with BuzzFeed News. "Other states learned to go a different way, and we never did."
Walker wasn't an ideologue, Pocan said. He operated on a command of the issues, not partisanship. He let Democrats hold hearings on issues important to them, and joined them on a push to ban juveniles from the state's notorious "supermax" penitentiary.
But there was little doubt where Walker stood on the nascent criminal justice advocacy movement of the late 1990s, which questioned the drug war, mandatory minimum sentences, and ever-increasing prison terms for non-violent drug offenders. Walker's view, shared by many politicians in Wisconsin at the time, was that parole and recidivism were linked and crime was an out-of-control problem that only more prison beds could solve. He was known around the legislature as the GOP's go-to guy on crime, and the go-to guy on punishment.
In 1998, Walker championed the Truth In Sentencing Act, a bill that would go on to become law, star in that constituent newsletter and create an approach to imprisonment critics said would later balloon the state's prison population and lead to severe racial disparities in the prison population.
The law ended the common practice of releasing prisoners early for good behavior or other reasons. Parole as a concept was essentially eliminated in favor of what's known in Wisconsin as "extended supervision," which only kicks in after 100% of the time handed down by a judge is served in prison. The law makes no distinction between violent and non-violent crimes and led to longer sentences and high costs.
A 2004 Milwaukee Journal-Sentinel investigation found the law would cost Wisconsin $1.8 billion dollars over 25 years and bring prison spending to par with the state's university system.
In 2013, a University of Wisconsin study found the state imprisons black men at a higher rate than anywhere else in the country, a statistic cited often by criminal justice advocates in the state. More than 20,000 inmates currently serve time in the state's prison system, a number that has helped to jumpstart a bipartisan criminal justice advocacy movement in Wisconsin similar to the ones in other Republican-controlled states.
"Overall, the primary purpose was to just have the certainty of knowing exactly how long someone was going to be in prison."
Walker has said in the past that Truth In Sentencing's effect on the length of sentences and cost to taxpayers that went along with it was unintended. In 2004, he told the Journal-Sentinel the expectation was that judges would hand down shorter sentences, taking into account that a convict would serve the full term plus the mandatory parole-like supervision.
"In some cases, like with sex offenders, that was something I was interested in," Walker said of extended sentences at the time. "But overall, the primary purpose was to just have the certainty of knowing exactly how long someone was going to be in prison."
The reality of the law, however, is a huge increase in the prison population, and a large share of it coming from offenders who broke probation rules rather than committed new crimes. It's hard to leave the criminal justice system in Wisconsin, which is one reason why it has become so expensive. The Journal-Sentinel's 2004 prediction that the prison budget would come to rival the university budget came true, and now lawmakers in Wisconsin are stuck with a system that's hard to operate, almost impossible politically to attack, and too expensive to leave alone.
But at the time, voters in the state were open to tough-on-crime legislation, and Walker was the man who made his name giving it to them. The 1999 newsletter with the photo of Walker also promoted his push to increase the number of prison beds available to the Wisconsin justice system and trumpeted a plan to sent more than a thousand inmates over the border to out-of-state prisons, a policy generally favored by the private prison industry.
A 2014 report by the Wisconsin Council on Children and Families, which opposes the policy, said the rules had seen around 260,000 17-year-olds tried as adults and around 80,000 of them "spending at least sometime in an adult jail."
Walker has made support for the program a hallmark of his political messaging in the past. In 2008, he assailed his opponent in the race for Milwaukee County Executive for supporting changes to the program.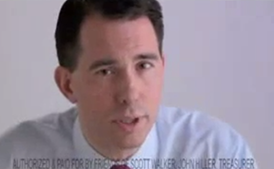 "I think crime's a problem, and we need to send more criminals to prison," Walker said in a TV ad. "My opponent thinks there are too many people in prison, and keeping 17-year-old criminals out of prison is a solution."
An effort to amend the policy so it did not apply to first-time, non-violent 17-year-old offenders collapsed in the Wisconsin legislature last year after some county leaders balked at the proposed cost. Walker's office reportedly told Republican sponsors of the legislation he was interested in looking at the issue, but there was not any public advocacy for changes.
Walker's gubernatorial record more mimics his rhetoric as a state legislator than it does his seeming caution on the issue now. Walker pushed for and got the repeal of a Democratic-backed 2009 law that let some prisoners out early as a cost-savings measure. He cited his role in bringing Truth In Sentencing to the state to explain his opposition. Prisoners sentenced before Truth In Sentencing, and therefore able to appeal for parole, have seen their chances at supervised release dry up almost completely.
The strictness of the laws Walker championed makes change a tall order. Truth in Sentencing has dramatically increased prison terms and the prison population, and lawmakers are acutely aware of the political risk that goes with freeing potentially thousands of offenders.
Walker wasn't alone in pushing for Truth In Sentencing. The state's Democratic Attorney General, Jim Doyle, who would go on to become Walker's predecessor as governor, backed the law when Walker introduced it. The bill flew through the legislature, landing on Republican Gov. Tommy Thompson's desk for an easy signature. Prison system observers in Wisconsin say the broad-based support and rapid passage of Walker's law was predictable given the political atmosphere of the time.
Walter Dickey ran Wisconsin's prison system in the 1980s and then became a trusted adviser to Thompson on criminal justice matters when he assumed office in 1987. He said Democratic support for Truth In Sentencing and a general tough-on-crime sentiment sweeping the nation at the time pushed Thompson to sign a law that was harsher and more expensive than many intended.
Fear of the tough-on-crime crowd continues to define criminal justice politics in Wisconsin, Dickey said. "The widely-held view is, 'being soft on crime may not get you elected but it may get you unelected,'" he said. "Nobody's talking about criminal justice at all in Wisconsin."
That's not entirely true. But those talking about changes to Wisconsin's ever-more outlying criminal justice system lack the political power they have in Republican-controlled states in other parts of the country, and some of them blame Walker for that.
"He's a huge obstacle," said state Rep. Evan Goyke, the Democratic leader of the Wisconsin legislature's mostly informal bipartisan criminal justice caucus. "The reason why he's nervous is he's running for president."
"I haven't heard (Walker) speak on the issue in months."
Goyke said about a dozen or so lawmakers are interested in making the kinds of changes to Wisconsin's justice system that would mean dismantling much of Truth In Sentencing. However, Goyke said the GOP in his state don't have the momentum for criminal justice reform they have in states like Texas and Georgia, where libertarian, conservative evangelicals, and progressives have united under Republican governors to pass significant changes to their criminal justice systems.
Wisconsin is one of only a handful of states not lit up on the conservative criminal justice advocacy group Right On Crime's Reform In Action map.
Grover Norquist, the small-government advocate who is a prominent member of the conservative criminal justice advocacy movement made, his first real overture to the small, bipartisan group of lawmakers backing change just a couple of months ago.
In March, Norquist spoke to a small number of conservative and progressive lawmakers in the state and called on them to end the rule that 17-year-olds are automatically charged as adults.
"The Republican Party in Wisconsin is maybe two or three years behind their counterparts" in other red states, Goyke said. "We're on the whole a few years behind everyone else."
Part of that lag, he said, is a lack of advocacy from Walker. The governor is popular among Republicans, and Goyke said he could help them take a risk on changes to criminal justice. But Goyke and other observers say that Walker hasn't changed positions when it comes to tough-on-crime. He's just stopped talking about it.
"I haven't heard him speak on the issue in months," he said.
Across the board, people BuzzFeed News spoke with noted Walker's public silence in criminal justice, especially when compared to the past.
Advocates working outside the legislature do not consider Walker an ally. But they're happy to see Walker at least stop advocating for more and harsher sentences. They see it as a sign that their side is starting to have an impact.
"A couple years ago, he just stopped talking about criminal justice, like at all," said Dave Liners, director of WISDOM, a faith-based Wisconsin advocacy group pushing for an end to Truth In Sentencing. "It's really clear he made the calculation that there's no good position to take on criminal justice."
Liners isn't bullish on Wisconsin's lawmakers tackling Truth In Sentencing. Democrats and Republicans were both complicit in the law, and few are showing much interest in taking big swings at changing things. But he said Walker is particularly stuck in the past.
"The governor is really saddled with Truth in Sentencing stuff," he said. "He can't really do an about-face."
"I don't want to give someone a pass, but we're not going to take someone to task about something that was said in the past."
However, conservative advocates aren't ready to count Walker out yet. Where some in Wisconsin see a calculated silence to avoid upsetting the growing numbers of wealthy criminal justice advocates in the national GOP, national leaders see Walker at least making an effort. They're not convinced he's with them yet, but he's shown signs that he's more open to a dramatic shift on criminal justice than his past might suggest, they say.
Walker is helped by the pragmatism of the conservative criminal justice advocacy movement. There just aren't that many Republicans who were in politics in the 1990s who weren't big time law-and-order types, so advocates are generally open to letting bygones be bygones.
"I don't want to give someone a pass, but we're not going to take someone to task about something that was said in the past," said Marc Levin, the head of Right On Crime. "[Walker] has made some comments about this issue in recent weeks that suggest he's open to taking different approaches."
Levin and his allies are encouraged by an essay collection published by the Brennan Center at NYU, a criminal justice advoacy group. Walker's essay ran alongside other 2016 candidates who have endorsed criminal justice reform, such as Hillary Clinton, Martin O'Malley, Cruz; as well as bipartisan leaders of the national movement like former NRA president David Keene and New Jersey Sen. Cory Booker.
Walker's essay wasn't about reducing Wisconsin's current prison population. Rather, it was about his support for so-called drug courts that advocates say can reduce the number of people going to prison in the first place.
Walker made no bones about his past in the essay, even defending Truth In Sentencing, but he couched the rules in the language of the advocates.
"We are pushing reforms at the front end of the process to create opportunities that impede paths to incarceration," Walker wrote. "We want a safe and sound system."
There's no doubt that — among the Koch shortlist, along with Jeb Bush, Cruz, Paul and Marco Rubio — Walker is lacking when it comes to criminal justice rhetoric. Bush was a big time tough-on-crime politician in the 1990s, but in 2011 he signed on to Right On Crime's advocacy efforts. Rubio remains in the tough-on-crime camp for the most part, but he doesn't carry the baggage that Walker does.
A top Koch aide stressed in a recent interview that criminal justice advocacy is a huge issue for the Republican powerbrokers, but added that Walker, like most of the candidates, hasn't met with Koch political advisers to talk about the criminal justice policy goals espoused, especially, by Charles Koch.
Earlier this month, while speaking at a Florida candidate's forum, Walker claimed the issue of non-violent offenders being stuck for years in criminal justice system or behind bars wasn't much of a problem in Wisconsin, a move that drew harsh criticism from advocates in the state, according to the Daily Beast.

The Koch aide also pointed to the Brennan Center essay, saying, "We think [speciality courts] are a good idea."
For Walker, the shift into the new reality may be tougher than it has been for others — but the advocates are open to converts.
"I don't know why any elected official does what they do, but if good policy is good politics, then so be it," Levin said.
Molly Ward contributed reporting.