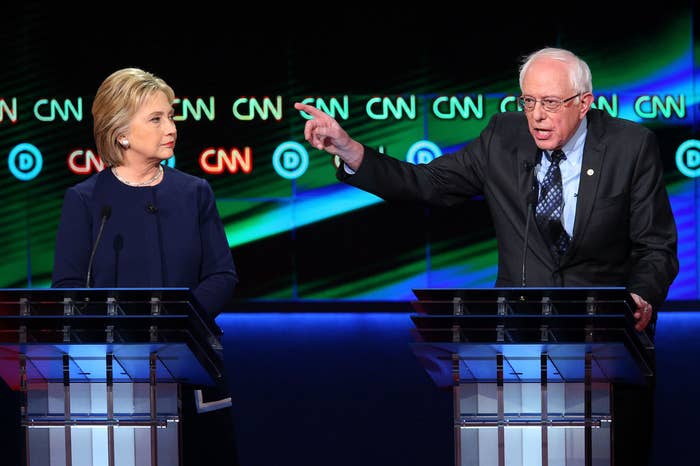 FLINT, Michigan — Bernie Sanders' strong series of attacks on trade policy during Sunday's Democratic presidential debate came to a grinding halt after he appeared to lose his temper at rival Hillary Clinton.
"Excuse me, I'm talking," Sanders snapped at Clinton during a back and forth on the auto bailout provisions in a 2008 financial bailout, which Sanders voted against.
There were audible groans in the press filing center near the debate site on the campus of the University of Michigan at Flint.
A few moments later, as Clinton interrupted him ("if you're going to talk, tell the whole story, Sen. Sanders"), Sanders reacted strongly, again.

"Let me tell my story, you tell yours," he said.
The Clinton campaign reacted immediately. "OH HELL NO," tweeted Clinton's progressive outreach lead, Zerlina Maxwell.

(Top Sanders aides offered their take on the moment in post-debate interviews with BuzzFeed News.)
After the debate opened with quite a bit of agreement between the two candidates on the water crisis gripping Flint — both candidates called for the Republican governor of Michigan, Rick Synder, to resign and both said they'd root out and fire federal government officials who failed to react quickly to reports of lead poisoning in the city's water system — the debate turned into one of the sharpest back-and-forths between Clinton and Sanders of the campaign.
Sanders has been attacking Clinton for weeks in Michigan over free trade policy passed under her husband's administration and for her connections with Wall Street. At the Flint debate, he blamed free trade agreements like NAFTA for the end of tens of thousands of jobs in the city and Michigan. On Sunday, he continued leaning into the attacks, especially as it related to, for instance, the Ex-Im Bank.
But Clinton had a strong rejoinder, noting that Sanders voted against the auto bailout program credited with keeping some Michigan's biggest companies afloat.