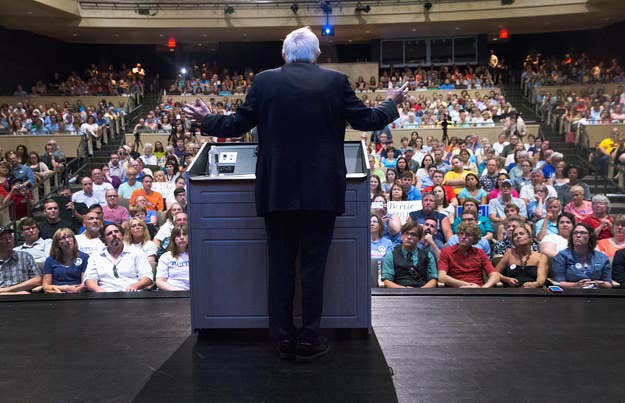 PORTLAND — The Bernie Sanders campaign debuted a new plan to deal with Black Lives Matters protesters Sunday amid worries that the movement would try to break up another Sanders stop on his West Coast swing.
Rumors swirled ahead of Sanders' 18,000-plus attendee rally at the Moda Center, home of the Portland Trailblazers, that Black Lives Matters protesters would try to disrupt the event a day after they shut down Sanders at a Seattle rally in support of Social Security.
Symone Sanders, the campaign's new public face, kicked off the event in Portland by warning the huge crowd that there might be a "disruption." Symone Sanders is a young black political activist, and told reporters Saturday night the Bernie Sanders is the candidate of Black Lives Matter.
The opening speakers at the Sanders event in Portland were closely focused on being proactive about Black Lives Matter, even mentioning the arrest of a Portland Black Lives Matter activist earlier in the day at a protest event commemorating a year since Ferguson. Symone Sanders gave an emotional retelling of the death of Michael Brown.
But Bernie Sanders has expressed disappointment at the disruptions he's had to deal with on the trail, and the campaign is now ready to respond to protesters not by letting them take over but by shouting them down. In Seattle, he stood quietly on stage as protesters took over, and eventually left when organizers of the event cut it short due to the protests.
Symone Sanders told the crowd to cheer "We Stand Together" over and over if a disruption came in Portland, signaling that the campaign is preparing strategies to prevent Black Lives Matter from shutting it down again.