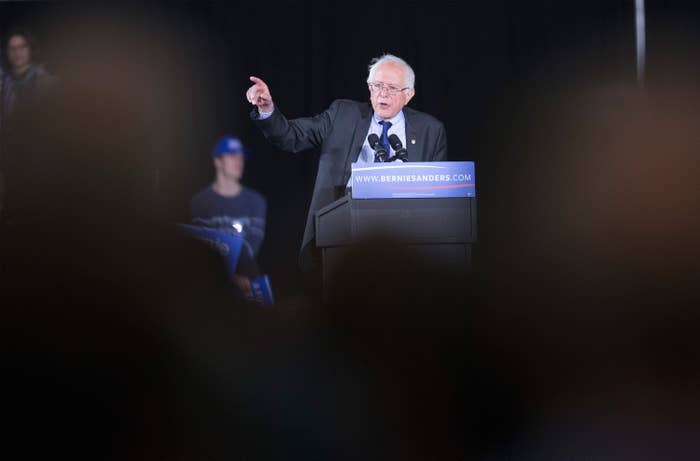 SEATTLE — There is a "significant number" of superdelegates ready and willing to support Bernie Sanders, top officials at the Sanders campaign told reporters on a conference call Monday.

But Sanders' secret stash of superdelegates will remain nameless for now, campaign manager Jeff Weaver said. They're not ready to come forward just yet.
Superdelegates are among the most confounding aspects of the Democratic nominating process for Sanders supporters. The group of federal elected officials, party elders, and DNC members total 712 votes in the race for the party's nomination. They can vote for anyone they want, unlike the non-super — or "pledged" — delegates candidates win in state nominating contests.
A candidate needs 2,383 delegates to win the Democratic nomination. In a tight race, superdelegates can make the difference. And Hillary Clinton has a huge lead among superdelegates.
Politico reported Monday that she has the support of 469 superdelegates — to Sanders' 30. Clinton also leads Sanders 1,267 to 1,037 among pledged delegates, according to Five Thirty Eight's tracker. The math isn't good for Sanders.
That Sanders backers now talk this way about superdelegates — about having and wanting their support — represents a bit of a shift. The line has always been that the superdelegates are really just a reflection of Clinton's standing with the party establishment, which Sanders supporters have said really just wants Clinton to win.
Now, a big part of Sanders's strategy to buck the math is to try to flip superdelegates to his side. Senior Sanders adviser Tad Devine has said for weeks that superdelegates could flip to Sanders if the campaign can prove he's stronger than Clinton in a general election and can expand the party's base of support in the fall.
After Sanders' victories in Washington, Alaska, and Hawaii over the weekend, Devine and Weaver again told reporters that the superdelegates could still be convinced Sanders is the way to go. The three wins allowed Sanders to once again claim the momentum in the Democratic primary race, even if they didn't do much to change math — which still shows the nomination is Clinton's to lose.
And so, on Monday, the prospect of winning over unpledged superdelegates and flipping superdelegates who support Clinton was raised once again by top Sanders aides.
"We have a number of superdelegates who are not prepared to go public at this point who have indicated that to us that they're supportive, so we believe our superdelegate number is higher than the one that is publicly available," Weaver told reporters. "I understand that's not worth a lot at this point from you all's perspective. But we do believe we have identified a substantial number of superdelegates above what's publicly out there."
Weaver noted that there are "a few hundred" unpledged superdelegates who could still go to Sanders. The fact that they exist proved his point that the superdelegates should not be taken for granted, he added.
"It would be very easy for them to be pledged to Hillary Clinton given the media narrative and the establishment support that she has," he said. "The fact that they have yet to do that I think demonstrates that there is certainly a large number of superdelegates who have some reluctance about Secretary Clinton's campaign."
The Sanders secret stash of superdelegates would have to be pretty big to make a real difference, however. In fact, Sanders needs Clinton superdelegates to flip. Pressed on the real numbers, Devine warned that the superdelegates secretly in Sanders' corner are not enough to make the difference at the moment.
"We don't have like 300 super delegates ready to endorse Bernie tomorrow," he said. "But we do have a lot of people, you know, dozens, who have expressed support for Bernie and are going to find the right time to make that support public."