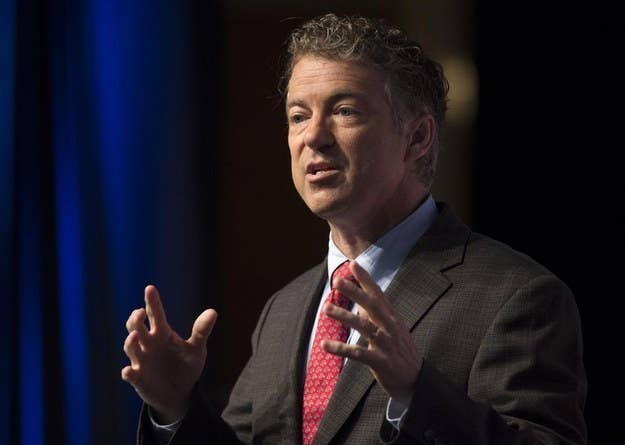 WASHINGTON — The crisis in Ferguson, Missouri has become the unlikely coming of age moment for the growing portion of the conservative movement that sees heavy-handed police forces, and their expensive military-style equipment, as the latest target in their half-century campaign against big government.
Libertarian Kentucky Senator Rand Paul stunned many on the ground in Missouri when he denounced the killing of 18-year-old Michael Brown in the pages of Time last week, writing that "if I had been told to get out of the street as a teenager, there would have been a distinct possibility that I might have smarted off. But, I wouldn't have expected to be shot."
His words built on a decade's intellectual foundation laid by conservatives like the anti-tax campaigner Grover Norquist, one of the leaders in a campaign to break with decades of tough-on-crime posturing, and the race-baiting that has at times accompanied it, and to instead make common cause with liberals and black leaders to slash budgets for arming police and jailing young men for non-violent offenses.
The movement, led by the Texas-based Right on Crime, has helped pass bipartisan prison sentencing and recidivism legislation — mostly in red states — that has drawn praise and support from progressives. But Ferguson has given its leaders the opportunity to draw a surprising line in the sand, and in interviews with BuzzFeed Monday, its leading figures sided clearly with the largely peaceful protesters even as much of the conservative media focuses on images of violence and looting in the St. Louis suburb.
"What's happened recently and recent events — tragic as they are — you're beginning to see a national discussion and reevaluation of what makes sense, what works," said Chuck DeVore, a former California Republican legislator, tea party Senate candidate, and current top official at the Texas Public Policy Foundation, which houses Right On Crime.
"I think if you were to go to Ferguson, it would be interesting to find out how many of these young men have been in prison, or have family family members who have been to prison, or friends who have been in prison," DeVore said, citing large-scale imprisonment as a factor in the frustration at the justice system exploding in Ferguson.
Norquist, the president of Americans for Tax Reform and a central strategist in the long conservative campaign to cut government spending, said the campaign against steroidal policing is a natural fit for the movement.
"On the right on this one, they're saying, 'I don't know that's happening here...and by the way what are all those things that look like tanks doing?'" Norquist said of Ferguson.
He also said Republicans like Paul have a political opportunity that Democrats lack — to ignore the tough-on-crime constituency of police and prosecutors.
"On the crime stuff, a Republican can stand up and challenge the aggressiveness of the cops," said Grover Norquist, top dog at Americans For Tax Reform and a supporter of criminal justice changes. "Democrats are surrounded by the images of people who defend Mumia or whoever that guy is who killed those cops."
Criminal justice issues also offer a rare slice of possible common ground for America's divided, paralyzed legislature, though the impact of the past week in Ferguson on Washington's legislative calendar remains hard to predict. Members of Congress coming back to Washington from their August recess will face a number of legislative efforts to demilitarize police forces on both the federal and state level stemming from Ferguson.
But for Washington's Republican debate over criminal justice, Ferguson is already altering the landscape, say conservative supporters of shorter prison sentences, an end to the drug war, and an end to militarized police forces. Since the Republicans took control of the House in 2010, the libertarian-leaning conservative wing of the party that's successfully pushed criminal justice system changes on the states has been shut out of the Washington debate for the most part by powerful veterans with 1980s "tough-on-crime" pasts. Now, the Right on Crime lobby sees a shot at a defining moment.
"If our policies were in place," DeVore said, Ferguson might not have some of the divides he sees as at the root of the turmoil this week.
"Perhaps there would be lower unemployment," he said. "Perhaps there would be more two-parent households."