Under a barrage of criticism from Democrats, a progressive group supporting Bernie Sanders for president has retracted, and apologized for, describing Hillary Clinton's victories in the South as winning "the Confederacy."
But the Progressive Democrats of America's attempt to apologize on Twitter ended with PDA getting more criticism and eventually publicly attacking some of those critics with, among other things, suggestions that Clinton supporters upset about the Confederacy line were hypocrites.

The controversy began when PDA, a small liberal group founded in 2004 out of the remnants of former Vermont Gov. Howard Dean's and former Ohio Rep. Dennis Kucinich's progressive insurgent presidential campaigns, wrote in an email that "Hillary won the Confederacy, now the rest of the country is primed to go for Bernie."

The PDA shorthand for Clinton's dominance in southern states did not go over well.
PDA apologized through its Twitter account, but officials grew increasingly frustrated with critics who kept coming after the group.
The group began to block critics on Twitter.
Eventually, the PDA account began retweeting attacks on Clinton supporters from Sanders supporters who stood with PDA.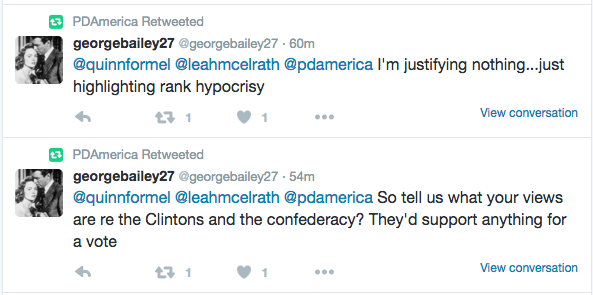 The group was an early booster of Sanders' presidential campaign and continues to boost him ahead of the upcoming western primaries. A PDA official did not respond to a request for comment.

Update: Grayson told PDA he didn't use the term "Confederacy" and PDA apologized to him.